Welcome to the 481st Tablescape Thursday!
Remember that crazy snow storm we had recently…
…the one that left an epic 8 inches of snow in my yard?
The magnolia tree in my front yard lost more branches than I've ever seen it lose during a snow or ice storm. Once the storm was over, I found branches laying on the ground all the way around the tree. There were so many in the driveway on the other side of the tree, I couldn't get down the driveway until I dragged them all out of the way. Most appear to have come from the top part of the tree.
There are still broken branches that haven't fallen yet. Do you see that one way up near the top where the arrows are pointing. It's resting on other branches inside the tree.
So, you can probably guess what my centerpiece is for this week. Just as last week, I'm using another Christmas tree-skirt as a tablecloth for this table, only this skirt is much bigger so it covers the whole top of the table. And this concludes our series, "Christmas Tree Skirts as Tablecloths" 😉 since I only have one tree skirt left and its currently employed holding presents under the Christmas tree.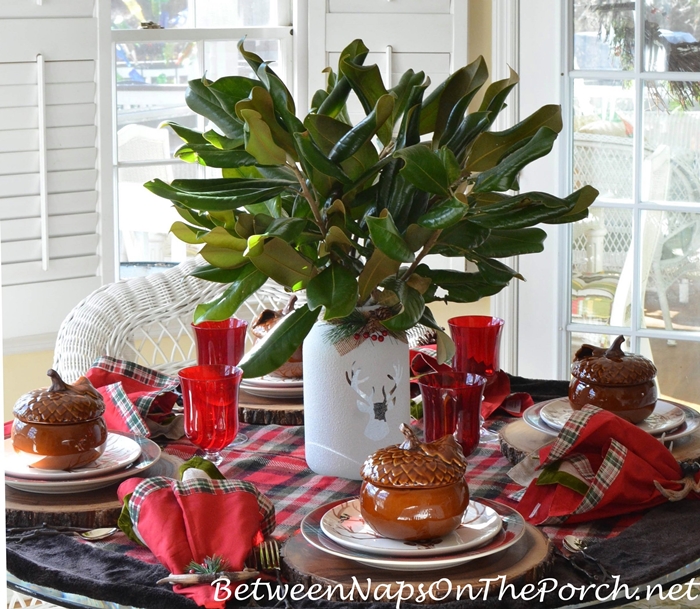 You may remember these snowy, deer-themed jars purchased a couple of years ago.
They are actually luminaries and they came with a large faux candle inside a holder down inside the jar. The candle holder is attached to the top of the jar as part of a ring around the jar rim.
I removed the candle and its holder, and it worked great as the vase for the magnolia branches in this setting.
I never realized how much I would use these wood chargers when I first purchased them. They work so well in a woodland themed table setting and look great with plaid, especially red and green plaid. (Wood chargers are available here: Wood Chargers.)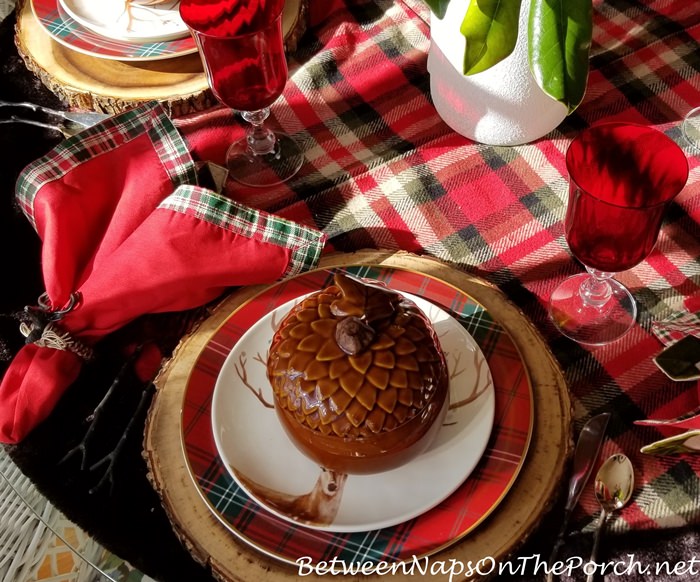 I could have lightened all these photos to the point of no return, but I love sharing the table with you as it appeared when I was taking these photos, bathed in the sunlight coming through the window here in the breakfast room.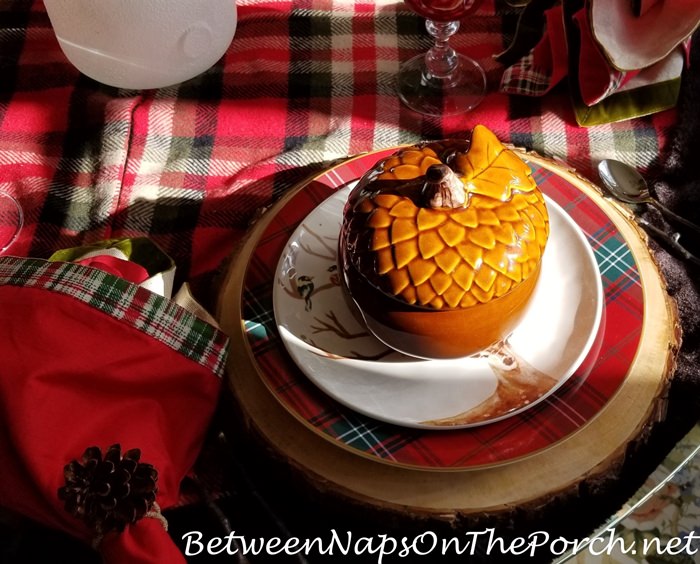 Removing the acorn soup tureen…
…you'll find these whimsical deer and bird salad/dessert plates underneath. These are from Pier 1 a couple of years ago. They had them in stock for a couple of years, not sure if they brought them back again this year or not. You'll find all their adorable Christmas dishware here: Christmas dishware.
I couldn't decide which napkin rings to use, so I placed a different one at each place setting. These cute antlers are actually a Christmas ornament. Ornaments often work great as napkin rings. I just wrapped them around the napkin and once around each other, and they stay in place holding the napkin.
Flatware is twig flatware purchased several years ago from West Elm.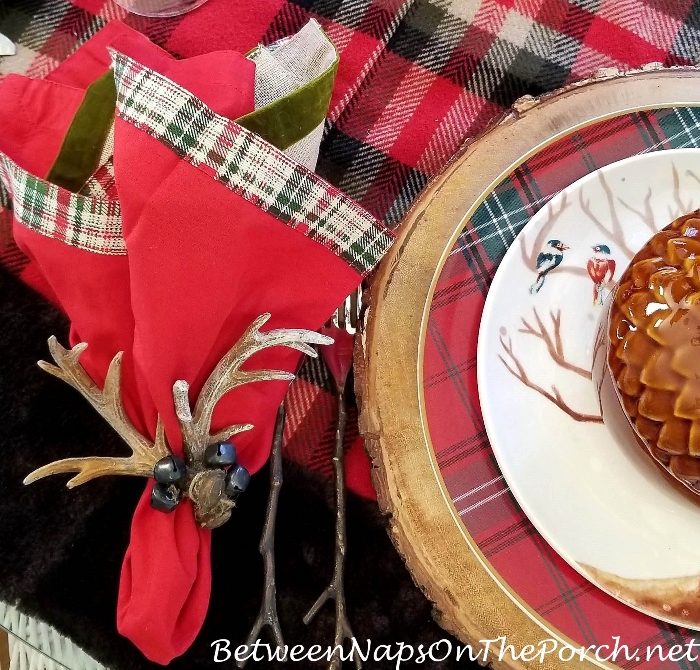 These cute napkin rings from my friend, Linda, work great in this nature/woodland-themed table setting.
This napkin ring is another antler ornament, doing double duty as a napkin ring.
Chose a pine cone napkin ring for the last place setting.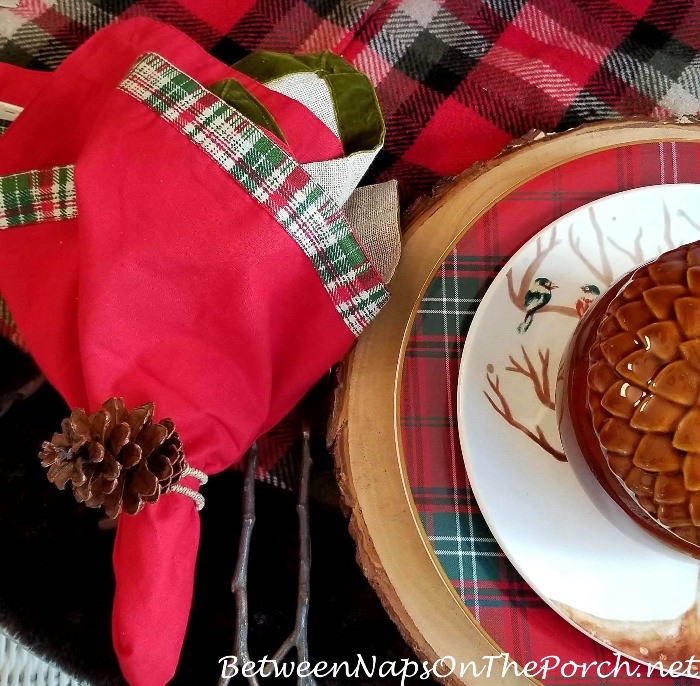 Merry Christmas and Happy Holidays, dear Friends!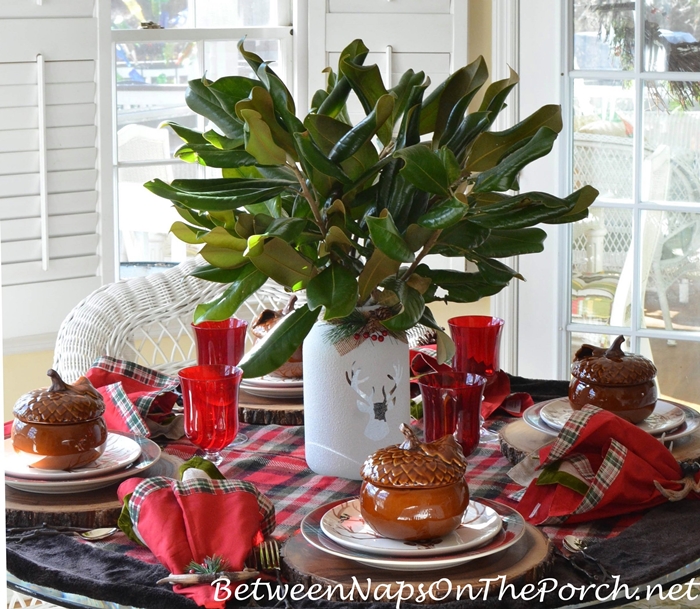 Looking forward to all the beautiful table settings for this week's Tablescape Thursday!
Pssst: I post almost daily to Instagram. Follow Between Naps on the Porch on Instagram here: Between Naps On The Porch. If you enjoyed this post, subscribe for free email updates when a new post is up here: Subscribe for post updates.
Tablescape Thursday
If you are participating in Tablescape Thursday, please be sure to add your permalink below, and not your general blog address.To get your permalink, click on your post name, then copy and paste the address showing in the address bar, into the "url" box when you link up.
You'll need to include a link in your post back to the party to link up and participate. That's so visitors to your blog will be able to find the party and the other Tablescape Thursday participants. Requiring a link back also prevents businesses and scammers from linking up to sell their products. (Yup, that really happens, unfortunately.)
*If a post is sponsored or a product was provided at no charge, it will be stated in post. Some links may be affiliate links and as an Amazon Associate, I may earn from qualifying purchases. *