Sounds like a salacious headline, doesn't it? Woodpecker Attacks Lazy Hill Birdhouse: News at 5.
Over the years I've gone on many garden tours here in the metro Atlanta area. Often while touring I would see these amazing birdhouses that I later found out were Lazy Hill Dovecotes. After pricing them I decided they were just too expensive but years upon years of seeing them in gardens wore me down, especially when one gardener told me her's had been in the garden for 10 years. It still looked great! She said they last just about forever.
After hearing that I decided it just might be worth the $350 it would cost to buy one. When I added the porches onto the house six years ago, I finally splurged and bought my long desired Lazy Hill Dovecote. I placed it here in my perennial garden beside the driveway so I could enjoy it every day as I left and returned home.
I absolutely love it and it has given me 10x the enjoyment over what it cost. It was definitely worth the investment.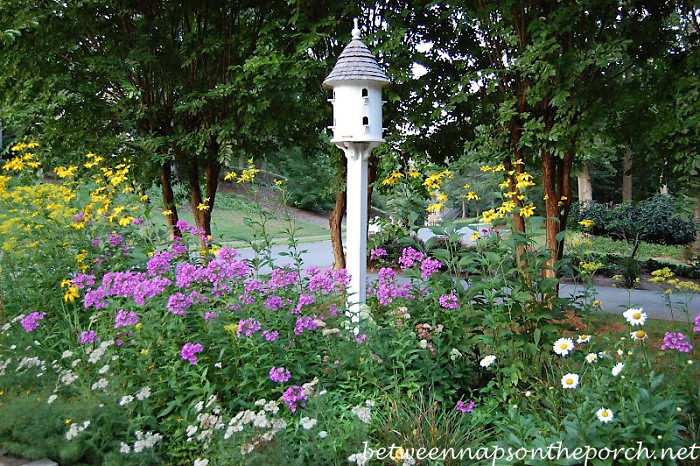 The bluebirds who visit my yard love it, too. They nest in it several times each spring/summer, sometimes as many as three times in one season. That's dad bluebird watching the crazy woman with the camera inching closer while mom bluebird is dropping down to get more meal worms from the tray I had just filled with them. You can see more pictures of the bluebirds in this post: Bluebirds Nesting in a Lazy Hill Dovecote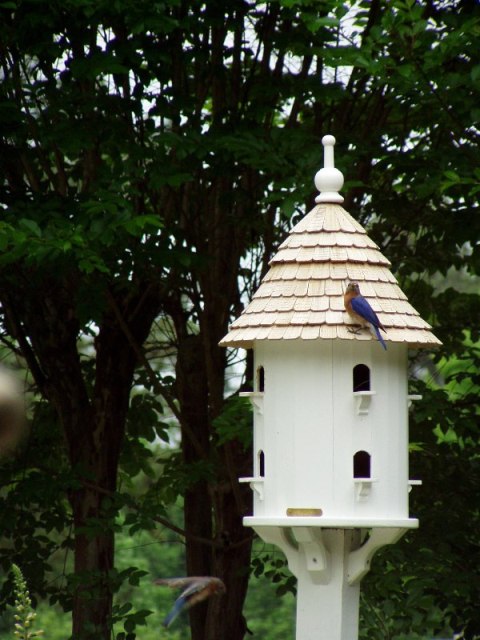 At Christmastime it's the perfect place to hang a wreath.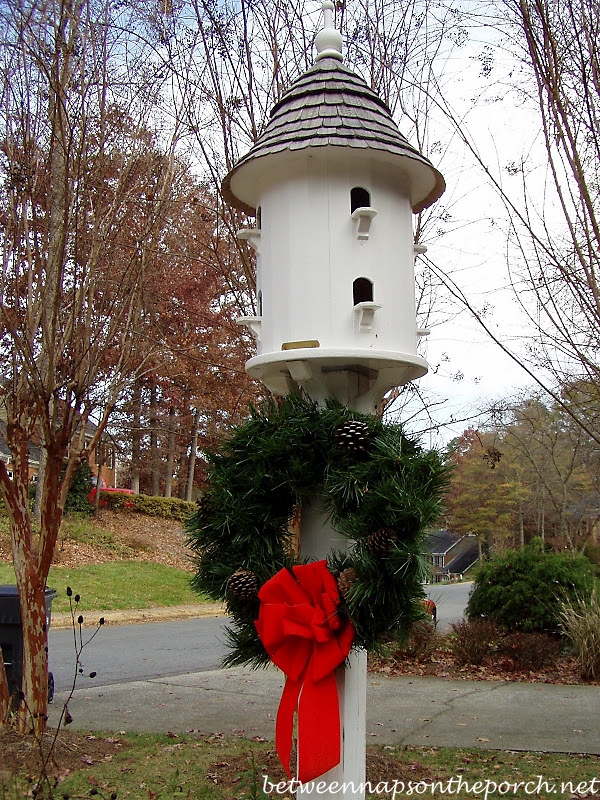 A few days ago I pulled into the driveway and got out to check the mail. I glanced over at the dovecote and this is what I saw. My mouth just fell open. I was completely speechless.
What do you think? Woodpecker?
Update: See how I repaired the roof of my Lazy Hill dovecote here: How To Repair a Woodpecker-Damaged Roof of a Lazy Hill Dovecote Birdhouse
*If a post is sponsored or a product was provided at no charge, it will be stated in post. Some links may be affiliate links and as an Amazon Associate, I may earn from qualifying purchases. *