Whew, wee! It was time to get the heck out of the house last night. I was late applying the third coat of marine varnish to the potting table. Each night before, that job had been done by 5 or 6:00 PM so I had a few hours of daylight when I could have the doors standing open in the basement.
Last night I was running way behind and didn't get that third coat of varnish on until closer to 7:30. When nighttime arrived and I had to close the doors in the basement, the table had barely even started to dry.
By 8:30 the smell of the varnish inside the house was too much. I could feel my heart racing and racing…not good. It was time to get out and go some place, anyplace to get away from the smell! But where to go, all the stores would soon be closed. I headed over to Marshall's since it's only about 2 miles from my home and is open to 9:30 each night.
You know all those times I've taken you on a shopping trip (like this past trip to IKEA) and always come home empty-handed? You always ask, "Well, what did you buy?" and usually my answer is nothing. Not this time! Maybe it's spring fever but it turned out to a very productive trip.
So, what did I buy? This time I actually have some shopping finds to share with you!
My current kitchen shears are $1 scissors from the dollar store. They worked well for about a minute, but now I think I could tear open a package of bacon with my teeth faster and more efficiently than with my current shears. So these came home with me. Cost: $8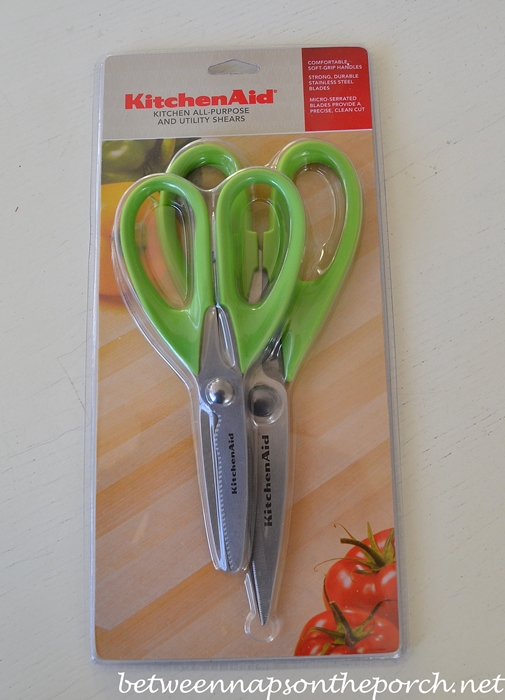 In the past while shopping in Marshall's I've purchased a large canister of pretty white sand and one of sandy-colored sand. I've loved using those in summer tables so I thought these might come in handy, too. They may end up around the base of candle inside a glass candle holder at some point…who knows where else. Cost: $4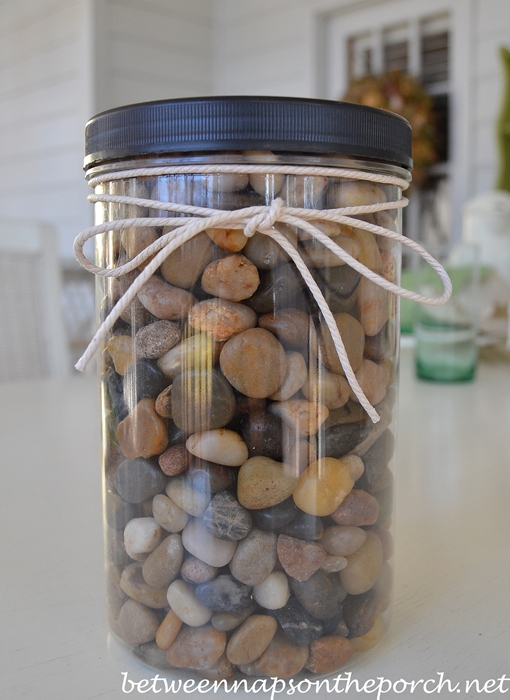 This made me smile! I could see it sitting on top of the potting table out on the deck with a pretty plant inside all summer long. Cost: $12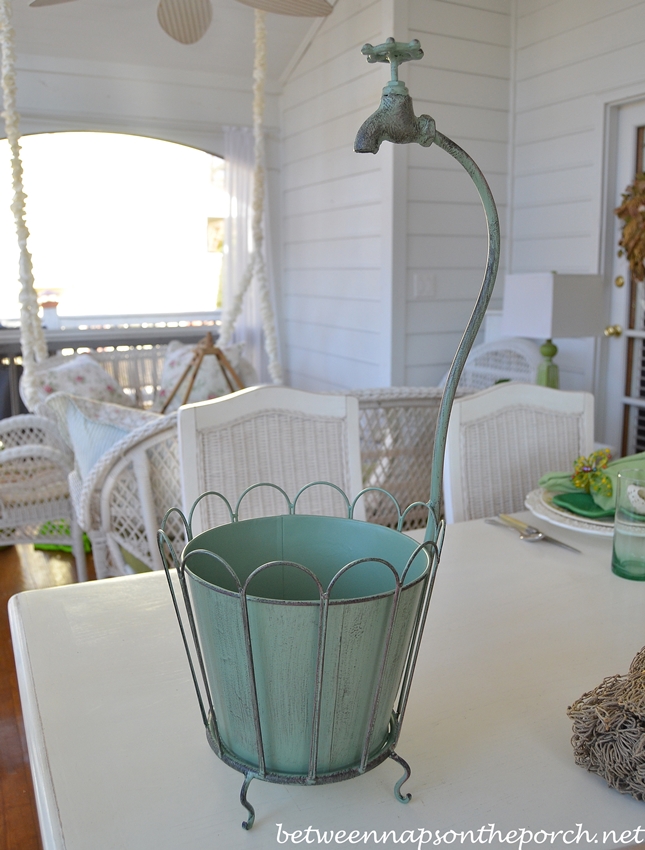 I've had my eye out for a fish-net tablecloth for a while now. I actually purchased one a while back from Michaels. When I bought that one, I noticed the package said it was a real fishing net. They weren't kidding! Think rotten fish. It smelled so bad I ended up returning it. My fish-net table cloths don't have to be THAT authentic!
This one was wasn't inside a package so I could give it the smell test before buying it. It passed! It's going to make a cute tablecloth for a future beachy table setting or even in a beach vignette. Cost: $10
I love anything with shells on it…remember my hand-made (took-forever-to-make) shell chargers? 🙂 So these had to come home with me, too. They are pretty big, over a foot tall and were $20 each. You'll most likely be seeing them in a table setting this summer.
I briefly thought of just making my own. All they've really done to make these is hot glue burlap around the base and then hot glue shells and starfish on top. But as mentioned, these are over a foot tall, and the tall vases in Marshalls were $10 alone. I figured by the time I purchased the vase, the burlap, the shells and the starfish, I would end up spending close to $20 anyway. Now if you already have a tall vase you aren't using, it might be worth purchasing the shells to make one. Or, perhaps you already have the shells. They would be super easy to make!
Okay, I saved what may have been my most favorite find of the evening for last.
I've been admiring these cute terrariums/greenhouses in catalogs and online for some time but they were always way more than I was willing to spend. This one was a price I could live with at $25. I love the shape!
It's made with real glass panes which I really like. I love the little window at the top on two sides…good for air flow to the plants or whatever would be displayed inside.
It has cute vintage-looking lock on the side.
Here's how it opens. I've debated cutting the little ribbon thingies away but I'm not sure if the top will just open back and rest on the table or not, so for now I'm leaving them.
I've also thought about painting it but I kind of like the rustic look. Ummm, what would you do…paint it or leave it as is?
Oh, before I forget, if you are interested in building the potting table I built recently, Ana from the blog, Ana White has created awesome plans for the table, real plans you can follow including a cutting list! You'll find a set of printable plans at Ana's blog here: Ana White.
Thanks so much to Ana for featuring my potting table on her amazing blog! She has inspired so many with her talents! Be sure to check out the Plans category at the top of her blog. You won't believe all the amazing things you can build with the plans she gives away freely each day!
*If a post is sponsored or a product was provided at no charge, it will be stated in post. Some links may be affiliate links and as an Amazon Associate, I may earn from qualifying purchases. *