Every year around Christmastime, my son and daughter-in-law give my grandsons a chocolate Advent Calendar. They may forget to do a lot of things during the day, but they never forget to ask to open another little door on the calendar. lol
Did you know there are Advent Calendars out there for the grown-ups? I don't know how I've missed it all these years but I just discovered this when I got an email from Dior with an image of their amazing calendar this year. Once I saw the size of each day's surprise, I am super tempted to buy one and treat myself to a little Dior goodie each day. I've never purchased any of their perfumes so this would be the perfect way to do that!
In today's post, I'm sharing some of the wonderful Countdown to Christmas calendars that have been designed just for us, the grown-ups. As hard as we work through the holiday season to make Christmas special for everyone in our family, we deserve a little treat each day. I would love to end each day opening a door to a new treasure. A lot of these calendars are actually great deals because they are filled with products that if purchased individually would cost a lot more than the price of the calendar.
Most Advent Calendars for adults seem to be designed primarily for women, but I managed to find one that's just for the guys. Each day, for 24 days, the lucky guy receiving this calendar will find a bath or grooming product tucked behind each door. Even the guys need a bit of pampering during the holidays. I'm thinking of ordering one of these for my son. It's available here:
24 Day Beauty/Toiletry Advent Calendar for Men
This is def my favorite of all the Advent Calendars! It's not cheap, but the goodies behind each door are the best of the best from Dior and the size of each product is quite generous.
24 Maison Christian Dior Surprises Advent Calendar
I love how they made each treasure the same shape it is when you buy it full size. Sooo cute! If you really want to treat someone this Christmas, this would definitely be the way to do it! I think it would also be beautiful to display even after Christmas is over. Dior really knows how to do an Advent Calendar! For a bit of luxury this Christmas, you'll find this gorgeous Advent Calendar here: 24 Maison Christian Dior Surprises Advent Calendar
Macy's has created their own Advent Calendar this year and I love the mix of beauty products included inside. Check it out in more detail here: 25 Days of Beauty Advent Calendar
Are you a Sephora fan? They've put together a pretty impressive Wild Wishes Countdown Calendar this year. Too many goodies to describe them all but you can see it in greater detail here: Sephora Wild Wishes Advent Calendar
This countdown calendar from Anthropologie caught my eye because of the adorable design on the outside. I love it!
Anthropologie's George & Viv 24 Day Advent Calendar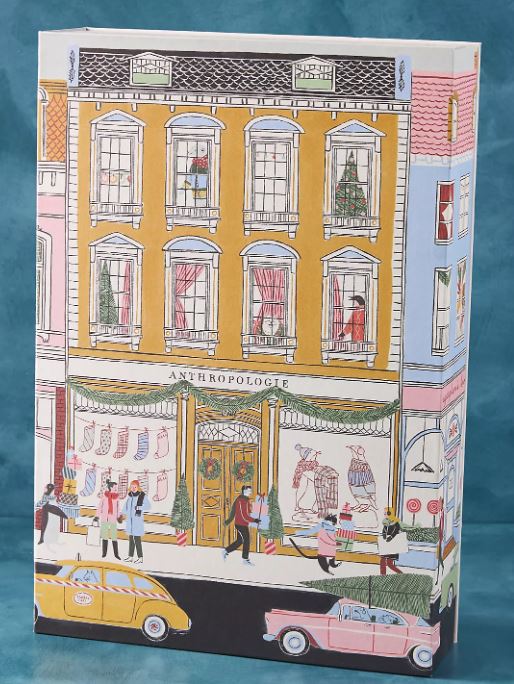 Look at the size of the treats inside! What a great way to try a lot of products from Anthropologie. This calendar is available here: Anthropologie's George & Viv 24 Day Advent Calendar
This is a dream countdown calendar for the Charlotte Tilbury fan, it is stunning! I love all the drawers! You can read about everything that's included here: Charlotte Bejewelled Chest of Beauty
Armani has a beautiful Advent Calendar this year, too. Again, so many wonderful samples of their products in this luxury countdown calendar. Check it out here: Armani Beauty Advent Calendar.
If you love Diptyque candles, this is the countdown calendar for you! I'm super tempted to get this one for myself so I can finally try all of the candles/scents they make. You'll find this beautiful calendar here: Diptyque Advent Calendar.
Clarins Winter Wonders Advent Calendar, 2020
For the Clarins beauty product fan, here's a great way to sample all their products. I can't believe I haven't known about these Beauty Advent Calendars before now because they are such a great way to sample so many of a brand's products. Check the Clarins calendar out here: Clarins Winter Wonders Advent Calendar, 2020
Godiva Holiday Luxury Chocolate Advent Calendar.
If you're not that into beauty products, Godiva makes a luxury chocolate Advent Calendar with a special chocolate treat for each day leading up to Christmas. You'll find this yummy calendar here: Godiva Holiday Luxury Chocolate Advent Calendar.
Two more to consider: This L'Occitane looks like a great one…so many products! You'll find it here: L'Occitane Advent Calendar.
This would be a great one for Tea Lovers: Adagio Teas.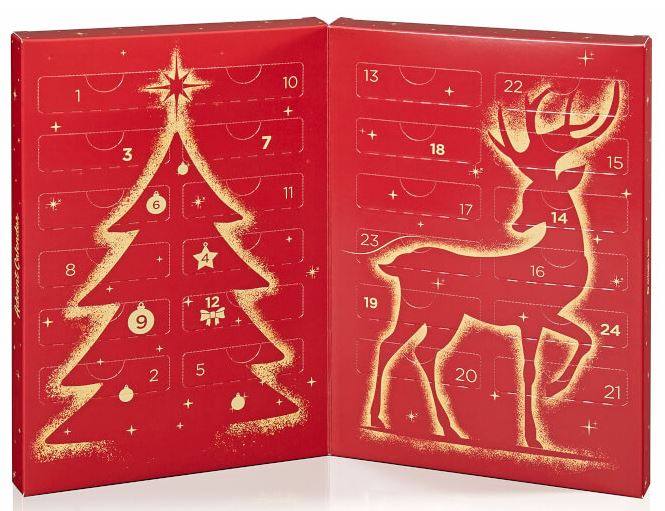 Did you see an Advent Calendar that you would love for yourself, or perhaps one you would like to give to a friend, a sister, or a loved one? Being a big Dior fan, that's the one I really want! I've always wanted to try their perfumes, so it's super tempting.
I'm so excited about Christmas this year! After the year we've all had, it feels good having something wonderful to look forward to!
*If a post is sponsored or a product was provided at no charge, it will be stated in post. Some links may be affiliate links and as an Amazon Associate, I may earn from qualifying purchases. *