Welcome to the 613th Metamorphosis Monday, a blog party sharing fabulous Before and Afters!
When my son was small, I worked in his elementary school library as a Media Parapro for five years. Unfortunately, I pretty much stayed sick with a cold or virus the entire five years since I spent my days interacting with young children all day long–handling the books they checked out and returned, reading to them, etc… Back then, I would catch 4-5 colds per year. I spent more time with a cold than I did without. Seriously!
When I visit my grandsons, the same thing happens now. The one nice thing about them being home so much this past year (other than getting to spend so much time with them) was I could visit and not catch a cold. Now that school is back in for half days, I've already caught my first cold from my youngest grandson. He came down with a cold about a week or so ago, and true to my nature, I promptly caught it.
I wonder, is it possible to be in the same house with someone who has a cold and not catch it? I definitely don't get as much sleep when I'm visiting my grandsons as I do when I'm at home since the little ones are up very early every day, even on the weekends. I wish there was something I could do to beef up my immune system because eating right and taking a daily vitamin is obviously not enough.
It's going to be a long drive back home tomorrow. I guess I'll visit the pharmacy today and try to find something to help me make it through the 8-9 hour drive home. Appreciate your suggestions for good cold meds to buy at the pharmacy and suggestions on the best way to beef up my immune system other than eating right and getting rest. I already do the former and the latter is not always easy to accomplish when there are little ones around. lol
Halloween is this Saturday. As mentioned, I'll be driving all day tomorrow, then I'm hoping to set a Halloween table on Wednesday to share for this week's Tablescape Thursday. I'll spend the weekend pulling out Christmas decorations because I'm busting to get those up almost as soon as Halloween is over.
The Christmas season always goes by so quickly so I want to get started decorating as soon as I can. I know some folks here in Blogland have already started their Christmas decorating. I just can't do that until Halloween has passed, but I am excited to get started! I was wondering today if I should replace all my wreaths this year.
My current ones are quite old, I think I've been using them for around 20 years now. They still look pretty good considering how old they are!
If you would like more information about how I hang my wreaths each year, check out this former post where I explain all of that in detail: How to Hang Wreaths on Exterior Windows. It's really very easy!
At least I know my ribbons and bows will be in great shape this year.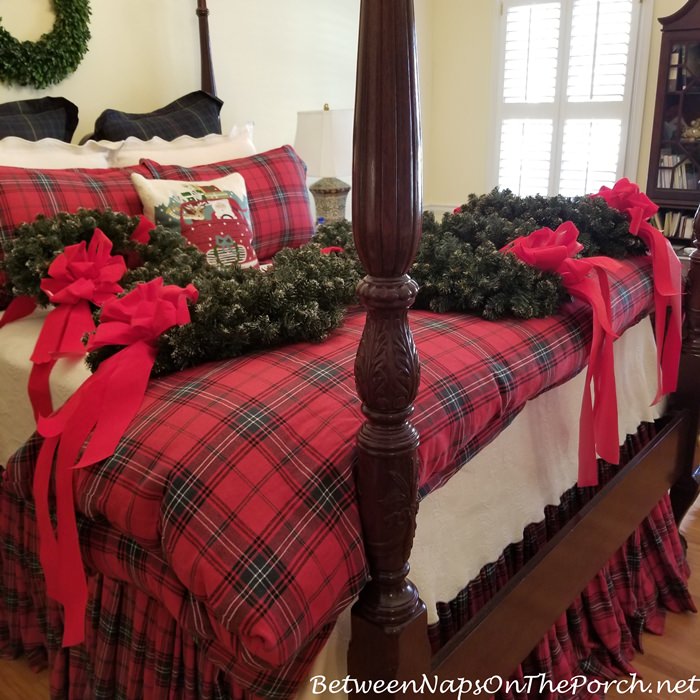 I found an awesome deal on those last year here: 12 Red Christmas Bows with Streamers.
Also, this is a great time to start thinking about what you would like to include in your holiday treat bin if you are planning to put one out for the couriers/delivery personnel who will be bringing goodies to your home this holiday season.
I received the nicest thank you note last year after the holiday season was over. Our delivery folks really do appreciate this small gesture…it always a big hit at my house!
If you would like to read more about how I put this snack center together and the snacks that seem to be the most popular/appreciated, check out this post: Snack Center for Delivery Personnel.
Looking for a little inspiration for your Christmas holiday decorating? Check out the following links below:
THANKSGIVING
CHRISTMAS
Looking forward to all the wonderful Before and Afters linked for this week's Met Monday!
Pssst: Did you know Between Naps On The Porch is on Instagram? You'll find me on Instagram here: Between Naps On The Porch.
Like to know when a new blog post is up and available to read? Subscribe for email updates, it's free and your email will never be shared.
Subscribe for free post updates via email here: Subscribe.
Metamorphosis Monday
Metamorphosis Monday is a party that's all about Before and Afters. Please link up your Before and After projects like DIY projects, room makeovers, craft projects even recipes. Any Before and After is great! Please do not link up Table Settings, save those for our Tablescape Thursday party on Thursday.
If you are participating in Met Monday, please link up using the "permalink" to your MM post and not your general blog address. To get your permalink, click on your post name, then just copy and paste the address that shows up in the address bar at the top of your blog, into the "url" box for InLinkz when prompted.
In order to link up, you'll need to include a link in your MM post back to the party so the other participants will have an opportunity to receive visits from your wonderful blog readers.

This party has ended, click button below for the links to all who participated.
*If a post is sponsored or a product was provided at no charge, it will be stated in post. Some links may be affiliate links and as an Amazon Associate, I may earn from qualifying purchases. *