A few days ago someone left a comment that they were having a tough time finding the Newman's Own Lemon Pepper that I mentioned during a previous post that was about making Lemon Pepper Chicken. They also mentioned that they thought it was being discontinued. What?! That put me in a bit of a panic and I immediately bought two more. I hope it doesn't get discontinued since it's my favorite for seasoning chicken. If you've been trying to locate it, it's available here: Newman's Own Lemon Pepper. I'm very tempted to try some of their other seasonings, too.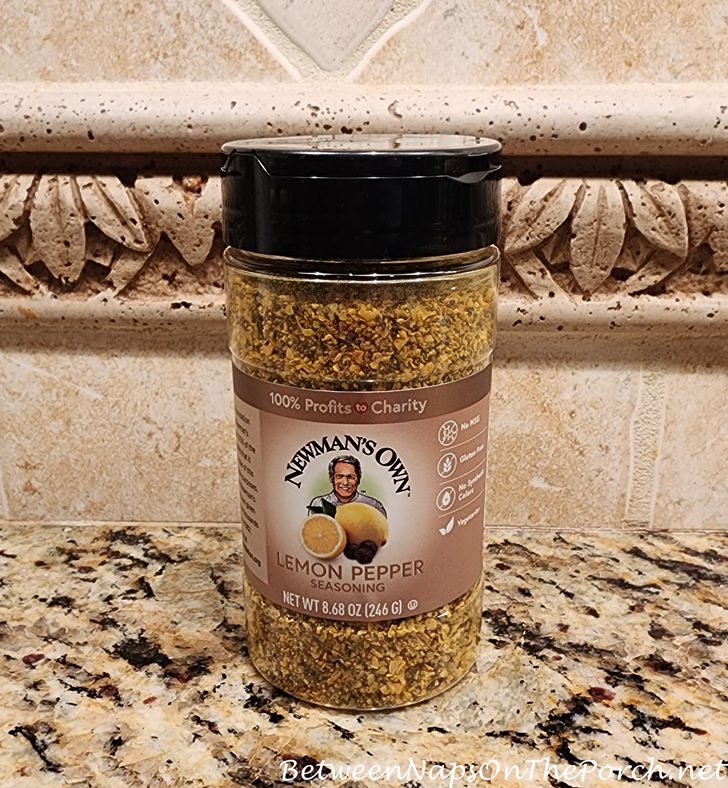 I purchased this beautiful red cashmere sweater for my son a few years back and it has turned out to be his favorite winter sweater. Recently, my daughter-in-law shared that it had somehow gotten a hole in it. I've been stalking the Nordstrom website hoping it would go on sale and it finally did today. I purchased a replacement this morning and had it shipped right to their home so he'll have it available for wearing throughout the Christmas season. I'm tempted to buy him a second one in another color since he loves it so much. If you're looking for a great cashmere sweater for a guy on your list, this one is currently on sale here: Cashmere Sweater.
Dubarry Galway Boots: I don't think I have ever talked about Dubarry boots here on the blog, but I have long had them on my "one-day" wish list. I've heard so many good things about them over the years. Kate Middleton, Princess of Wales, has been photographed wearing their tweed jackets. A YouTuber I follow who lives in Great Britain, wears her Dubarry boots every time she takes her two dogs out for walks through the fields surrounding her home. They are stylish, but also waterproof and hard-wearing, so they can be worn on the rainiest, muddiest days. From all the muddy photos of them that I've seen online, it seems to be a badge of honor to get them totally covered in mud. lol Apparently, they can take it!
Here's how Dubarry describes them:
I've never been able to find Dubarry boots locally and I hesitated to order them from Dubarry in Ireland, worried how difficult returns/exchanges would be if I got the size wrong. I finally found a company here in the U.S. that carries them. Mine arrived a couple of weeks ago and are perfect! I sized up a bit knowing I would always wear them with thick/heavy socks, and they fit just right. I'm glad I didn't need to exchange them but was glad to have that option easily available. If you've had Dubarry Galway Boots on your wish list for years, you'll find them available in their most popular "Walnut" color here: Dubarry Galway Boots.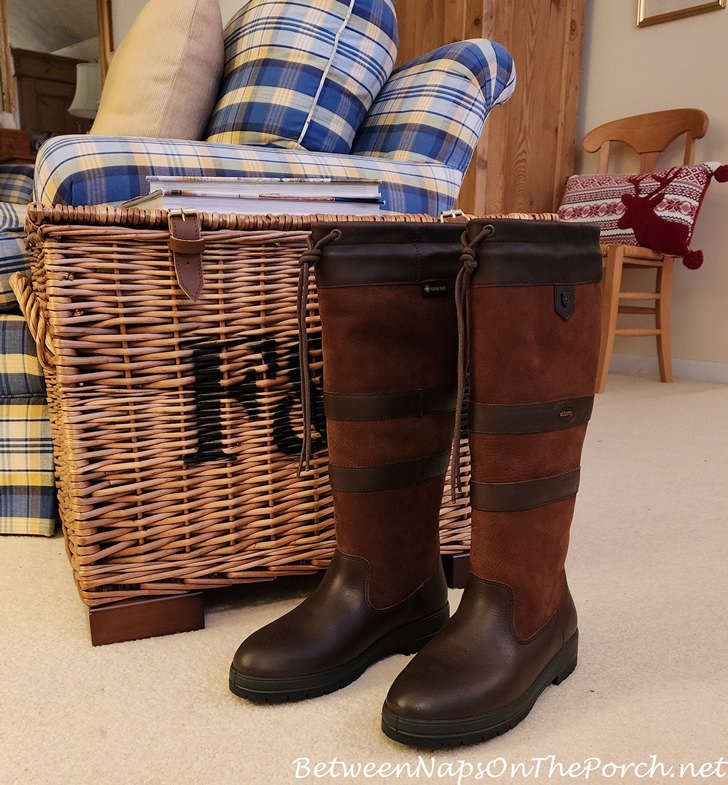 I had never worn a hoodie in my entire life until 2-3 years ago and now I'm obsessed! Every fall and winter, I look to see what's out there to keep me cozy and warm for the season, and this year, this one is definitely my favorite! It is sherpa-lined and so warm and soft!
After it arrived, I loved it so much that I ordered one more in the gray color and one in this pretty red below. The red just arrived today and the color is beautiful! I like to buy all my hoodies in size "Large" because I like them way oversized and long. This one is truly the equivalent of wearing a cozy blanket–and I love it! If you hate cold weather as much as I do, I definitely recommend it. It went on sale between the time I ordered my first one and the second two, so you'll find it now on sale 20% off here: Sherpa-Lined Hooded Pullover. It would also make a great gift, too!
I noticed this steamer is included in the early Black Friday deals. I have a floor-standing clothes steamer in my laundry room, but I'm tempted to get one to keep in my dressing room for quick touchups. You'll find it on sale here: Steamer for Clothes.
Recently, I mentioned Catan as a possible gift idea for the game lovers on your list. My son, DIL, and grandsons play this game all the time and they soundly beat me when I'm there since they are all so good at it! LOL (Catan is available here: Catan.)
In my previous post, I didn't think to mention that there's also a version for younger players called, Catan Junior. I bought Catan Junior for my youngest grandson a few years back since he was a bit too young for the regular version. It turned out that both of my grandsons really enjoyed playing it, and I think it helped my younger grandson learn the game a lot faster. Another great Christmas present for the little ones–you'll find Catan Junior here: Catan Junior.
For the DIYer on your list, this awesome DeWalt drill set is on sale for an incredible price right now! This is the set I purchased so can very much recommend it. You'll find it on sale here: DeWalt Drill Set.
While we are talking Christmas/holiday gifts, can't say enough good things about this double-basket air fryer.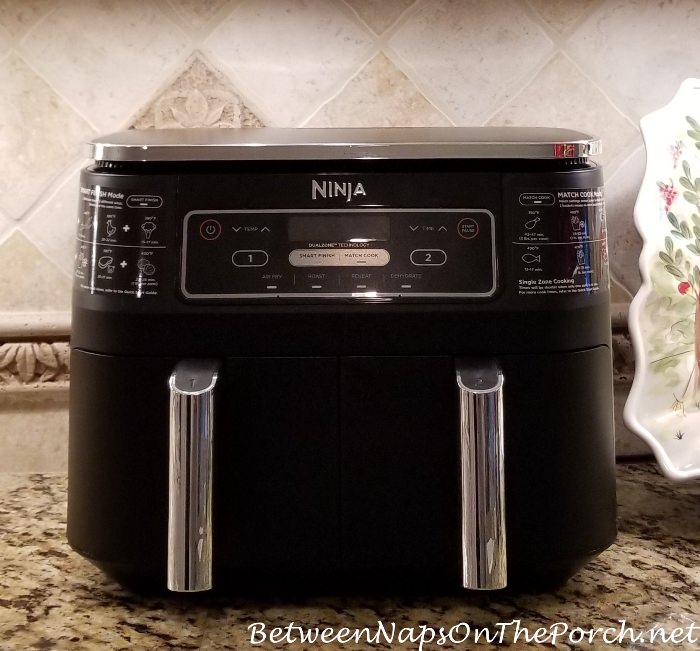 Mine gets almost constant use, I literally use it almost every single day. The double baskets are awesome! I love being able to cook two different foods at two different temps, for different time lengths–all in one fryer! It's currently on sale here: Ninja 2-Basket Air Fryer.
If you're in need of a fun stocking stuffer, my oldest grandson and I are determined to solve this Rubik's Cube! Ha!
I bought us both Speed Cubes since they are so much more fun to "work" than a regular ole Rubik's Cube. This is the best one I've found, love how easily the parts spin/move and how they snap into place effortlessly. I think my grandson is going to beat me in learning to solve it, he seems to have an inherent knack for solving each side. It's only a matter of time before he is able to solve all 6 sides at once. You'll find this Speed Cube here: Speed Cube.
Another wonderful gift idea for Christmas would be a delightful Book Nook. Do you remember this Book Store Book Nook that I completed a while back?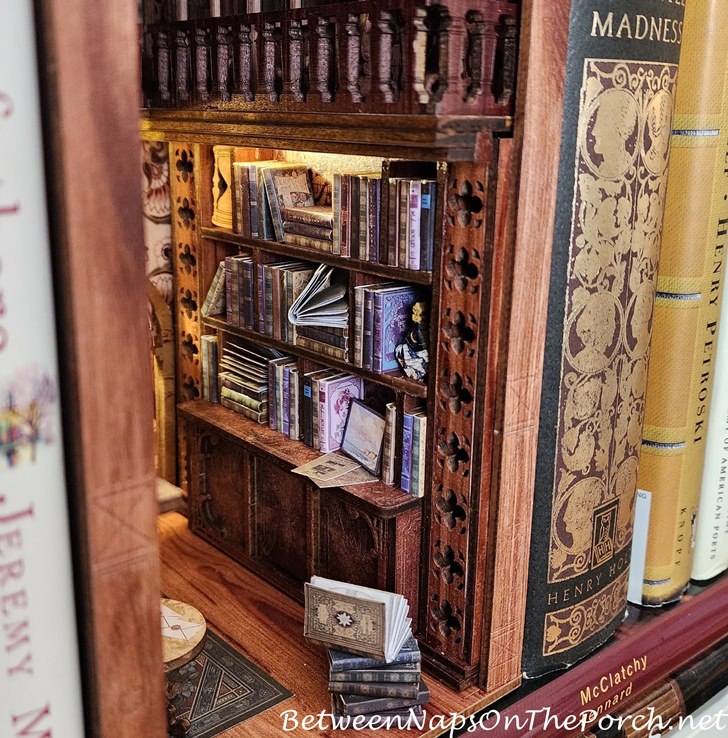 I had so much fun creating it and I love how it looks on my bookshelves here in the office. You'll find this Book Store Book Nook kit here: Book Store Book Nook.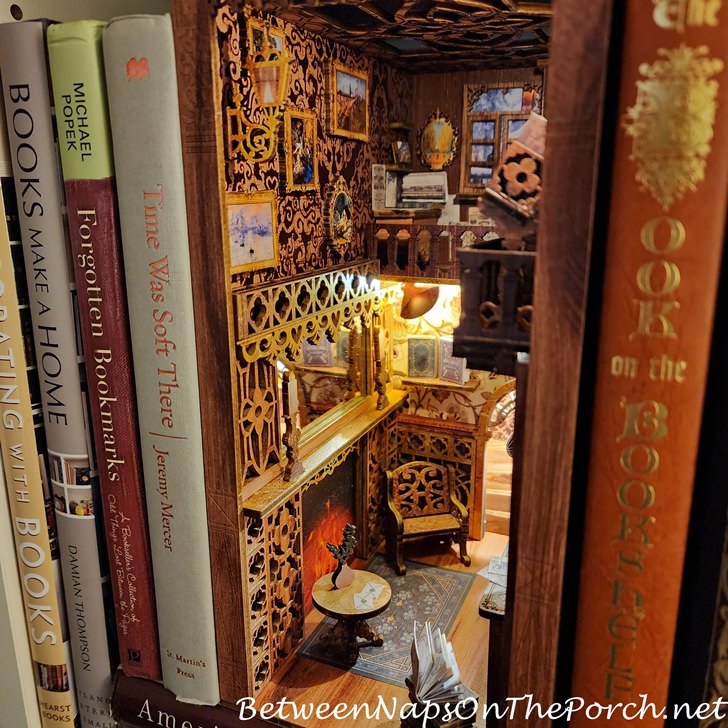 I've been eyeing this Garden House Book Nook–I think it's adorable!
Wouldn't this be fun to work on this winter while we await spring? I think it would make a wonderful gift for anyone, especially those who love plants and gardens. You'll find it on sale 20% off here: Garden House Book Nook.
Every year as winter approaches, I bring out my crackling Woodwick candles. I love the crackling fire sound they make as they burn. This is the size I normally buy because it sounds so much like a fire crackling in a fireplace. You'll find it available here: Woodwick Candle.
This size also crackles and is a great size for gift-giving. The "Fireside" scent is my favorite of all that I've tried. You'll find it available here: Woodwick Fireside Candle.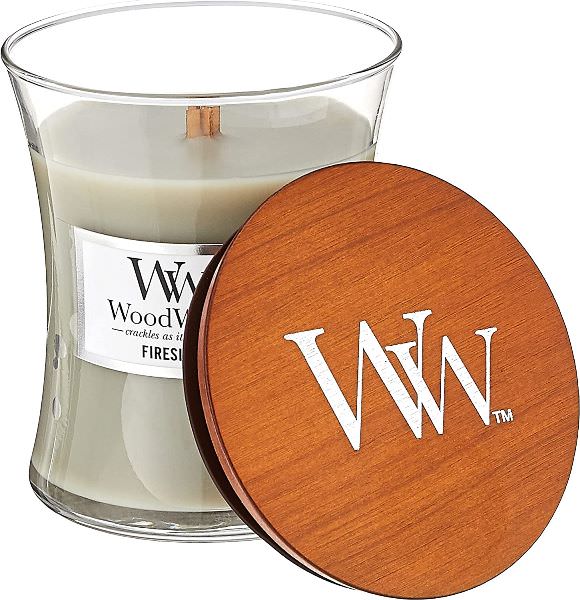 A few days ago I shared this absolutely adorable Gingerbread House bag that I had just purchased, and you guys loved it as much as I did! (See and read more about this beautiful bag in this post: Cutest Thing Ever–I Could Not Resist.) This bag is currently still 50% off which is an amazing price for such a beautiful detailed bag. (You'll find it available here: Gingerbread House Bag.)
Niki, a lovely BNOTP reader mentioned buying this cute Gingerbread Man bag charm that's part of the collection. I had passed him up at first thinking he was just a keychain.
Thanks so much to Niki for pointing out he's actually a bag charm! He may be able to be used as a key chain, too–but he's a chunky little guy so it would take a bigger bag for him to fit inside. I love bag charms and have them on several of my bags, so I had to order this guy once I realized I could wear him that way. I've discovered he looks super cute on many of my bags! I'm so glad Niki mentioned him and that I could snag him while he's still available. If you like bag charms, you'll find this cutie on sale here: Gingerbread Man Charm.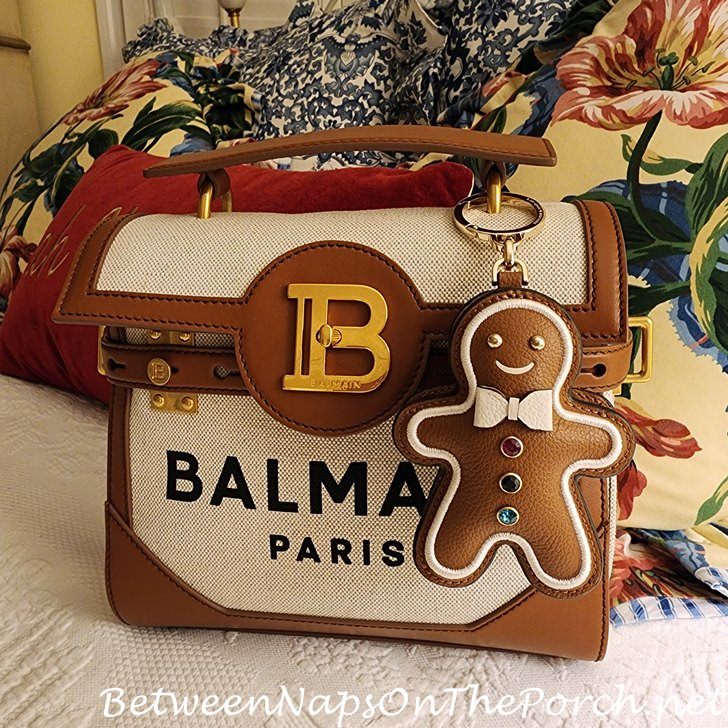 I had thought about doing a separate post to share the next two items but decided to go ahead and include them here. They will mostly like be on my November Favorites post next month, too. I've been using an applicator like this for years to put lotion on my back, especially in the wintertime, but what I really like about this one is the applicators easily pop off so they can be tossed into the wash. Love that! If you like to put lotion on your back during the wintertime, too–you'll find this smartly designed lotion applicator available here: Lotion Applicator for Back.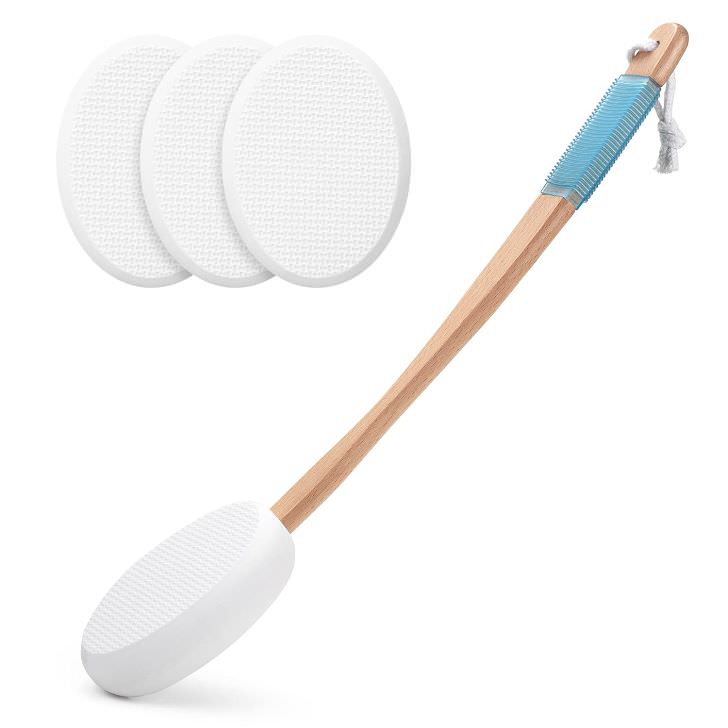 Another item I have been really enjoying trying recently is a silk-lined sleep bonnet. Have you heard of these? I've heard quite a few beauty YouTubers talk about these and how they help preserve your hairstyle. I prefer to sleep on flannel sheets in the wintertime, so I sleep on a flannel pillowcase, as well. Sometimes I can wake up with my hair a bit of a mess in the morning. I just started sleeping with this silk bonnet/hair cover and I'm really pleased with how less messy/frizzy my hair is in the morning. It really does offer a lot of protection for hair during the night as we toss/turn and roll over during the night. I like how this one is designed without any elastic around the face. I've also noticed that it helps keep my head warm at night–an extra bonus! If you would love to try one, this is the one I have and like: Silk Bonnet, Protects Hair While Sleeping.
Hope you found these gift ideas helpful! Happy weekend to you!
*If a post is sponsored or a product was provided at no charge, it will be stated in post. Some links may be affiliate links and as an Amazon Associate, I may earn from qualifying purchases. *