Welcome to the 656th Metamorphosis Monday!
Thanks so much for all your input on Friday's post! Appreciate all of your suggestions so much! After three weeks in Ohio, I'm back home now. The weekend was spent unpacking, going through mail, washing clothes, and all the catch-up stuff that usually needs to be done after a few weeks away from home.
The two lamps I ordered prior to my trip arrived and I'm so excited to share how those turned out with you in today's post. Spoiler Alert: Despite the fact that neither lamp worked in the original place I had in mind, I'm keeping both and have found new places for them.
You may remember that this recent lamp-buying spree started when I upgraded the bedside lamp in the guest room after coming across a really beautiful lamp online.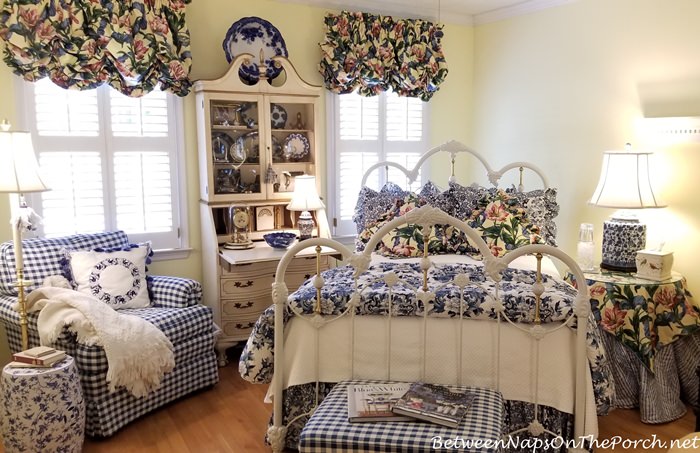 Unfortunately, the majority of the lamps I come across these days in local stores have the dreaded drum shade that I just don't like. This lamp caught my eye with its more traditional shade and traditional styling.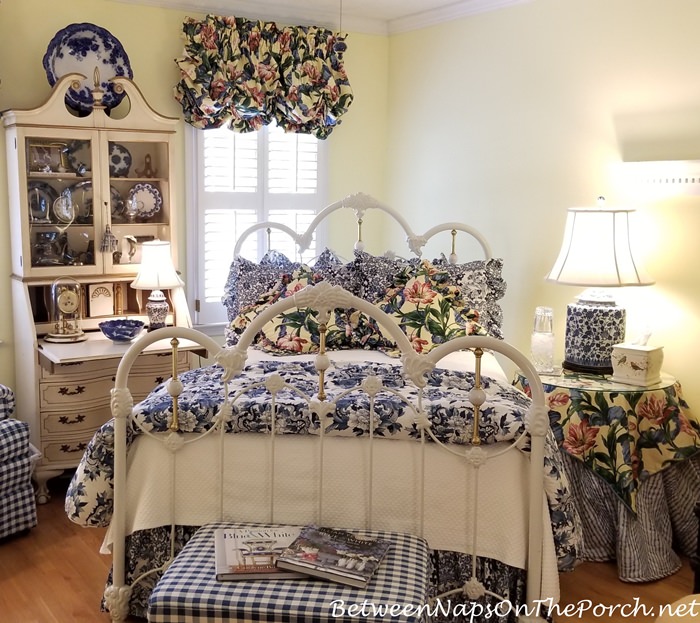 I was so impressed with the quality of this lamp and how reasonably it was priced, I decided to take a look at the other lamps offered by the same company. (Blue and white lamps was purchased here: Blue and White Lamp.)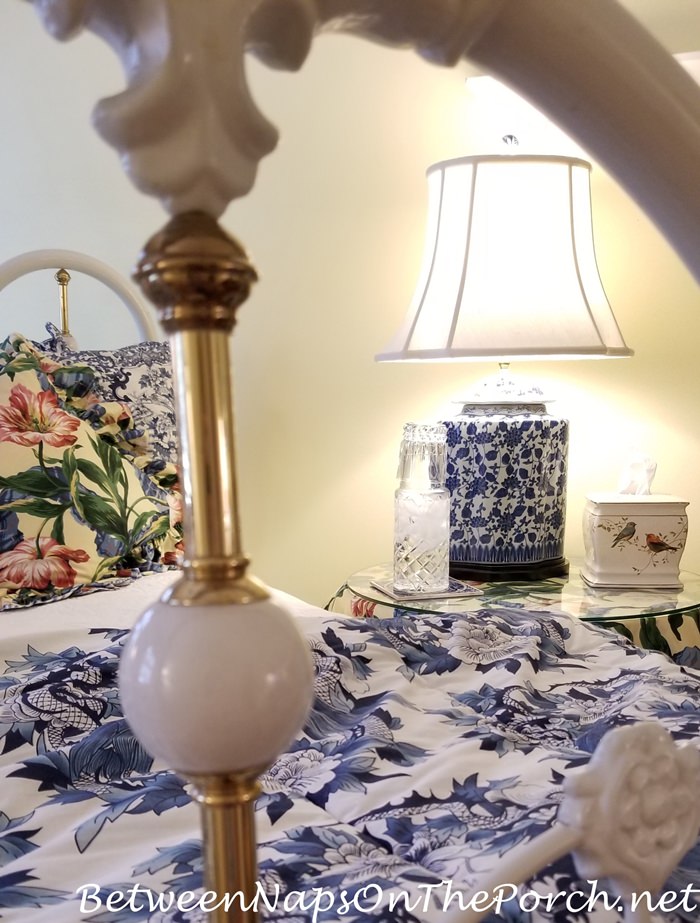 As mentioned in a previous post, I ended up ordering this lamp below along with one other lamp. I'm not normally a big fan of the color, orange, in my home decor, but I really loved the look of this lamp. And as someone mentioned in the comments of that previous post, the color is kind of a dark, coral orange. Maybe that's why it appeals to me so much.
I had thought about using it here in the upstairs living room/bonus room on the blue chest in this room since I've been adding a few orange accents to this room over the past year, but once I tried it there, the contrast between the blue in the chest and the orange in the lamp was just too much. (Photo taken before the clock was moved to the upstairs hallway.)
I loved the lamp so tried it out in a few more places including the chest seen here in the background sporting a tall, brass lamp.
I love how it looks here although it's a little smaller than the lamp I previously had in this spot. Yup, that's garland in the background. I loved how the lit garland looked atop the armoire in this room at Christmas so decided to leave it there full-time to enjoy it lit in the evening time.
Okay, that greenery was too distracting so I took it down. Here's how the lamp looks turned on.
I really do love it!
Here's a close-up for a better view of its actual color. It's a bit more muted in person than it had appeared in the ad, which I definitely like. I love the design and love the beautiful shade! This lamp is nice and heavy (as are all the lamps I've ordered from this company) and the shade is so much nicer than what you normally get with lamps these days. If you like the look of this lamp, you'll find this one here: Beautiful Lamp.
This was the other lamp I ordered with thoughts of using it in my home office where I have a reading chair in similar colors. That idea didn't work out because this lamp is BIG–I mean really, really big! It dwarfed my desk! But it was so beautiful, I knew I had to find a spot for it somewhere.
For now, this is its new home–here in my master bedroom dressing/exercise room. When I first saw how large it was, I initially thought about returning it, but it's just too elegant to send back!
It started out in the corner of this dressing room atop this built-in drawer space. I liked the view as I walk across the bedroom and glimpsed it out of the corner of my eye.
Another view of it in the corner…
I decided to move it down closer to the built-in desk to see how that looked and I love it there, too. What do you think? Which is better: the corner position above or closer to the desk as seen in the photo below?
Here's how it looks turned off. This lamp is quite large so it has a grand presence, especially when lit. It measures 31 inches tall! Last night I discovered they have a smaller version of this lamp. I don't think it was on their site when I ordered this one. If you like this lamp but need it in a smaller size, you'll find that here: Green and White Lamp.
To give you an idea of how big this green and white lamp is, let's compare it to the lamps on either side of my bed.
I've always considered these lamps I currently have on either side of my bed to be a great size for my queen-size bed.
Here's a photo of my existing lamps with my current summer bedding.
A closer view…
Now take a look at this comparison! That's the new lamp on the left and my current lamp on the right. See how much bigger it is?! If you live in a home with a big open great room or a large, open bedroom with a high ceiling, this lamp would probably look right at home there! It is truly the biggest table lamp I've ever purchased. It makes me want to buy two large, beautiful chests to go on either side of my bed just so I can use a pair of these lamps here!
Update: You guys convinced me, I went ahead and ordered a second green lamp and I'll use those on either side of the bed. The size of the green lamp does work so much better with my bed. I've moved the lamps that were beside the bed to the dressing area. Once the new lamp arrives, I'll share a photo of how those look. Now I really, really do need two large chests for either side of my bed! Argggh, this is like that book, If you Give a Mouse a Cookie!
I loved how it looked here so much, yesterday I left it on all day and all evening, stopping by periodically to take a peek. lol Really both lamps have exceeded my expectations just as the blue and white one for the guest room did! Love when that happens!
A view with the light off…
Here's a close-up so you can see all the colors in this lamp. As you see, the colors in the lamps are much softer and prettier than the ad online normally shows.
Where did you like it best–in this spot near the built-in desk, or more toward the corner of the built-in chest/drawer space?
Let me know what you think about these two new additions.
You'll find this large, green and white lamp available here: Beautiful Green and White Lamp. To see everything they have in stock, you'll find that here: Lamps.
Looking forward to all the great Before and Afters linked for this week's Metamorphosis Monday!
Pssst: Did you know Between Naps On The Porch is on Instagram? You'll find me on Instagram here: Between Naps On The Porch.
Like to know when a new blog post is up and available to read? Subscribe for email updates, it's free and your email will never be shared.
Subscribe for free post updates via email here: Subscribe.
Metamorphosis Monday
Metamorphosis Monday is a party that's all about Before and Afters. Please link up your Before and After projects like DIY projects, room makeovers, craft projects even recipes. Any Before and After is great! Please do not link up Table Settings, save those for our Tablescape Thursday party on Thursday.
If you are participating in Met Monday, please link up using the "permalink" to your MM post and not your general blog address. To get your permalink, click on your post name, then just copy and paste the address that shows up in the address bar at the top of your blog, into the "url" box for InLinkz when prompted.
In order to link up, you'll need to include a link in your MM post back to the party so the other participants will have an opportunity to receive visits from your wonderful blog readers.
This party has ended, click button below for the links to all who participated.
*If a post is sponsored or a product was provided at no charge, it will be stated in post. Some links may be affiliate links and as an Amazon Associate, I may earn from qualifying purchases. *