Welcome to the 533rd Metamorphosis Monday!
In this wide-angle view of my office, you can see a wrapping paper station I have hanging on the wall to the left. I added the gift wrapping organizer many years ago around the time I was putting this office space together.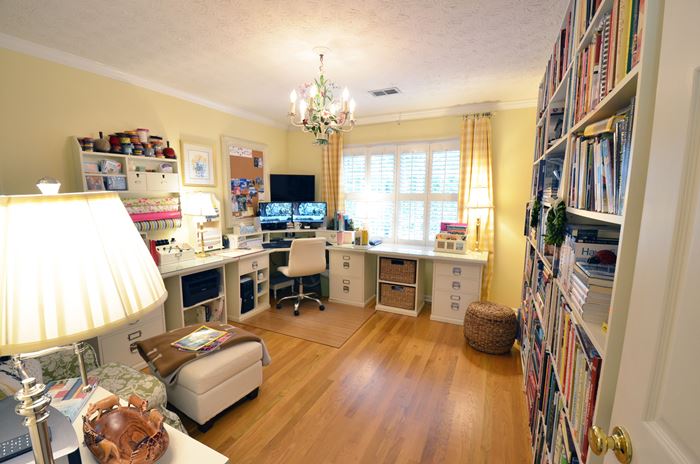 I don't think this gift wrapping organizer is still available. They brought it back again a year or two after I purchased mine, but I don't think it's available right now. You can see it better here: Gift Wrapping Station.
In addition to wrapping paper, I've been storing ribbon and greeting cards in this organizer. Today I moved all the ribbon to a drawer, just got tired of seeing it all stacked up on top.
For years now I've been storing greeting cards in this part of the organizer. Whenever I need a card for a particular occasion and don't already have one that fits the bill, while I'm out shopping I'll often buy additional cards if I see several that I like. Do you do that…pick up extra birthday, thank-you, sympathy, etc… cards if you find several that you like?
They look pretty neat in this photo below, but that's because I had just picked them all up after they slid out and fell down onto the desk as I was searching through them for a sympathy card I wanted to send to a friend.
Storing them this way is totally inefficient: the cards always end up separated from their envelopes and I end up having to go through the whole stack each time I need a card for a particular occasion.
I used to have a Card Folder with pockets designed/labeled for different occasions. Unfortunately, it didn't work very well because there were sections that I never used, while other sections (like the "birthday" section) were too small for all the cards I had. Also, it had a bad habit of dumping the cards out as I flipped through the different sections in search of a card.
Solution
Tonight I went in search of a better way to store/organize my cards and I came across this adorable organizer. I loved the floral exterior and I especially liked that it comes with 12 dividers and 24 labels for labeling all the different sections.
I can't wait until it arrives and I can get my cards all sorted out! You'll find it available here: Card Organizer Box.
I came very close to ordering this one below, but I changed my mind when I noticed it only has six dividers. I really want more sections than just six. This organizer is available here: Card Organizer. and here: Clear Card Organizer.
I can't wait for the one I ordered to arrive! It will be so nice to know right where to look when I need a card. No more fumbling through a big stack of cards crammed into my wrapping paper organizer.
While I'm waiting for this cute card organizer to arrive, I'm going to visit my local Marshalls and check out their greeting card selection. I always find great cards there and the prices are always so much better than what I normally find in card shops, grocery stores and drug stores.
Another place to look for all-purpose/general notecards is Michaels. My local store often has inexpensive, adorable notecards. I love those because they work great for giving little gifts throughout the year and at Christmastime.
Pier 1 also carries really cute greeting cards, although I don't normally see them on sale. I love cards that are 3-D or have some special feature like a big pop-up inside when you open them. Especially love buying those for my grandsons.
How do you store your greeting cards? Do you have a folder or box where you have them all sorted out and ready to go when the need arises?
Update:
Just discovered this cute rolling organizer for wrapping paper and ribbon. It's currently on sale from $199 to $119.40 here: Wrapping Paper Organizer. Love that it has wheels so it can be rolled to wherever it's needed.
Pssst: You'll find Between Naps on the Porch on Instagram here: Between Naps On The Porch on Instagram and on Facebook here: Between Naps On The Porch on Facebook.
Metamorphosis Monday
Metamorphosis Monday is a party that's all about Before and Afters. If you are participating in Met Monday, please link up using the "permalink" to your MM post and not your general blog address. To get your permalink, click on your post name, then just copy and paste the address that shows up in the address bar at the top of your blog, into the "url" box for InLinkz when prompted.
In order to link up, you'll need to include a link in your MM post back to the party so the other participants will have an opportunity to receive visits from your wonderful blog readers.
Feel free to link up Before and After posts that are home, gardening, decorating, crafting, painting, sewing, cooking, fashion, travel or DIY related. Please do not link up to the party if you're only doing so to promote/sell a product.
To those linking up, if you notice a shop or online store linking up to sell products (yes, unfortunately, that happens) please let me know so I can remove their link and block them from participating in future parties. No one wants to visit a link expecting a Before and After, only to find a spam link to an online business/store.
You are invited to the Inlinkz link party!
*If a post is sponsored or a product was provided at no charge, it will be stated in post. Some links may be affiliate links and as an Amazon Associate, I may earn from qualifying purchases. *