Recently when I shared a new lamp I had purchased, you may have noticed a large, colorful bowl that was sitting nearby.
I collected that bowl several years ago during a trip to Morocco when we visited Poterie de Fes, a place where they hand-make and paint tiles that they create from their local clay. The tiles are then used to make beautiful pottery and lovely fountains for gardens. I spotted this cute guy snoozing away in one of the fountains during our tour.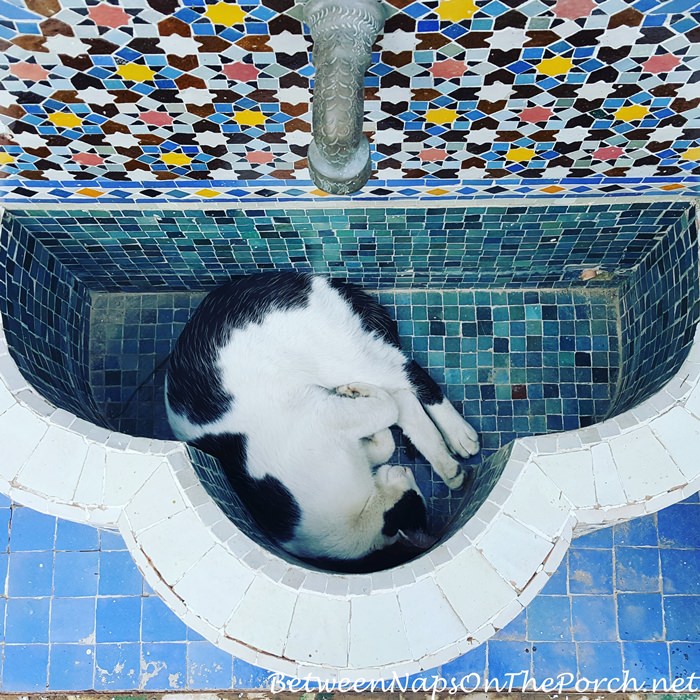 I wanted a special piece to remember that trip and the tour, so I purchased this bowl after agonizing over many beautiful pieces they had available to buy. Not to get morbid on you, but one day as I was at admiring its beauty, I started thinking about how when I'm no longer here, my son and daughter-in-law will see this bowl and have no idea where it came from or anything about it. Without knowing its history, they may think it's just a cute bowl I picked up in Old Time Pottery. Pieces that I have collected during my trips may not have meaning for my son, but who knows–if he knew this piece was collected and brought all the way back from Morocco, maybe he would want to keep it. If not, I'm totally okay with that, too.
It would probably be a good idea to create a journal where we jot down information about those special pieces that we have collected during our travels, especially the ones that may have real monetary value, but one thing I have done with some of my larger pieces is I have placed a label on the back stating where it's from and the year it was purchased. This is also super helpful for me because I have a terrible memory for dates/places!
On that same trip to Morocco, we visited Manar Marble, a factory/shop in Erfoud where they create furniture and stone products for the home and garden. The marble they use is sourced locally and dates back to the Devonian Period of the Paleozoic era which is around 360-410 million years ago, so it naturally contains a lot of well-preserved fossils. You can see a lot of fossils in the pieces they've created in the photo below. Fossils are everywhere in Morocco, you can even see them during walks in some areas. Amazing!
I purchased this pretty heart-shaped, lidded bowl during that tour.
I've labeled it on back, as well.
During a trip to Egypt in 2018, after touring the incredible tombs in The Valley of the Kings, we visited a local shop where artisans hand-carve into limestone slabs many of the scenes we saw inside the tombs. It was so amazing to watch them work! I purchased two of the limestone slabs/carvings but only one survived the trip back.
This is definitely one of my favorite treasures that I've ever brought back from a trip!
I labeled it on the back, as well. This labeling is so helpful when you're trying to remember what month/year you traveled to that particular place/country. You could add even more details if you wish. I've kept it simple with just the place and date.
This is the label maker I use. It's super easy to use so though I don't pull it out that often, when I do need to use it, it only takes me a few seconds to remember how it works and to produce a new label. I love that about it! It's really handy for labeling anything, including containers in a pantry or closet. If you need a great label maker, you'll find this one available here: Label Maker.
If you have done a fair amount of traveling over the years and you've collected some beautiful treasures during those trips, if possible, consider adding a small label to the bottom so others will know it's a special piece and not just an inexpensive whatnot mass-produced in China. They may appreciate it a lot more and who knows, it may become a special piece that gets passed down through the generations.
*If a post is sponsored or a product was provided at no charge, it will be stated in post. Some links may be affiliate links and as an Amazon Associate, I may earn from qualifying purchases. *