Welcome to the 438th Metamorphosis Monday!
Pssst: There's still time to enter the $500 Shopping Spree Giveaway from Noritake, you'll find the giveaway here: $500 Shopping Spree.
A couple of weeks ago I shared Debbie's wonderful "Tiffany" themed party. (If you missed that event, you'll find it here: Breakfast at Tiffany's Brunch.) The Tiffany Brunch was Debbie's third year of hosting her annual "My Favorite Things" party, a party she initially created to bring all her friends together for a bit of fun.
That first year Debbie hosted a "Favorite Things" party, she went with a "French Bee" theme. Debbie, loving all things French and playing off her French ancestry, already had a lot of bee-motif tableware, so the French Bee theme was a natural choice for her first "Favorite Things" party.
For this week's Met Monday, I'm sharing some of the outdoor decorations and wreaths Debbie put together to transform her home for this fun event. The planters on either side of the front door were decorated with friendly, smiling bees.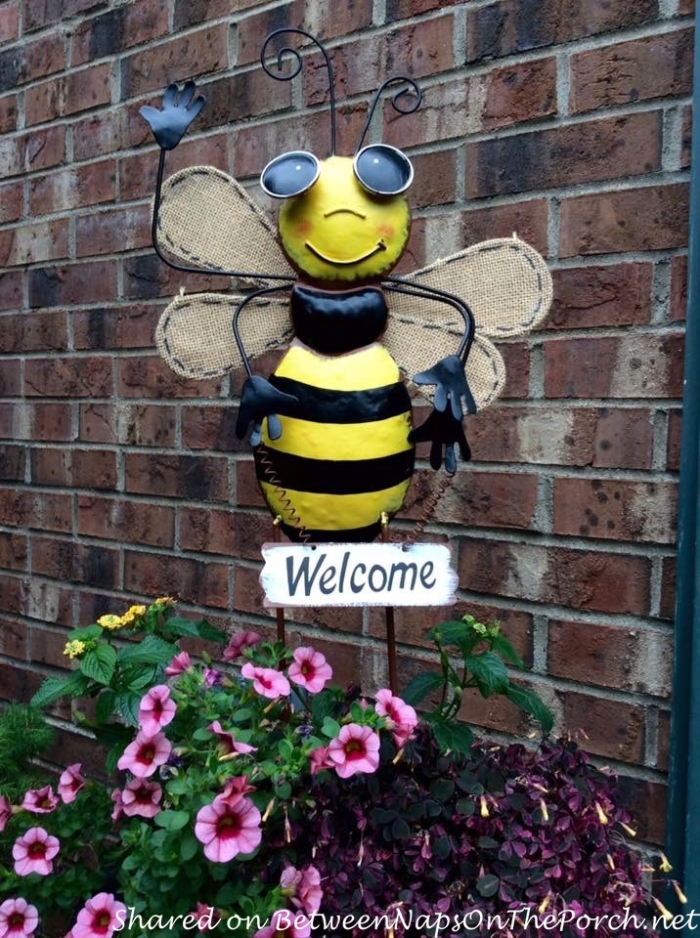 Debbie found the cute bees at a store by the name of Pat Catan. We don't have those stores here where I live, do you have them in your area? I'm wondering if they are a bit like a Hobby Lobby.
3 French Bee Wreaths
Debbie also made three wreaths for this festive gathering of friends. Debbie found all the supplies for her wreaths in Pat Catan, Hobby Lobby and Michael's.
Wreath 1
"If you look closely you'll notice honey dippers, bees, sunflowers and butterflies here and there." Do you see the little honey dipper and bee on the left and the bee and butterfly across the top?
Wreath 2
I love the black and white striped ribbon Debbie added to this wreath. It really gives this wreath a French vibe, doesn't it? For this "bee-themed" wreath, Debbie added yellow sunflowers, honeycomb ribbon, three honey dippers and lots of teeny little bees.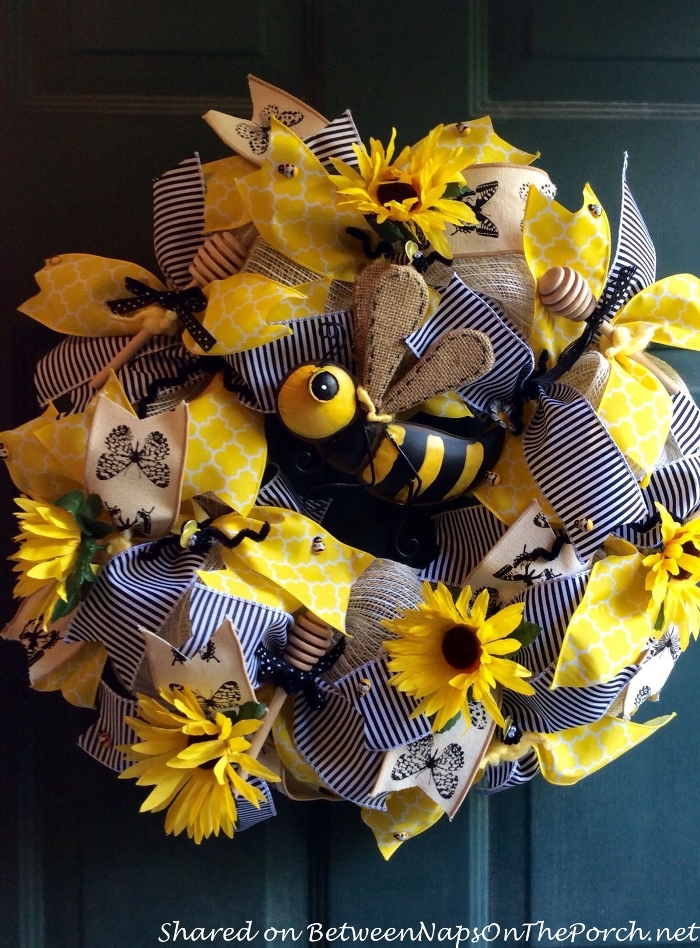 Of course, the star of this wreath is the Queen Bee in the center, a smaller version of the bees we saw decorating Debbie's planters.
Wreath 3
There's no way I could choose a favorite, but I really love this "Bee Skep" wreath Debbie created for one of her doors.
The little bee skep in the center with bees buzzing all about is sooo cute! I'm not sure if Debbie found it already made or if she made the skep for this wreath, but I'll find out and add that to this post in case you're interested in one of these for a summer wreath. Looking around this morning, I found some cute little bees HERE.
Update: Debbie made the little bee skep that she attached to the center of her wreath. Debbie said, "To create it I used an egg-shaped Styrofoam, twine-like cording, and patiently went around and around the egg attaching it with a glue gun. I used brown felt to create the "opening." The bees came in a package."
Thanks so much to Debbie for sharing all the delightful spring/summer wreaths she made for her very first "My Favorite Things" event! I'm looking forward to sharing more of how Debbie prepared for her party later in the week!
Pssst: I post almost daily to Instagram. Follow Between Naps on the Porch on Instagram here: Between Naps On The Porch.
Looking forward to all the great Before and Afters linked for this week's Metamorphosis Monday!
Metamorphosis Monday
Metamorphosis Monday is a party that's all about Before and Afters. If you are participating in Met Monday, please link up using the "permalink" to your MM post and not your general blog address.
To get your permalink, click on your post name, then just copy and paste the address that shows up in the address bar at the top of your blog, into the "url" box for InLinkz.
In order to link up, you'll need to include a link in your MM post back to the party so the other participants will have an opportunity to receive visits from your wonderful blog readers.
Please observe these few rules:
Please link up Before and After posts that are home, gardening, decorating, crafting, painting, sewing, cooking, fashion or DIY related.
Be sure to include a link back to the party in your post, so your readers will be able to find and visit the other bloggers who are participating.
Do not link up to the party if you're doing so to promote or sell a product.
To those who are linking up: If you notice a shop or store linking up to sell products (yes, unfortunately that does happen) please let me know so I can remove their link from the party. No one wants to click a link expecting a Before and After, only to find a spam link to an online business/store.
*If a post is sponsored or a product was provided at no charge, it will be stated in post. Some links may be affiliate links and as an Amazon Associate, I may earn from qualifying purchases. *