Welcome to the 455th Tablescape Thursday!
Recently in a post I mentioned loving the color, "Tiffany Blue." Debbie, a reader of BNOTP, e-mailed to say that she also loves that color and would soon be hosting her 3rd Annual "My Favorite Things" party brunch at her home. Debbie wrote, "My friends and family call me the "Queen of Theme" and got a huge kick out of my French Queen Bee (with honey and lemon treats) the first year, and last year's, Birds of a Feather Gather Together, peacock theme.
This year Debbie went with a "Breakfast at Tiffany's" theme, carrying that throughout all her preparations including the invite, the dress, the food and the activities.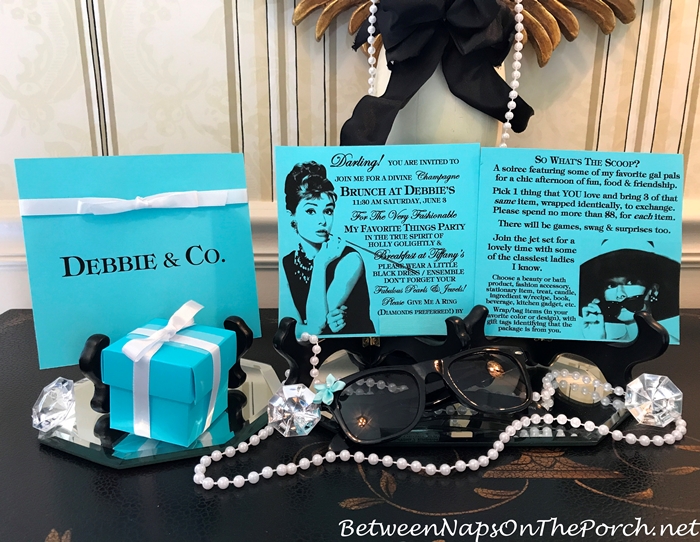 Such a cute invite!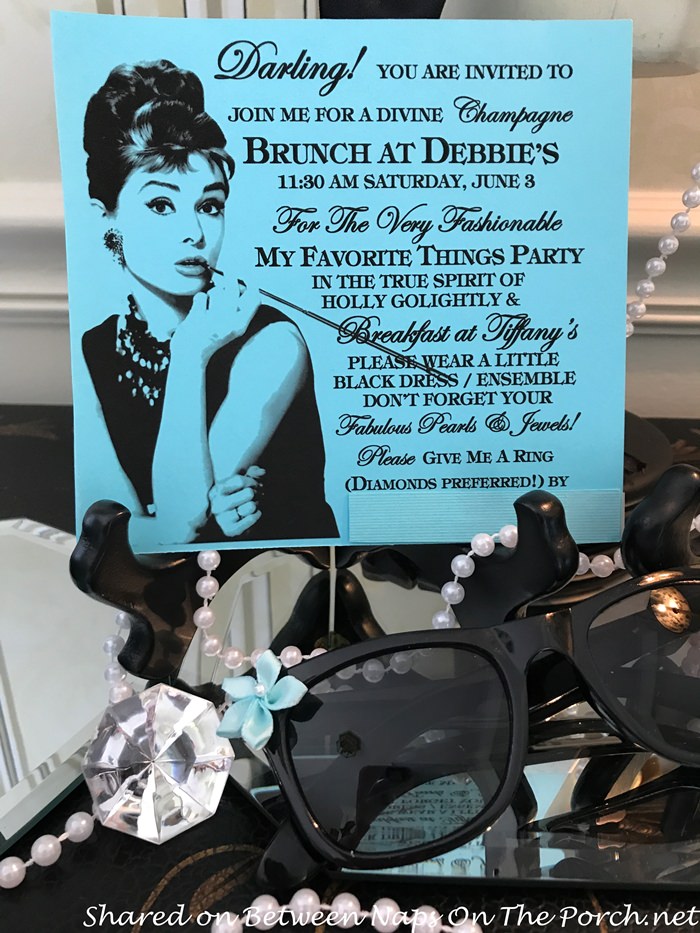 Debbie included some additional information in her invite.
Since the guests would be bringing lovely gifts to share, Debbie prepared an area for those in advance.
Look as all those beautifully decorated gifts!
Debbie said, "My dinning room table held the main brunch items of mini-quiches, blueberry French toast, and frozen champagne salad, as well as two desserts."
For starters Debbie served Shrimp Cocktail Shooters and Greek Yogurt & Granola Parfaits.
Debbie said, "One of my friends made beautifully decorated chocolate dipped strawberries."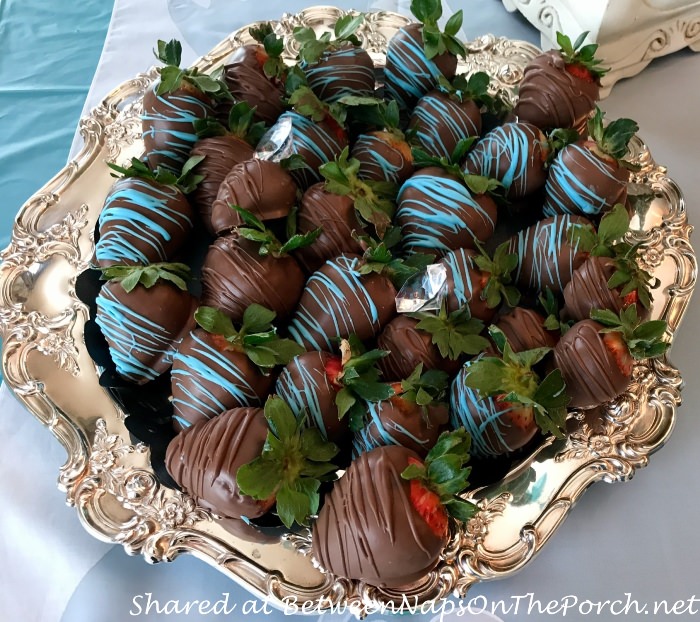 "I made, with the help of my sister, Beth, all the other food and beverages, including the mini champagne cheesecakes topped with edible sugar pearls and decorative tiaras."
Adorable cheesecakes! Love the pearls and tiaras! You'll find the recipes for many of the dishes Debbie served on her Pinterest page here: Debra M.
Debbie placed little signs around her home displaying some of the most famous lines/quotes from the movie, Breakfast at Tiffany's. Debbie said, "Everyone got a giggle out of the one on calories placed right next to the sweets."
Debbie set up a wonderful champagne and juice bar. She said, "The round, kitchen table was for the Mimosa and Bellini bar, juices, etc, using my large silver punch bowl to hold ice and the champagne. We also passed around the champagne for refreshers at each table."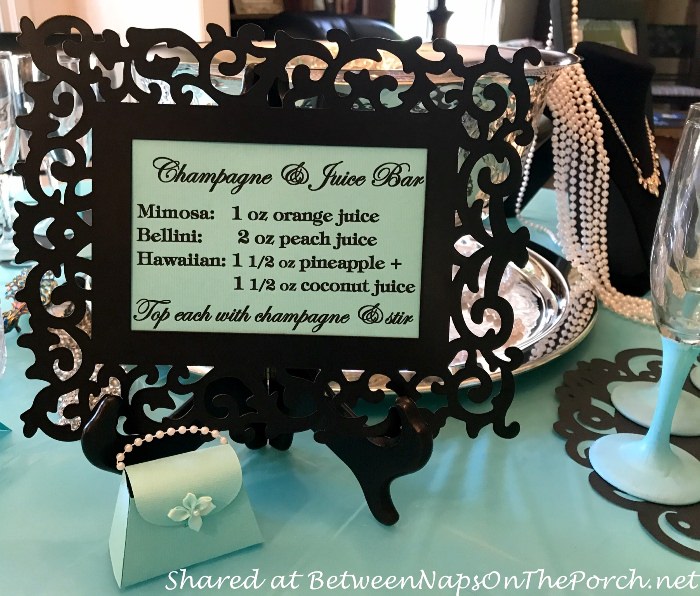 Debbie hand-painted a small champagne flute for each guest to use during the party and as a party favor. Debbie said, "With 18 to paint, I started in February. The glasses came just $10 for a case of 12 from Macy's. The special glass paints and pens I used coupons for at Michael's. If you give them 3 weeks to air-cure, they are supposed to be top-rack, dishwasher safe."
Wow, these look absolutely amazing! I couldn't paint Holly Golightly onto paper, much less a glass! What a lovely remembrance to take home from this wonderful gathering!
Debbie said, "I used the far end of the kitchen island primarily to hold the appetizers–two different flavors of Greek yogurt parfaits and individual shrimp shooters. The counter behind it held clear pitchers of infused water, Tiffany blue clear plastic cups, an ice bucket, napkins, etc for easy access."
Debbie put together a coffee bar in her kitchen saying, "I made invisible labels, using a Tiffany font to personalize each coffee cup and the individual gift bags. The sign on the coffee bar says, "Stay Calm and Wear Pearls."
Debbie provided name tags for her guests since her parties always bring together a diverse group of friends and family. Some of the attendees are neighbors while other are friends from her book club, gym, etc… Debbie said, "After the games and gift exchange (and lots of champagne!) they are all best buddies."
She had several fun activities planned for this year's party. Debbie said, "As part of the meet and greet, guests were each given a string of pearls. The Pearl Game is a great mixer game and causes a lot of laughter. Basically, you pick several words (see sign) that are forbidden. If you slip and are caught, you must forfeit your pearls.
Once someone loses their pearls it's funny watching them out to catch someone else. As it turned out, it was my name, Debbie, that cost ladies the most strings of pearls. They tried calling me, Holly, she, her, etc. but kept slipping. I have three different games each year. They are never the same."
Debbie always includes a gift exchange in her parties and the invitation she sends out each year gives her guests all the information they need to participate. Debbie said, "The gift exchange is what makes it a My Favorite Things party. We do this last. "
Debbie explained, "At each place setting you may have noticed a mini, blue, paper purse with a pearl handle. These hold three, numbered cards and each person draws each of three rounds.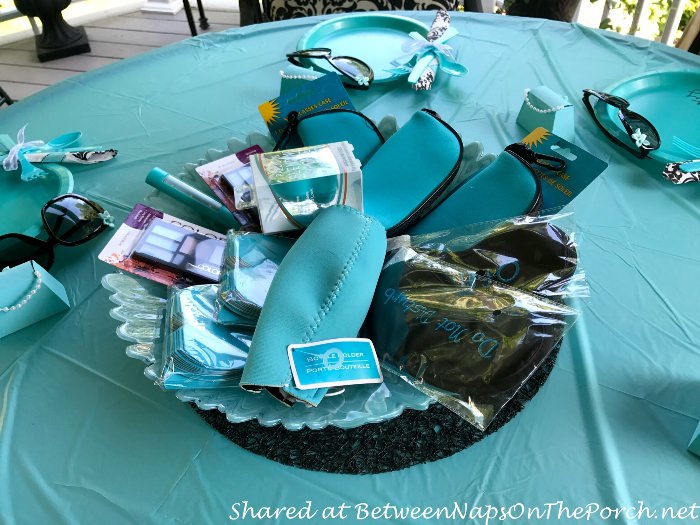 The little blue boxes each hold either a silver, pink or red Hersey kiss. These are wild cards to steal a deal, grab a bargain or exchange. By the third round there's a lot of back and forth, but everyone goes home with three gifts. The gifts and packaging are all varied and enticing. Everyone explains why it's a favorite and where they bought it."
I was so glad Debbie explained all the activities she had for her guests because sometimes that's the toughest part of a gathering–coming up with fun ideas and activities that gets everyone laughing and having a good time.
Debbie said, "We also played a Tiffany Trivia game (I had the movie playing in the great room but with no sound) about the movie, the actors, the music, the costumes, etc. The winner got the game. Another game was The Price is Right, Health and Beauty Edition. It had items like control top pantyhose, Caltrate, Crest Whitener, Regenerist fine line reducer, etc… You get the idea!
My sister got a lovely, large dispenser of Tiffany Blue hand soap. I made these up myself. Boy, are the ladies competitive! Between games I have people change tables so that they always start and eat with someone they know well. Then I keep mixing it up, providing necessary bathroom breaks, beverage refills, etc.
See that big bowl on the round table? It was full of runner-up prizes that second place winners chose from. The ladies love them some prizes, even though they only averaged $1-$3 each."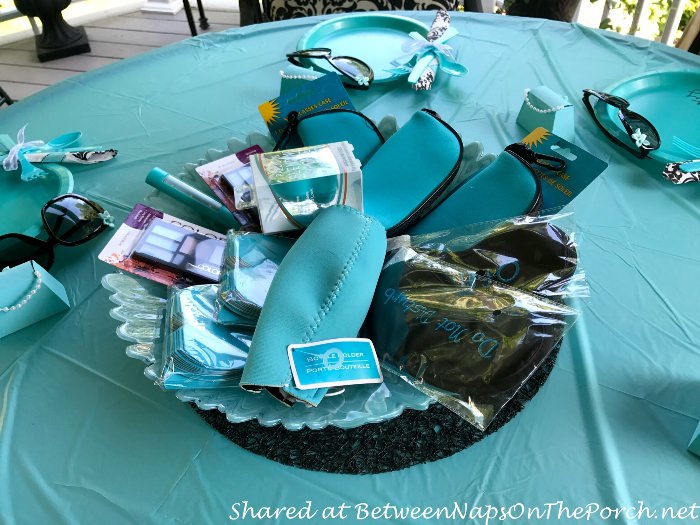 Debbie said, "One of the new things at this year's party was the so-called photo booth. I used rolls of wrapping paper over my front door and another door in the kitchen as photo spots.
In the entry hall I had my antique travel bag propped open with props inside that included one of my real hats, long black gloves, a Tiffany box and bag, sunglasses, diamonds and I spray painted a frame. In between games, shopping and champagne, the ladies took pictures of each other on my cell. They are a riot!"
Debbie plans to send each of the ladies the photos they took with her cell phone. They will be displayed in the form of a film strip–such a cute idea! They are going to love those, another wonderful remembrance from this great party!
Debbie shared photos of her guests all dressed in their LBD (little black dress) as Holly Golightly. That's Debbie (the amazing hostess of this great soirée) on the left in her Holly Golightly tiara pictured with her sister, Beth.
Remember the famous images/posters of Holly peeking out from under her sunglasses!
During the party, the ladies all dined under Debbie's covered porch and pergola. To keep things simple for outdoor dining, Debbie used disposable plates and flatware. Debbie said, "I used plastic table coverings, and paper/plastic table wear. It was all the perfect color that I found along with the balloons, gift bags and wrapping paper at Wal-Mart, so it was also reasonable. Faux Diamonds and strings of pearls dressed things up, along with the lovely ladies and champagne in real glasses.
Look closely at the paper plates on the tables. I got this clever idea from Pinterest. It was for July 4th picnics and I applied it to the party to prevent breezes blowing everything a stray. I hole-punched a hole in the rim of each plate. Then, with a piece of ribbon, fastened a rolled napkin and the three utensils to the plate by tying a bow. Voila!"
Such a great idea! These are such great tips for dining outside where the breezes can sometimes creates issues.
Debbie said, "Each of the two long tables had a black satin shoe on a mirror as a centerpiece. They were a hit! I got the shoes at Goodwill–too high a heal for me! Saw this idea on Pinterest. The gal with the size 8 foot took them home–it was like Cinderella, if the show fits! They only cost me $3!"
What a great idea for an inexpensive centerpiece!
Debbie said, "All this went on with music from my Tiffany Playlist (Moon River, Nat King Cole, Sinatra, etc) playing throughout the first floor and porch. It was funny when spontaneous singing would break out, like to New York, New York . Champagne effect?!"
Debbie set up her living room as the "Debbie & Co." store. Each of the ladies found a personalized bag either on the grand piano or on her staircase.
Debbie said, "They got to go "shopping" and fill the bag with 5 favors: Cracker Jacks, a bath poof, an eye mask (put in freezer), a bunny tail pen, and little blue tablet.
Earlier they found black sunglasses at their seat. The little blue flower I embellished them with, made them a huge hit. I went a bit overboard on favors this year, kept finding things that went with the theme! Every year they always get a unique pen a paper pad to use during the games. All these came from different dollar stores.
They also get a bag with which to take home all their loot at the end. This year's was perfect, I found them at Burlington."
Love this quote! It's true, you know!
Debbie always has a parting gift for her guests near the door. This year it was beautiful nail polish in a gorgeous Tiffany Blue shade. Debbie was also wearing a Tiffany Blue, French-tip manicure for the party. I love this color polish and looked to see if it was available online. It is! You'll find it here: Nail Polish-Tiffany Blue.
Thanks so much to Debbie and all these delightful "Holly Golightly" ladies for sharing this wonderful "Breakfast at Tiffany's–Holly Golightly" themed party! What a fun, fun event and makes me love the idea of a themed party even more!
Have you ever hosted a "Breakfast at Tiffany's" themed party?
Update: Debbie has started her own blog! You'll find her blogging here: Debbee's Buzz.
Pssst: I post almost daily to Instagram. Follow Between Naps on the Porch on Instagram here: Between Naps On The Porch.
Looking forward to all the tables linked for this week's Tablescape Thursday!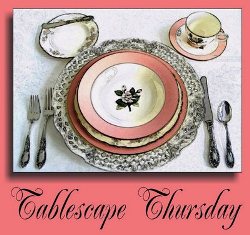 If you are participating in Tablescape Thursday, please be sure to add your permalink below, and not your general blog address.To get your permalink, click on your post name, then copy and paste the address showing in the address bar, into the "url" box when you link up.
You'll need to include a link in your post back to the party to link up and participate. That's so visitors to your blog will be able to find the party and the other Tablescape Thursday participants. Requiring a link back also prevents businesses and scammers from linking up to sell their products. (Yup, that really happens, unfortunately.)
Please Note: After 1 week, party links are still available to view by clicking on the blue button below.
*If a post is sponsored or a product was provided at no charge, it will be stated in post. Some links may be affiliate links and as an Amazon Associate, I may earn from qualifying purchases. *