Welcome to the 554th Metamorphosis Monday!
I'm not sure why, but every time I order any kind of furniture from Amazon, my local UPS always delivers it busted up and damaged. Remember the multiple ordering attempts I made when trying to get cabinets for my garage?
I ended up ordering them via Walmart and had them delivered to my local Walmart Market where I picked each cabinet up in my SUV and delivered them to my home myself. It was the only way I could get them to my home undamaged.
Thankfully when I ordered this blue chest for my grandsons' bedroom in Ohio, it arrived in pristine condition. Even the box it came in was in perfect condition. The UPS delivery guys in Dayton, Ohio always do a fantastic job, at least the one who delivers to my son's home!
Unfortunately, it was the same shenanigans for the chest when I ordered one for my home recently. The first delivery/box was literally dumped into the center of my driveway. After driving all day 9 hours back from Ohio, this was not what I was in the mood to see when I pulled into the driveway.
I got out of my car, found my garden wagon, loaded the box onto the wagon, then pulled it over to my garage so I could get my car into the garage. I've never had UPS leave a package in the center of my driveway like this.
This was how the box looked. I won't waste your time showing you all the corners and sides, but it was in horrific condition. It literally looks like it was split wide-open at one point.
Inside, the chest looked like this. Needless to say, I logged onto Amazon and requested a pickup. Holding my breath, I reluctantly ordered the chest again.
I left a note on the sidelight beside my front door letting the UPS driver know the chest for pickup was by my garage. I also requested that they not leave any more deliveries in the center of my driveway, to please leave larger deliveries beside the garage door.
After the damaged chest was picked up, I found this written atop my note. The driver had written, "Too Heavy" and "Couldn't Lift it" with a 🙁 frowny face.
The chest weighs 41 pounds per the Amazon listing. I'm sure it's a bit more with the box and packaging materials, but still, it's well under the 150 pounds that UPS has agreed they can deliver for Amazon. I wish Amazon and UPS would get their act together. I just want my chest delivered in one piece.
The next chest arrived in a box that was also very badly damaged, especially on all four corners.
Inside I found the brace that holds on one of the legs splintered apart and hanging about 3/4 off of the chest. I pulled it on off, thinking I could probably repair it myself.
I glued the splintered brace back together using wood glue, then placed it underneath the edge of a chest of drawers overnight since I didn't have a vice to hold it together while it dried. That part of the repair went well. Next, I needed to reattach it to the chest.
My plan was to pull out the nails on the right side and with the addition of some wood glue, hammer the support back onto the chest at the top part where it connects. Then using my nail gun and more wood glue, I'd shoot 3-4 skinny finishing nails back in from the right side. I could touch up the nail holes with some matching blue paint. That side would be toward a wall and never seen, anyway.
I ended up not doing that and returning the chest because I later discovered a big blop of the antiquing product they must have used on the chest, right on the top surface of the chest where it had apparently dripped and dried. I took a photo of that to share with you, but I can't find it this morning. If it turns up, I'll come back and add it to this post.
That big blop on the top surface of the chest was the straw that broke the camels back and I decided to return the chest and reorder it, yet AGAIN.
This time, I heard the UPS truck when it arrived and ran outside. The driver, an older woman probably in her late 50's to early 60s, looked startled to see me and inquired rather rudely why I had come out. I told her I wanted to help (if I could) with the delivery since the other two chests had arrived broken.
She didn't seem interested in my help. As I stood there watching, she slowly lowered the chest from the back of the truck down to the ground, explaining all the while that she hadn't had a hand-truck during the first delivery, had loaned it to another driver. Then she started telling me all about her bad knees and how she used to play basketball–and how she couldn't do this job much longer. Using a hand-truck, she wheeled the chest to my garage.
Thankfully, the chest was in one piece this time and I was finally able to keep it. How about a little reveal?
This is the view as you enter into my upstairs family room, aka, the bonus room or FROG as some folks call the room located over the garage.
The view coming up the back staircase from the laundry room has definitely changed!
Sidenote: This is the only room in my home where I haven't had hardwood flooring installed, yet. I need to get that done one day. It will be an expensive room to do since it's pretty big. Ugh.
Before, I only had the painting hanging there on the wall with nothing underneath but a bunch of puzzle boxes stacked on the floor. I like this view much better. I plan to take the painting to get it framed sometime soon–maybe this week.
I know the chest is a bit crowded over near the clock, but it's the only place I like the chest and it's the only place the clock works in this room. I was determined to find a spot for the chest after falling in love with it when I ordered it for my two grandsons' bedroom.
I love it there, even if it is a tad crowded with the clock. Kinda wish I hadn't had the wall lights installed on either side of the window seat so many years ago, then I could slide the clock over a bit. The slanted ceilings of this room drastically limit where the clock can go. I love the color of the chest contrasting against the mellow wood of the clock.
This photo best illustrates the true color blue of the chest. I truly love this little chest!
I scooted the chest over to the left a bit after taking this photo, so it's not tucked in behind the clock anymore.
I think this chest is best suited to be used as a bedside table, alongside a chair, tucked under a staircase in that little alcove you sometimes have when you have a staircase, or in an area like I have it with a lower ceiling. It's not super tall so I think it would probably be too short for an entryway or someplace like that. It's the perfect height to go beside a bed, sofa or chair.
In this older photo, you can see this room has a bit of a beachy theme going with lighthouse paintings and shelf filled with shells over the sofa.
Of course, I had to style the chest within an inch of its life for this reveal. Ha!
I need a new lampshade for the lamp. This lamp used to live out on the screened porch so the lampshade looks a bit weathered.
I pulled a few books from my office bookshelves to display here on the chest. I thought these fit pretty well with the beach cottage feel of this chest. You'll find these books available here: Cottages by the Sea AND Cottages on the Coast.
The painting will soon be framed and I'll share another photo of how it looks once that's done. I found this painting in A Classy Flea several years back. I miss the Flea, wish it had not closed!
You may remember seeing the little buckets in a previous table setting.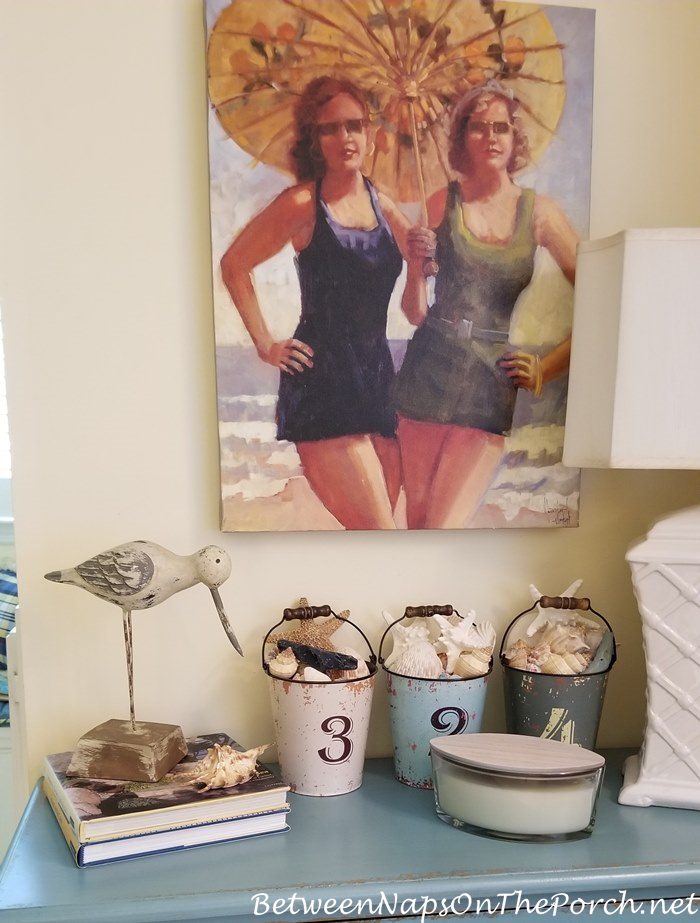 I've used them several times in table settings. (View this tablescape here: Easter-Spring Tablescape.)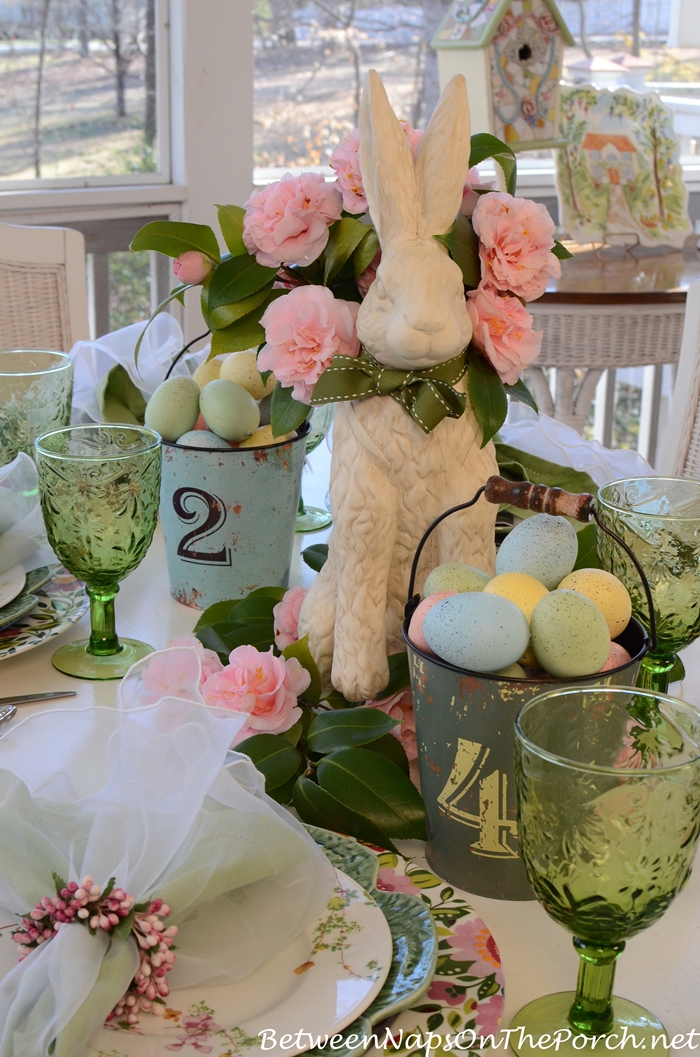 I couldn't decide which shorebird to use atop the books. I think I finally settled on this guy. I like how it looks as if he's looking at the shell. 🙂
If you love this little chest and decide you would like one in your home, you'll find it available here: Blue Chest. One good thing that came out of having to order it three times: the cost of the chest dropped $60 since the last time I ordered it!
If you like it, get it now before the seller raises the price back up. That seems to always happen when I link out to a product on Amazon. The seller notices it's selling and jacks the price back up. Hope that doesn't happen with this adorable chest.
Looking forward to all the great Before and Afters for this week's Metamorphosis Monday!
Pssst: Did you know Between Naps On The Porch is on Instagram? Would love to have you follow me on Instagram here: Between Naps On The Porch AND here: Under Moonlight and Magnolias.
Like to know when a new blog post is up and available to read? Subscribe for email updates, it's free and your email will never be shared.
Subscribe here: Subscribe for free post updates via email here: Subscribe.
Metamorphosis Monday
Metamorphosis Monday is a party that's all about Before and Afters. If you are participating in Met Monday, please link up using the "permalink" to your MM post and not your general blog address. To get your permalink, click on your post name, then just copy and paste the address that shows up in the address bar at the top of your blog, into the "url" box for InLinkz when prompted.
In order to link up, you'll need to include a link in your MM post back to the party so the other participants will have an opportunity to receive visits from your wonderful blog readers.
Feel free to link up Before and After posts that are home, gardening, decorating, crafting, painting, sewing, cooking, fashion, travel or DIY related. Please do not link up to the party if you're only doing so to promote/sell a product.
To those linking up, if you notice a shop or online store linking up to sell products (yes, unfortunately, that happens) please let me know so I can remove their link and block them from participating in future parties.
This party has ended, click button below for the links to all who participated.
*If a post is sponsored or a product was provided at no charge, it will be stated in post. Some links may be affiliate links and as an Amazon Associate, I may earn from qualifying purchases. *