Welcome to the 629th Tablescape Thursday, a blog party sharing beautiful table settings for all occasions.
Earlier this past spring, I shared this beautiful table setting created by Jackie. If you missed that post, you'll find it here: Incredible Auction Finds & Dining with Faenza Garofano Carnation.
Recently Jackie wrote to say she would soon be hosting a Halloween gathering in her home. Each year Jackie chooses a different theme for her annual Halloween gathering. This year's party will be very different, a much smaller gathering.
Jackie said, "October is our favorite time of year! Not only because the Texas heat finally cools, and the smell of pumpkin and apple spice is in the air, but also because October 31st brings Halloween and our annual Halloween bash. This year will be a little different, we won't have 100 people come dance the night away. Instead, we are setting up 2 small intimate dinners, eating and drinking around a piano bar in my living room."
Here's how Jackie has decorated her front entry area for the fall season. Guests are in for a big surprise once they enter through those double doors!
Jackie continued saying, "My fondness of Halloween started when I was a child growing up on Long Island, N.Y. School was in full gear, days were getting shorter, the nights cooler, and the leaves turned the most beautiful colors. All of the television stations ran special Halloween episodes of your favorite sitcom and you always anticipated watching the It's the Great Pumpkin, Charlie Brown!
Growing up, we would go to the local five-and-dime store to pick out that year's costume, the kind that came in a cardboard box made up of a plastic mask with an elastic strap and vinyl smock. When Halloween arrived, the neighborhood would celebrate together with trick-or-treating, costume parties, and fun and games like carving pumpkins and bobbing for apples. We munched on cinnamon donuts and sipped warm apple cider as we divvied up our candy. When I had kids of my own I continued the traditions. As they grew into adults I knew I had to continue it and the tradition developed into our Annual Halloween Bash."
Oh, it appears two guests have already started celebrating with a cozy "Dinner for Two" here in the entrance!
Watch out above!
Jackie said, "Each year I come up with a theme in early March and then bring it to life. Some of the themes of Halloween's past included; Wizard of Oz, Hollywood and Movies (we were the Adam's Family of course), and Asylum and The Greatest Showman. This year with the pandemic, I decided to just make the house creepy."
"I have collected many props over the years. My best go-to stores are Thrift stores, Salvation Army, Goodwill, etc. Even if it is the month of May, I will always have that thought in the back of my mind, looking for some oddity to create something for Halloween. My other go-to stores are Michaels, Home Goods, Walmart, Home Depot (has great lifelike moveable figures), and Dollar Tree.
I own 5 different sets of Halloween/Autumn dishes that I bring out for use on September 1. I purchased these through the years from Pier One and Home Goods, even found a black crystal set at the Salvation Army."
A knight stands guard here in the entrance.
Of course, no party or gathering this year would be complete without this warning.
Moving into the dining room, Jackie has set a beautiful autumn table for the night's festivities. The chandelier is decorated very differently from when we last saw it. Sooo pretty!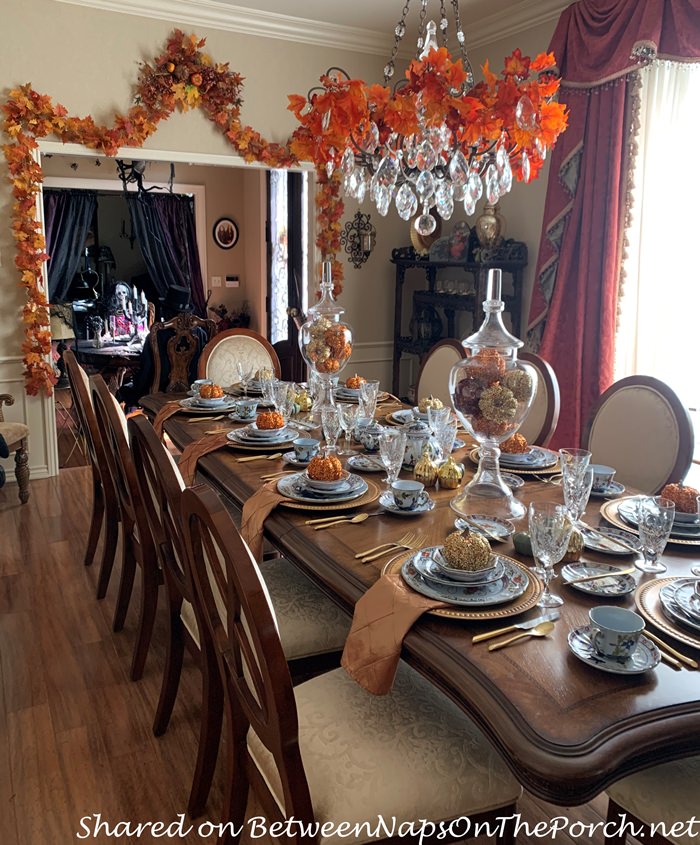 Jackie found this beautiful pattern, Faenza Garofano Carnation, in an online estate auction and managed to win it for an incredible price! Read more about that in this previous post: Incredible Auction Finds & Dining with Faenza Garofano Carnation.
Such a beautiful pattern!
Ohhh, what is this we see in Jackie's kitchen?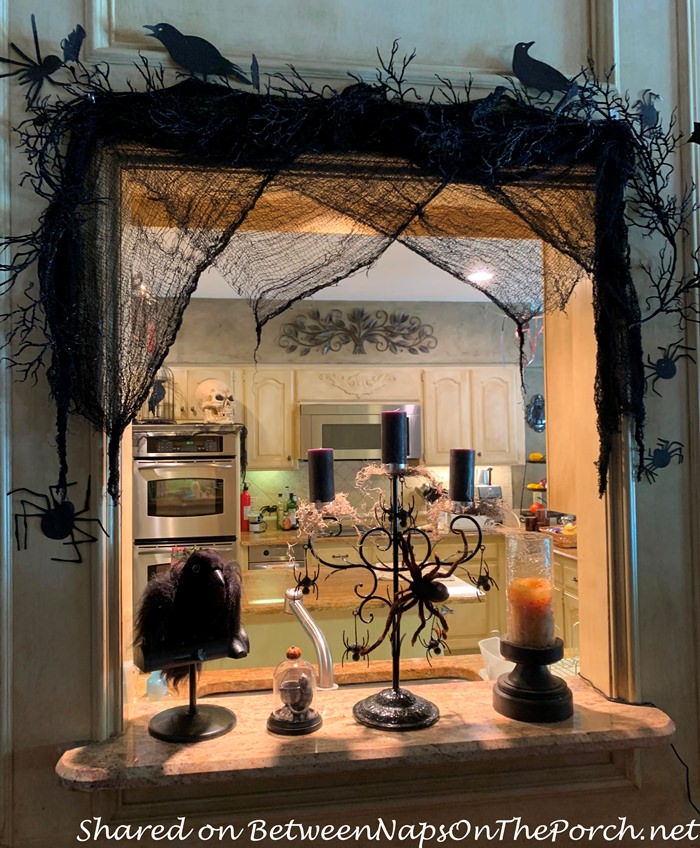 That chandelier is amazing! Wow! Jackie is so creative!
A closer view…
I told Jackie if I was ever in her area the night of this party, I would definitely try to crash it. lol What a fun night it's going to be!
Ummm, I wonder if some of these "delicacies" will be on the menu? 😉
I can't wait to share the rest of the decorations Jackie has created throughout her home. Part II of this spooky Halloween gathering will be coming up on our next Metamorphosis Monday! Thanks so much to Jackie for letting me share these three fabulous, spooky Autumn-Halloween table settings!
Looking forward to all the wonderful table settings linked for this week's Tablescape Thursday!
Did you know Between Naps On The Porch is on Instagram? You'll find me on Instagram here: Between Naps On The Porch.
Like to know when a new blog post is up and available to read? Subscribe for email updates, it's free and your email will never be shared. Subscribe for free post updates via email here: Subscribe for Post Updates.
Tablescape Thursday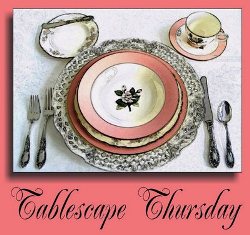 If you are participating in Tablescape Thursday, please be sure to add your permalink below, and not your general blog address. To get your permalink, click on your post name, then copy and paste the address showing in the address bar, into the "url" box when you link up. You'll need to include a link in your post back to the party to link up and participate.
That's so visitors to your blog will be able to find the party and the other Tablescape Thursday participants. Requiring a link back also prevents businesses and scammers from linking up to sell their products. (Yep, that really happens, unfortunately.) If you see a post that's not table setting related, let me know and I'll remove it.
Please, don't add your post name/blog name ALL IN CAPS…it tends to create big spaces between the rows of links.
Please link up table setting or table setting related posts only for Tablescape Thursday.

This party has ended, click button below for the links to all who participated.
*If a post is sponsored or a product was provided at no charge, it will be stated in post. Some links may be affiliate links and as an Amazon Associate, I may earn from qualifying purchases. *