As you know if you've been reading BNOTP for very long, this girl doesn't do cold weather. Not. A. Fan. However, over the years I've come to discover that winter isn't near so bad if you have the right gear, i.e., quality coats, Uggs, warm sweaters, Uggs, woolly scarves, Uggs, wool socks, Uggs–you get the idea. 😉
Next to woolly Uggs, my other favorite cold-weather gear is soft, wool or cashmere scarves. I love me a soft woolly scarf to the moon and back! I have a special affinity for cashmere scarves and have purchased and been gifted a few in recent years.
Last year I purchased a new cashmere scarf but I never really got to wear it since–ya know, 2020. Last winter was all about staying inside, so not much opportunity to pull out the winter gear. This year I pulled out all my scarves hoping as I do at the start of every fall, that a moth or some other devious bug hadn't managed to get their chompers on them during the winter. I never see moths in my house but I remember once finding a tiny hole in a wool sweater a few years back, so now I'm a little paranoid.
Fortunately, I didn't see any holes in any of my scarves, but I decided it was time to look for a better way to store my more expensive scarves so I wouldn't have to worry about them every year. I did a little searching online and I came across a bag that's designed just for protecting cashmere and wool scarves/sweaters from wool-eating critters.
It came in two sizes and I purchased the biggest one since I wasn't sure how many scarves it would hold. It's quite large as you can see in the photo above, so it would definitely hold a really big sweater or two. I was easily able to fit in the four cashmere scarves I currently have in my wardrobe with plenty of room to spare.
I feel a lot better now about how I'm storing my nicer scarves. It feels so good to know they are protected when I'm not wearing them and they are stored away.
Did you notice I tucked a few cozy pumpkin pillows in the background for a little Fall-Halloween eye candy? These are migrating pumpkins, they keep popping up in different rooms every day, sometimes alone and sometimes together. I can't resist moving them around! lol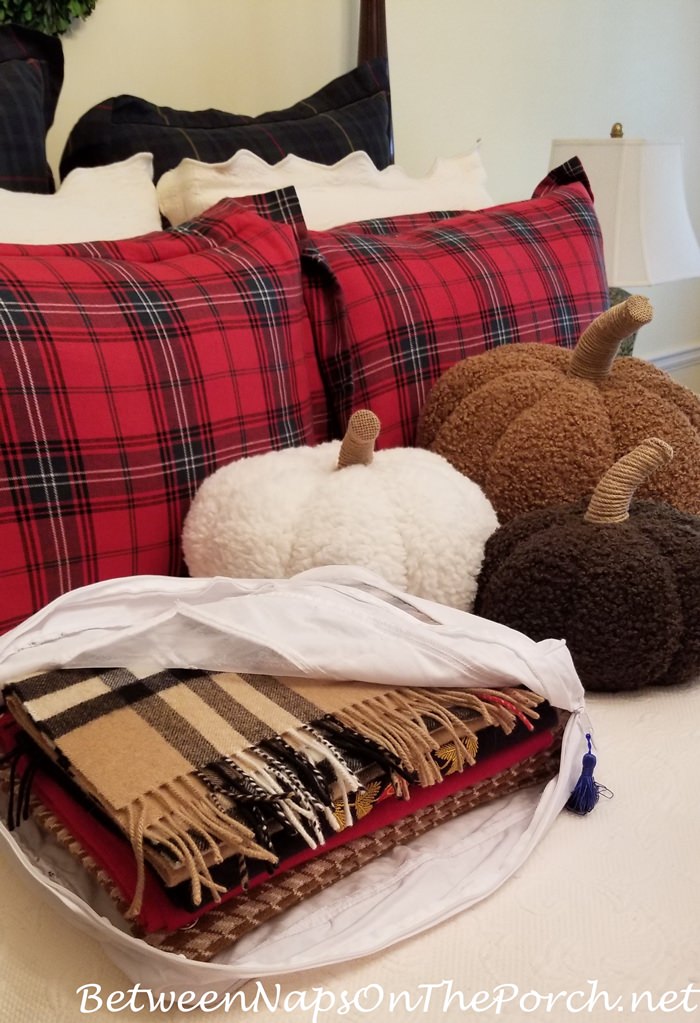 Off-topic , but have you seen the adorable doggy pillows they've come out with. OMGosh! So cute! I saw them in two colors. Love them!
Update: Actually they have them in three colors here: Dog Pillows. I think I know two little boys who would love these.
I was happy to see this cashmere storage pouch fit nicely away in a drawer in the chest in my bedroom. I love the "window" designed into the bag that lets you see what's stored inside. I'm thinking about buying a couple more of these pouches to store and protect some of my nicer cashmere sweaters. Cashmere sweaters are usually not that thick, so I bet I could fit 4-5 sweaters in this larger size pouch.
If you could also use some protection for your cashmere or wool sweaters and scarves, you can read more about this pouch and see the two sizes it comes in here: Cashmere Protection Pouch.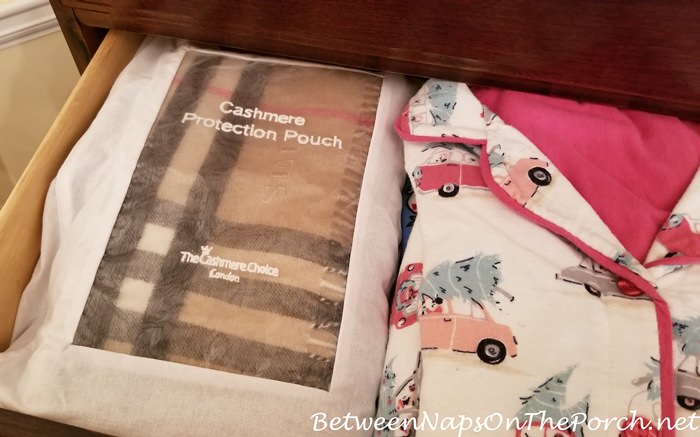 It's still warm here in the south but I know any day now that can change so I'm getting ready. Have you made the wardrobe switch yet, put away the summer clothes and brought out the fall-winter clothes?
*If a post is sponsored or a product was provided at no charge, it will be stated in post. Some links may be affiliate links and as an Amazon Associate, I may earn from qualifying purchases. *