A couple of weeks ago I shared a new addition to my kitchen, my Air Fryer. Adding an air fryer to my kitchen has been one of the most transformative experiences in how I cook. The only thing I can't think of that comes close to being as life-changing would be the invention of the microwave. Seriously, if right now you said I had to give up either my microwave or my air fryer, I'd say, "Bye-bye Microwave!"
I realized the other day that since I've had my air fryer, I've only used my microwave once in the past two weeks. Everything tastes better coming out of my air fryer. Everything!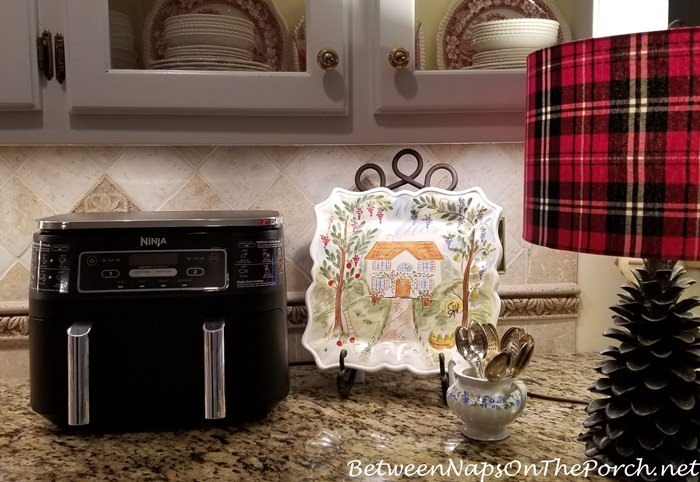 Here's where it has come to live in my kitchen. Many years ago, back when I had cable TV, this is where the TV sat. I mainly had a TV in my kitchen because I really dislike cooking. TV was a way to distract from the drudgery of cooking. I love that I can pop things into my air fryer, set it, and walk away.
My air fryer fits so nicely in this corner. I think it may vent out the back and this gives it plenty of room to do that. Also, I have a spotlight overhead so if I need extra light, I can flip it on. It's as if this corner of my kitchen has been waiting for this baby to show up!
A few weeks back when I shared this new addition to my kitchen, I had just tried cooking my first food, a couple of chicken breasts. It's virtually impossible to screw anything up when cooking in an air fryer, at least that's been my experience. I guess it's possible to over-cook something, but if you just check on whatever you're cooking about halfway through, you shouldn't have that problem.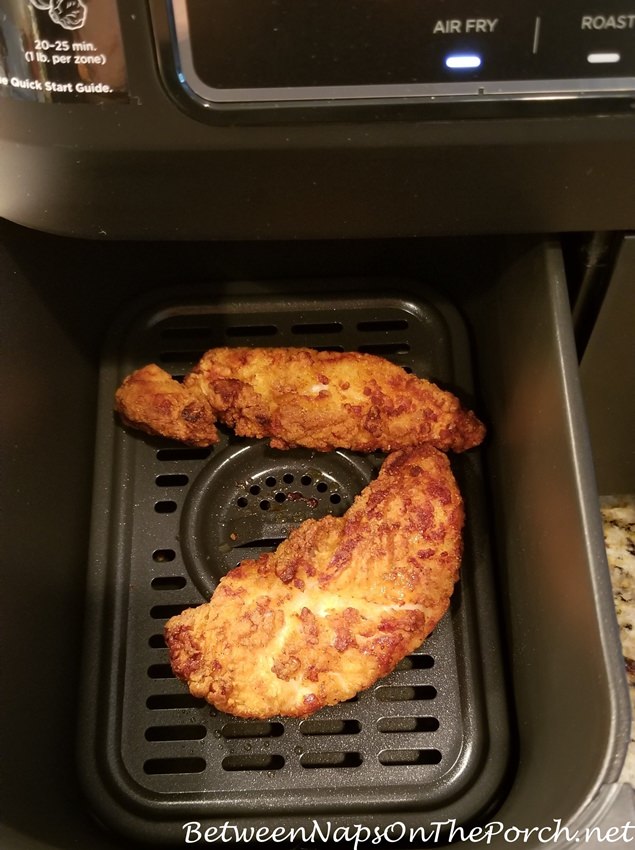 You can use frozen chicken breasts or fresh chicken. For the chicken below, I marinated fresh chicken breast in Hidden Valley Ranch Dressing overnight, then dredged the breasts in bread crumbs as I've seen my daughter-in-law do, then placed them in the fryer baskets. They came out delicious!
This is a recent meal that was all cooked in the air fryer. I air-fried the chicken and the sweet potato fries in one basket and roasted the Brussel sprouts in the other basket.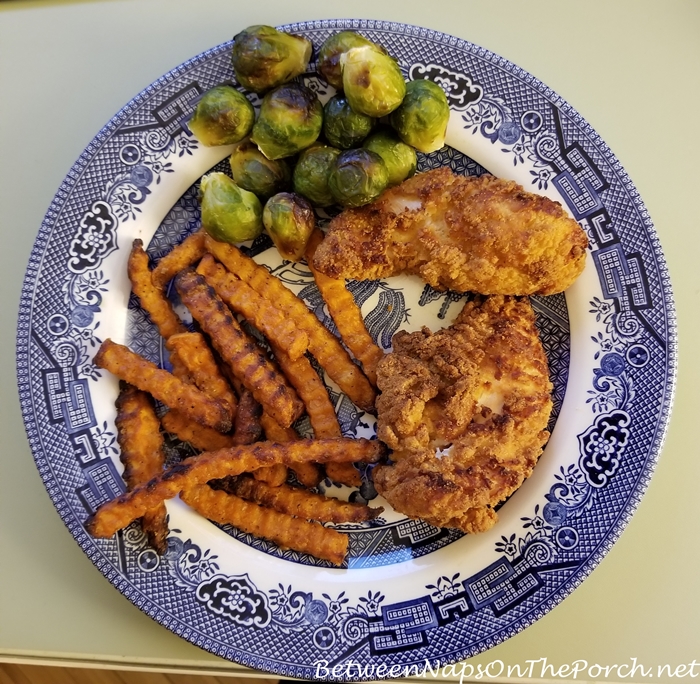 One of my favorite things to make for breakfast is a couple or three of these veggie pancakes. I buy these at Publix and they only take about 10 minutes in the air fryer.
They are soooo good! They come out crispy/crunchy around the edges with warm, chewy centers. I'll even pop a couple into the air fryer during the day for a snack sometimes.
I decided to try cooking sausage and an egg together one morning. I thought it turned out really well. I cooked them in the same air fryer pan together.
You may remember from my previous post, the air fryer I purchased has two separate bins so you can have two different (or the same) things cooking at the same time at different temperatures. That way, the food will all come out done at the same time, instead of having to batch cook where one food ends up getting cold while the second one is cooking.
Or, you can have something air frying in one bin while roasting or warming something up in the other one. Love this air fryer so much! I purchased mine here: Air Fryer with Two Pans for Dual Cooking It looks like it's also available here: Air Fryer.
Chicken wings are amazing! Most meats cook in about 20 minutes. I always pause my air fryer about halfway through just to check on the progress.
I love popcorn shrimp cooked up in my air fryer! I have this thing going so much, sometimes I don't even take time to wash it between fryings because I'm frying one thing after the other. When I'm cooking something from scratch, I'll mist it with a little avocado oil, but if it's something frozen, I just dump it right in and it comes out great like this popcorn shrimp.
One of my favorite snacks is sweet potato fries with a few pecans on the side. There's just something about that combination of flavors!
If you purchase an air fryer, I recommend buying a set of silicone-coated tongs. They are great for reaching in and removing food from the air fryer bins without risking scratching the interior of the bins. I don't know why, but nothing seems to stick to the sides of my air fryer bins–maybe they are Teflon-coated. Anyway, these tongs work great. I bought this set here: Kitchen Tongs.
Hope you enjoyed this follow-up post on how I'm using my air fryer. It truly has been life-changing. In fact, I practically never eat out anymore because I like what I can fix at home so much better! It has definitely been one of the best purchases I've made in years!
I purchased mine here: Air Fryer, but they are also available here: Air Fryer.
Happy Air-Frying! See you tomorrow for Metamorphosis Monday!
*If a post is sponsored or a product was provided at no charge, it will be stated in post. Some links may be affiliate links and as an Amazon Associate, I may earn from qualifying purchases. *