Welcome to the 762nd Tablescape Thursday! Oh my gosh, it's been a wild week around here! I had planned to complete the work on the unfinished part of my basement at a gradual pace over the next couple of months, but I got a bee in my bonnet and decided to go full-steam ahead. I'm eager to get my workbench and freezer moved back into the room as soon as possible, so that means going ahead and scheduling to have the painting done as soon as the electrical work is completed. The electrician was here yesterday and is coming back to finish up his work today. In addition to adding better lighting in the basement, I'm also changing out the light fixtures in an upstairs hallway. So I'll have a lot of fun things to share very soon.
With all that has been going on this week, I didn't get a chance to set a table, but I have a wonderful table setting to share that I know you're going to love! Recently, I heard from Elena who shared three beautiful tables that she has created for spring and Easter over the past three years. I love how she tells the story of how her tables have changed and progressed over the years so I'll let her share it in her own words.
Elena shared, "I had 2 ideas for the table this year and actually wanted to try them both. Through the years I inherited a ton of vintage linens. At one point I had six large Rubbermaid totes FULL of them. No one else even wanted them, I guess I'm the only one crazy enough to hand soak, rinse, dry, and iron that many tablecloths, runners, and napkins! Anyway, I THOUGHT I was using the same large Della Robbia tablecloth in the Easter 2016 photo, it had light stains from storage so I soaked, rinsed, and ironed it." (Elena's 2016 table…love that tablecloth!)
Elena shared, "Definitely NOT the same cloth, it was way too narrow and the napkins were a weird shape and size. I think my Aunt may have washed and dried it in a washing machine and dryer. It's way too narrow and even the middle was off-center. I SHOULD have stopped right there, but I kept going."
Elena said, "I do like the Villeroy and Boch with the English countryside charger and Peter Rabbit salad plate but it ends there! If I had napkin rings, they would have helped, I can see the napkin running up the plate, with Peter sitting right beside it. My Mom never used napkin rings but I'm thinking I need some! The Fitz and Floyd rabbits are just TOO busy with the cloth, maybe the place setting is too. Years ago (maybe early 2000s) there were a lot of craft shows on TV and I remember one had a special where the host showed several different tables, completely tablescaped. I think Mackenzie Childs was bursting onto the scene and she used A LOT of it. One critic said that it looked like the sale aisle at an AC Moore threw up all over her tables! Well, this table reminded me of that critique!"
Oh, Elena–I LOVE this table setting! Definitely not too busy for this girl! Love everything about it including the wonderful Villeroy & Boch dinnerware and the adorable Peter Rabbit plates. I also love the idea of a napkin alongside Peter–that would look so cute since he's offset in the design of the plate. Either way, I love this table!
Elena said, "I just had to put it all away and start over. I really like the way the second table came out. Of course, my husband quoted A Christmas Story and said that it looks like a pink nightmare, but hey, it's Easter!!!" Hahaha! Elena's husband sounds like a hoot!
Elena said, "The flowers are a little over the top, but if I remove them when we eat it will be OK! My father was a florist in Manhattan, as was his father, my mother's father, and several uncles on both sides! We lived in Westchester so I never worked in the shop. I can make a great florist's bow but have not gotten the nerve to try floral arranging, they were all SO good at it. One of these days…"
Oh, I think the arrangements are beautiful and I love that Elena wasn't afraid to make this nice and wonderfully grand! As she mentioned, they can always be moved to a sideboard once everyone sits down for dinner.
What a beautiful setting! And look at that gorgeous, vintage tablecloth! Elena did such a nice job of washing them, you would never know they weren't brand new, well except for how special they are. You don't see tablecloths like this being made today!
Such a beautiful table!
Adorable bunny centerpiece!
Thanks so much to Elena for sharing her beautiful spring tables! Elena also renovates doll houses and I'm hoping she will share some "Before and After" pictures with me of those. I would love to see how she does it since I have a vintage doll house that needs some interior renovations, but I'm not sure how or where to even start.
Looking forward to the beautiful tables linked for this week's Tablescape Thursday! (If you enjoyed this post, subscribe for free email updates when a new post is up here: Subscribe for post updates.)
Tablescape Thursday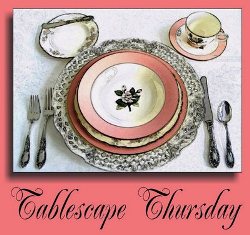 If you are participating in Tablescape Thursday, please be sure to add your permalink below, and not your general blog address. To get your permalink, click on your post name, then copy and paste the address showing in the address bar, into the "url" box when you link up. You'll need to include a link in your post back to the party to link up and participate. That's so visitors to your blog will be able to find the party and the other Tablescape Thursday participants. Please link up table-setting-related posts only for Tablescape Thursday. Please link up table-setting-related posts only for Tablescape Thursday.
You are invited to the Inlinkz link party!
*If a post is sponsored or a product was provided at no charge, it will be stated in post. Some links may be affiliate links and as an Amazon Associate, I may earn from qualifying purchases. *