I came across these "Swizzle Stick Ice Molds" in Williams-Sonoma recently and bought one set to try them out.
Here's how they looked once frozen…cute!
They would be great for serving a mixed drink, or really any drink for the holiday season. I tried them out in some cranberry juice.
No, I don't have my Fa La La plate out yet, just added it as a backdrop for the picture. lol I'm not sure if the swizzle sticks are available online, I didn't see them online just now, but I may have just missed them. They came from my local Williams-Sonoma store.
2. Marshmallow Snowflakes for Hot Cocoa
Love these marshmallow snowflakes for hot cocoa.
They would be great throughout the fall and winter season, especially displayed on a hot cocoa bar or station. They are available HERE and HERE.
Speaking of Hot Cocoa Bars, when I was in Hobby Lobby recently, they had a whole section devoted to serving hot cocoa.
Thought these trays were cute.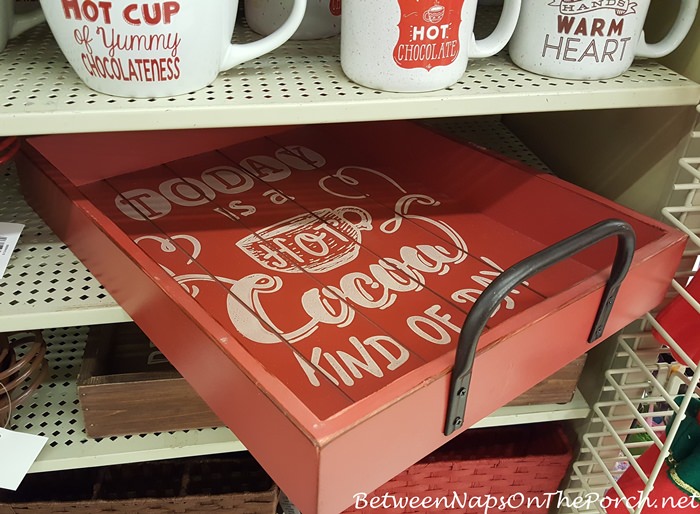 If you would like to create a Hot Cocoa bar, check out the one I put together last year: Hot Cocoa Bar.
You'll find the tutorial for making the "Hot Cocoa" sign here: DIY Hot Cocoa Sign
3. Christmas Pillows
Love me some Christmas pillows! I just picked up this one in Marshall's recently during a shopping trip with my friend, Marie. If you follow BetweenNapsOnThePorch on Instagram, HERE, you saw when I shared it a few days ago. You can tell my mind is already in Christmas shopping mode.
Two Christmas pillows I often get asked about when they appear on the blog are surprisingly back in stock again this year.
This adorable pillow featuring a nostalgic woody car bringing home the tree is available again here: Christmas Pillow with Woody Car and Tree
This one is also back this year, you'll find it here: Santa and Reindeer Christmas Pillow. It makes me smile every time I see it. 🙂 Definitely one of my faves!
4. Real Preserved Boxwood Wreaths
Remember these beautiful preserved boxwood wreaths that I found last year for such a great deal?
They are back again and the price appears to be as good this year as it was last year! Plus, they're currently on sale. Last year I purchased them in several sizes. The small ones are great for hanging on mirrors, door knobs, secretaries, highboys, etc… You'll find this size on sale (with an extra 10% off with the code FALLHOME) here: Small Boxwood Wreath
I also purchased two of the large wreaths. One ended up here in my bedroom and I loved it so much, I never took it down.
I placed the other large boxwood wreath here in the bay window in my breakfast room. You may have seen it when I shared some of my Christmas tablescapes in this room. (Table setting below can be viewed here: Dreaming of a White Feather Christmas)
The large Boxwood wreaths are also on sale, plus another 10% off with the code FALLHOME, here: Large Boxwood Wreath.
If you want some of these, don't wait too long. They sold out pretty quickly last year. They are the best price I've seen on real preserved boxwood wreaths. I'm glad they brought them back, I may add a few more to my home this year.
5. Plaid Dishware and Whimsical Deer Plates
I've been stalking some new plaid dinnerware this season.
I'm in love with this pattern and was able to finally see it in person recently.
These whimsical stag plates are so cute, too!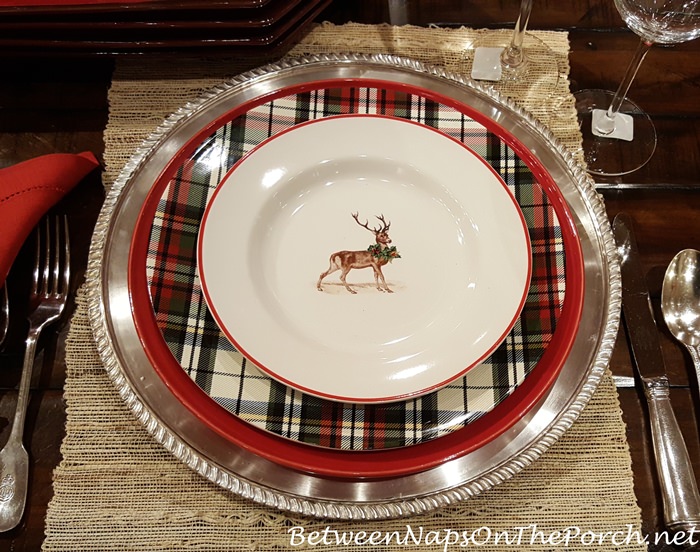 The stag plates are also available in dinner-plate size. I love these and the plaid plates, both. Torture! I can't choose! I may get the plaid dinner plates and some of the stag salad plates, although these stag dinner plates are adorable! Arrrgh, love them both!
The plaid dinner plates are available here: Plaid Plates. The stag plates are available here: Stag Plates. And the cute antler napkin rings shown below are available here: Antler Napkin Rings
Happy Holiday Shopping!
*If a post is sponsored or a product was provided at no charge, it will be stated in post. Some links may be affiliate links and as an Amazon Associate, I may earn from qualifying purchases. *