Welcome to the 786th Tablescape Thursday! I have not one, but three delightful Halloween tables to share with you today! BNOTP readers are so creative and I know you'll find these tables as imaginative and fun as I did.
Recently, Norma, who lives in the south of France, was having some extensive landscaping and structural work done in her garden that required some very large equipment. Would you ever think a new tablecloth would come out of a large-scale gardening project? Ha! Norma said, "You won't believe this, but when the men were working on the garden, they were using a tablecloth to cover some of their machines when they finished for the day. I saw it and when I said I liked it, they gave it to me. It was covered in mud and other stains, but it washed beautifully. I think they thought I was mad when I got so excited about it!" Ha! Now that is definitely a unique way to acquire a new tablecloth! I love that story!
Norma said the tablecloth is covered with stars and zodiac signs. It works quite well with her spooky Halloween table setting. Regarding each place setting, Norma said, "I made the napkins a few years ago. The name of the fabric design is 'Ghoul's Night Out' which I thought very amusing. The black hexagonal plates were from our local charity organization, they have no hallmark. The glass chargers also came from there. I got 8 for next to nothing, while I know they are very expensive. I have seen similar on eBay."
Love this big candelabra! I'm stealing the idea of perching a crow on the candelabra–love that!
About this large green bottle, Norma said, "The large bottle was given to me by a friend who has an old house here in France. She found it in her cellar and knowing how I like odd things, thought of me. It is perfectly stained inside for this sort of decor! I just added the label. She has no idea what it once contained."
I asked Norma how she created her spooky glowing cauldron. She said, "I was trying to make the cauldron look as if it had a fire underneath it with red battery lights. I put the green lights under some of that stretchy cobweb stuff that you can buy and pull apart to make cobwebs."
Here's how the cauldron looks with the lights off–very spooky and perfect for Halloween. Thanks so much to Norma for sharing her Halloween table for this year!
Now, we're off to Kathy's for some Halloween fun! Kathy shared her delightful table with me and I'm having serious FOMO over her black and orange Buffalo check tablecloth! I have the napkins, I think I need the tablecloth, too! (Buffalo-check napkins are available here: Buffalo Check Napkins. I found a Buffalo Check tablecloth in orange and black here: Buffalo Check Tablecloth, and I think these are the matching napkins here: Buffalo Check Napkins. I really like the placemats at that link, too!
Love the spider napkin rings! I found similar spider napkin rings here: Rhinestone Spider Napkin Rings.
The centerpiece is hysterical! This would also be a great table if you'll be entertaining little ones…nothing too scary, just lots of Halloween fun!
A closer view of the candelabras…
Kathy added some Halloween fun to her china cabinet/hutch, too. I like the spiderweb apron.
I love Kathy's table but I was really blown away by how she decorated her kitchen for Halloween! How clever is this?! Thanks so much to Kathy for sharing her Halloween table and decor…love it all!
Now, we're off to Elena's to see how she's preparing for her Halloween entertaining this year!
Elena took inspiration for her table from Edgar Allan Poe's poem, The Raven. I love that theme for a Halloween table! (Elena found her spiderweb tablecloth here: Spiderweb Tablecloth and her napkin rings here: Black Mesh Napkin Rings.)
Love the salad plates Elena chose for her Halloween table! Elena said, "The salad plates are 222 Fifth Ave and the dinnerware is Mikasa Italian Scenery that I purchased so I could use my dining room more often. They go right in the dishwasher, unlike my old ones that I have to hand wash. Now I need some wash and dry tablecloths!"
Elena did something really unique in her table that I've never thought of doing, but now I definitely want to try it! Elena said, "I used sterling candle sticks that were tarnished and silver plate flatware that was tarnished, also!" I love that idea–using tarnished silver. How perfect is that for Halloween! I have some silverplate flatware that I almost never use. I should take it out and let the handles get good and tarnished for next year. Ha!
Here's a neat little trick Elena shared that I think you'll find helpful. Elena said, "I also wanted to share a little trick–whenever my plates are wobbly, I use a doily in between and they don't move! I use it a lot with my antique plates and new glass chargers. I don't know if it is the old plates or the glass chargers but they always wobble!
Elena said, "The Raven in the antique cage has been with me for years."
"The raven standing on the silver skull came from TJ Maxx. The claws were over-sprayed with silver so I touched it up with craft paint. The book on the stand came from Michaels, as is."
"The large book was from there, as well (Michaels) but the skeleton hands and the edge of the book were bright white, so I sponged and dry-brushed them darker and added some gold to the edges of the book." Elena is super creative and incredibly talented with crafting. I have something wonderful to share very soon, a project that she's just finished that really highlights how talented she is! I hope to share it early next week, so keep an eye out for that post coming up soon.
I'll leave you with this Raven's-eye view of Elena's Edgar Allan Poe-themed Halloween table. Happy Halloween!
Looking forward to the beautiful tables linked for this week's Tablescape Thursday! (If you enjoyed this post, subscribe for email updates when a new post is up here: Subscribe for post updates.)
Tablescape Thursday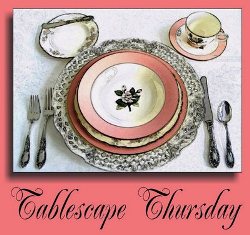 If you are participating in Tablescape Thursday, please be sure to add your permalink below, and not your general blog address. To get your permalink, click on your post name, then copy and paste the address showing in the address bar, into the "url" box when you link up. You'll need to include a link in your post back to the party to link up and participate. That's so visitors to your blog will be able to find the party and the other Tablescape Thursday participants. Please link up table-setting-related posts only for Tablescape Thursday. Please link up table-setting-related posts only for Tablescape Thursday.
You are invited to the Inlinkz link party!
*If a post is sponsored or a product was provided at no charge, it will be stated in post. Some links may be affiliate links and as an Amazon Associate, I may earn from qualifying purchases. *