We dish lovers watch out for each other, have you noticed that? Recently, a reader of BNOTP alerted me that chargers are now available for the tartan dishware pattern I love and use so much in table settings for Christmas.
What! How had I missed that? I immediately found them online and ordered eight. (Thanks Chloe for the heads up!)
Update: The chargers had sold out but it appears they have restocked them here: Tartan Chargers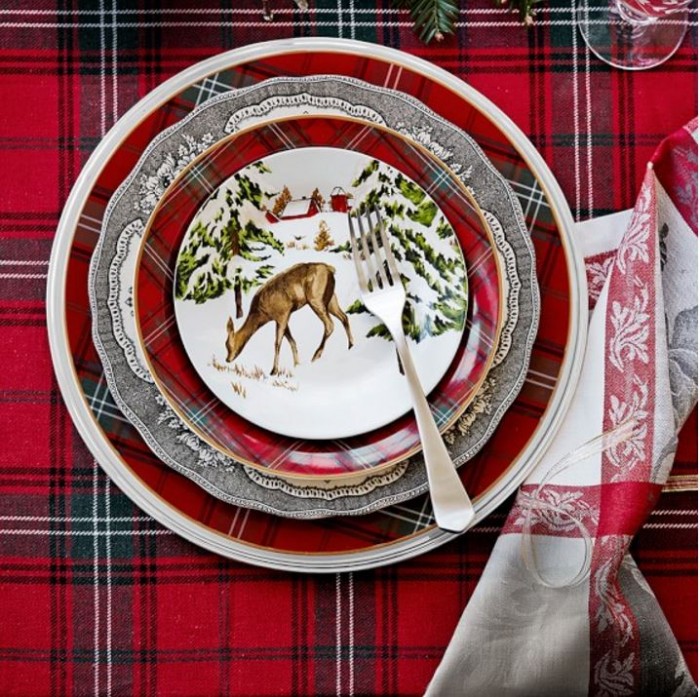 My chargers arrived a few days ago and I couldn't wait to play around with them to see how they would look with some of my favorite Christmas patterns.
Lenox Winter Greetings will probably always be my favorite pattern for Christmastime and the winter season. I just can't resist those cute birds!
I didn't expect the tartan pattern in the new chargers to work with Winter Greetings because the green in this pattern isn't the typical Christmas green. Surprisingly, the chargers look great with this pattern!
BTW, I noticed recently, Lenox Winter Greetings is on sale right now here: Lenox Winter Greetings. Good time to add a few place settings or expand on my serving pieces.
Spode's Christmas Tree Garland also works beautifully with the Williams-Sonoma tartan chargers. I'm sure Spode Christmas Tree would, as well.
Valerie Hill Parr's 12 Days of Christmas dishware looks great paired with tartan. Wish I could find days 9-12 in this pattern. I have days 1-8, found while out thrifting/antiquing.
Even my vintage Spode Tower looks great with these chargers. In some ways the tartan pattern is almost a neutral when combined with other red/green patterns.
I had to try them with the Better Homes and Gardens Christmas dishware that so many of us have collected over the last couple of years. You would never know this dishware goes for just a few dollars a plate, would you?
Recently, I heard from a BNOTP reader on Facebook that there are two new salad plate patterns available this year. Last year BH & G added a couple of new salad plate designs, so it looks like they are doing the same thing again this year.
I was just in my local Walmart a few days ago and I looked for it but they didn't have it, yet. All the Walmart locations sseem to get them in at different times, so if you look for it in your local store and it's not there, check back a week or so later.
I just looked online at Wal-Mart and I think I found the two new patterns. Aren't these cute, I love them both! I definitely need to add a few of these to my holiday collection. Looks like you can only order them in sets of six online so I'm going to wait until they are available in the stores.
So, you know my penchant for using ornaments I find in Wally World in table settings?
It's such an inexpensive way to make a Christmas table setting special.
I noticed when I was in the store the other day, the sleighs I used one year as place card holders are back again this year. Also, they have the antler rings again…see them on the left. I use those sometimes as napkin rings. (Scroll back up two pictures to see the antler napkin rings.)
Remember the antlers I've used as place cards for Thanksgiving and Christmas table settings?
They look so cute in a woodland setting.
They have those in again this year, too. The antlers come in sets of two so you only need three sets to have enough place card holders for six place settings.
I'm pretty crazy about how these tartan chargers look with so many different patterns. If you're interested in collecting them for your holiday tables, you'll find them available here with free shipping: Tartan Chargers
I fully expect them to sell out this year, that seems to be the way it always goes the first year they introduce a new product. Hopefully if they do, they'll bring them back again next year, although you can never be sure. I ordered 8 the first time around, but I think I'll order 4 more since I have 12 place settings in most of my Christmas china patterns. Look for these to appear in table settings soon here at the blog! 🙂
*If a post is sponsored or a product was provided at no charge, it will be stated in post. Some links may be affiliate links and as an Amazon Associate, I may earn from qualifying purchases. *