Hotmail Blocking Emails
Occasionally I hear from someone who has subscribed to receive email updates so they'll know when a new post is up here at Between Naps On The Porch, but unfortunately, the updates are never arriving. Today I learned something very surprising. Apparently, there's a big problem with Hotmail. Often, emails that are sent to Hotmail email addresses end up being rejected and never get through. If you Google the topic, you'll find a lot more information about that.
So when subscribing for email updates from Between Naps On The Porch, if at all possible, please use another email address other than a Hotmail email address. I can recommend Gmail. Gmail is a Google product so it's pretty sophisticated and it's free. It's also fast, not clunky like some email services tend to be. I love how easy it is to "search" for an email that you've misplaced or deleted. And I use their "file" system all the time to keep track of emails that I would like to refer back to at a later date.
If you would like to subscribe for email updates from Between Naps On The Porch so you'll know when a new post is up, you can do that here: Subscribe. As always, it's completely free and you never have to worry about your email address ever being shared.
McAfee Blocking Emails
One other thing to check is your virus protection if you are currently subscribed for blog updates but they aren't getting through to your Inbox. A while back a BNOTP subscriber emailed me because she wasn't getting BNOTP email updates. I checked and she was definitely subscribed.
A few days later she emailed to say she found all her BNOTP emails. They were all stuck in her McAfee "spam" folder. She didn't realize that McAfee had its own Spam file and was stopping emails she wanted from getting through to her Inbox.
So if you run McAfee on your computer and are having problems receiving some emails, go into McAfee and look for the Spam folder. If you see an email in there that you want to always receive in your Inbox, mark it as being "not spam" (or whatever the system is) to indicate that email shouldn't be blocked.
Hope this info helps if you haven't been receiving emails!
The Best Hair Styling Tool I've Ever Used
A while back I shared an awesome hair styling tool I had purchased that transformed how I style my hair. I wish I had known about it many years ago because it has changed my life! lol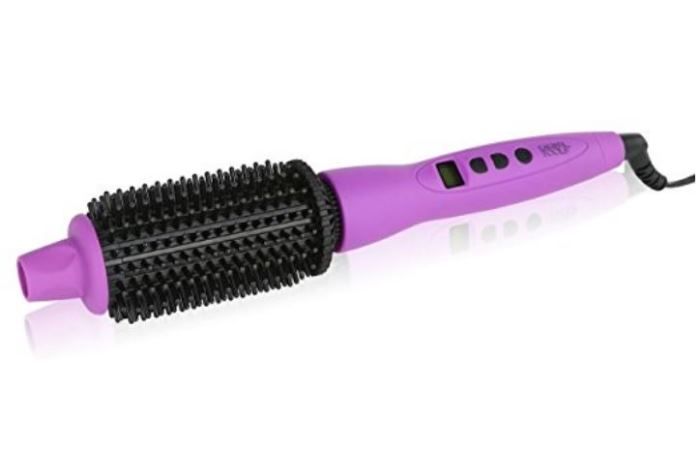 My daughter-in-law felt the same way after she received the one I had ordered for her…see her text below.
One tip I wanted to share about this awesome little tool in case you have one or order one in the future is this: whenever you turn on this styler, you'll need to hold the "On" button down for about 5-6 seconds before it will come on. I think the instructions say 3 seconds, but I've found that it takes about 5 seconds for mine to come on. I'm sure that's a safety feature, but it can be a bit confusing.
If you missed the post where I shared about mine, you'll find it here: The Best Hair Styling Tool I've Ever Used. It was out of stock for a while, but I noticed it back in stock now and available here in two sizes for short and long hair: Hair Styler.
Knock-Out Roses
The Knock-Out Roses on my deck are blooming their little hearts out! They have been growing in these pots for around 3 years now and have done surprisingly well during our hot Georgia summers.
Just wanted to share these with you since they have worked out so well here on the deck with very little care other than watering them regularly during the summer and the occasional liquid fertilizer. They have also survived our winters in these urns with no problem. And just in case you think it doesn't get that cold here…
…remember this photo from this past winter? 🙂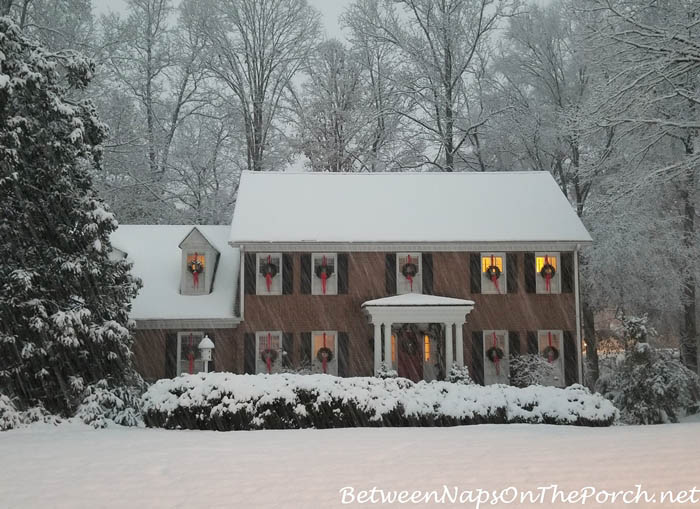 Shoes Arrived
The Sperry Topsiders I ordered recently arrived today, and I haven't taken them off since I unboxed them. Love 'em! You may remember when I shared them in THIS post.
I usually order a new pair of topsiders each summer. I have several styles now and wear them all regularly during the year. They are great travel shoes, especially when flying since they are easy to kick off if your feet start to swell. They also have good arch support. I've spent many a day walking in these while traveling.
The lighting wasn't the greatest when I took this photo, they are a beautiful blue color, not as dark as they look here.
Here's a better photo from the website. They are currently on sale here: Sperry Topsiders.
This also came today! 🙂 I'm crazy about my "Milton" stapler. Ha! This thing is built like a tank! It's metal construction, not plastic, and it feels like it will last forever. I love its retro look and it makes me smile every time I spot it on my desk. If you're a fan of the movie, Office Space, you'll find Milton's infamous red stapler available here: Swingline Red Stapler, a la "Office Space."
Be sure to read some of the reviews/questions…they had me laughing out loud!
For the Hermes Scarf Fan
If you're a fan of Hermes scarves, you'll want to take a look at this book. I've had it on my wishlist for a couple of years since it's a bit pricey. I finally purchased it a couple of weeks ago and I'm so glad I did. It's a thick, heavy book and as you read it, you feel like you're enjoying a beautiful Art book. It goes into great detail about the history of the Hermes Scarf…
…and it's filled with beautiful photos of some of their most iconic designs, many I've never seen before like this scarf on the left featuring beautiful canes. The photos of the scarves completely fill each page, so it's a feast for the Hermes Scarf fan. If you love Hermes Scarves, you'll find this book here: The Hermes Scarf: History & Mystique.
Our 500th Tablescape Thursday!
I completely forgot to mention this yesterday, but next week is our 500th Tablescape Thursday! Can you believe that?!!! I don't normally make suggestions for Tablescape Thursday because I never want those who join in to feel restricted in any way. I always want you to feel free to create whatever table you would like to create.
For our 500th Tablescape Thursday, I had an idea. For this special anniversary Tablescape Thursday, I thought it would be fun if we chose 5-10 of our most favorite tables that we've created over the years, and shared 2-3 photos from each table, of course linking back to each table so those reading could revisit the table if they wished to see more photos. If you've just started joining in Tablescape Thursday and haven't created 5 -10 tables yet, just share 2-3 photos from the tables you have created.
It would be wonderful if you shared a little about the source of your inspiration for each table and why you chose each table to include in your "favorites" post. I don't know if you feel this way, but some tables stay in my heart forever and I never forget them. ♥ What do you think about that for our 500th Tablescape Thursday?
Thank you so much for allowing me to share my love of the table for 499 weeks! Most of all, Thank You to all who have joined in and shared your amazing creativity and love for setting unforgettable, beautiful tables! You have no idea how much inspiration you provide to others! I can't wait to see which tables you choose as your favorites for next week's Tablescape Thursday!
*If a post is sponsored or a product was provided at no charge, it will be stated in post. Some links may be affiliate links and as an Amazon Associate, I may earn from qualifying purchases. *