Welcome to the 606th Tablescape Thursday!
A few days ago I shared Phyllis's beautiful living room renovation including the wonderful cabinetry her husband, Jerry, built to display her blue and white china and transferware collection. If you missed that previous post, you'll find it here: Stunning Room Renovation: Perfect Display Space for Beautiful Transferware. After seeing this gorgeous display, I asked Phyllis is she could share a few close-ups and some information about her amazing collection.
Phyllis said, "From the time I started collecting dishes, blue and white has been my favorite and it's what I have the most of. I already had a lot of the dishes when Jerry built the display cabinets, but I have added some to it.
Some items were pricey and others, inexpensive. They came from antique stores, estate sales, and even Cracker Barrel. When I travel I always try to get a teacup, teapot, or dish as a remembrance."
I love this idea! What a great way to remember all the wonderful trips and places we've traveled.
Phyllis shared, "When my mother was alive she used to frequently ask me how many teacups and teapots I had. I never bothered to count them because I have a friend who says if you count them, it's an obsession! But back in 2017, I did five blog posts showing all my teapots at that time – this was mainly because my hubby wanted me to have photos for records. At that time, I had 138 teapots, but it's well over 150 now, so I do believe it's an obsession! ;-)"
Phyllis, you are not alone! You are in good company because I think most of us reading this post share a similar obsession!
Phyllis is giving us a closer look at her collection today, a little tour of these beautiful shelves, just as if we were there in her living room and seeing them in person.
Phyllis said, "The shelves to the right of the piano display a tea set from Bombay Company, sadly out of business now, and a rack of Cobalt Blue Depression Glass in Moderntone and Aurora patterns."
"The second shelf displays two Fairmont Empress Hotel China trios, Victoria, B.C. It has graced their Afternoon Tea tables since 1998. The original china pattern dates back to 1914 when the Booth China factory in England presented it to King George V and Queen Mary at their opening. The 'Royal China' pattern was meticulously duplicated by Royal Doulton who purchased the Booth factory. There is also a Lomonosov Russian Porcelain tea set in the Cobalt Net pattern."
"The shelves to the left of the piano display Madrid Depression Glass, Wedgwood Jasperware, reproductions of Vanderbilt Tea Service circa 1888 purchased at the Vanderbilt estate in Asheville, N.C., and Shelley Dainty Blue china."
So beautiful!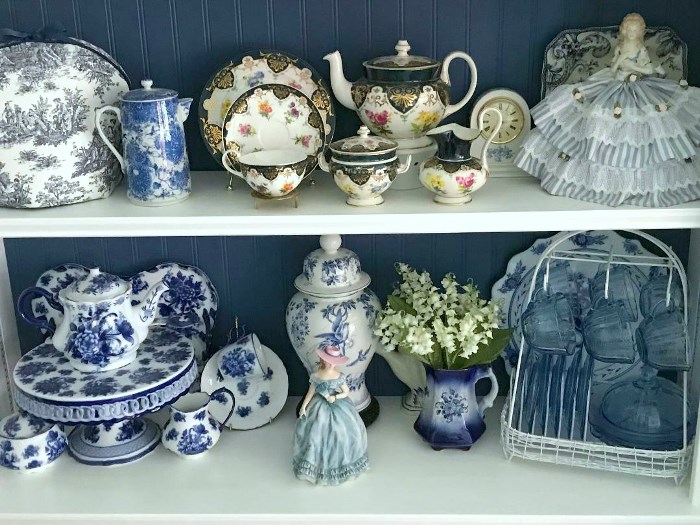 "Above the piano is a 19th-century two-compartment tea chest that I bought in 2011, and a commemorative tea history plate by Mason's in Newcastle Upon Tyne in England."
"The adjacent shelf has a music box and figurines that were my mothers."
Phyllis also uses the lower cabinet area for additional storage.
Phyllis gave us a little peek into that area, as well.
So many beautiful pieces!
Thanks so much to Phyllis for sharing her beautiful dishware collection for this week's Tablescape Thursday! To see how Phyllis uses her beautiful collection, be sure to check out her blog, The Relevant Tea Leaf.
Looking forward to all the beautiful tables linked for this week's Tablescape Thursday!
Pssst: Did you know Between Naps On The Porch is on Instagram? You'll find me on Instagram here: Between Naps On The Porch.
Like to know when a new blog post is up and available to read? Subscribe for email updates, it's free and your email will never be shared. Subscribe for free post updates via email here: Subscribe.
Tablescape Thursday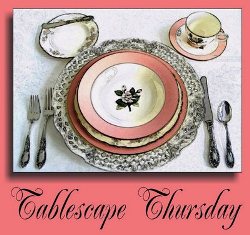 If you are participating in Tablescape Thursday, please be sure to add your permalink below, and not your general blog address.To get your permalink, click on your post name, then copy and paste the address showing in the address bar, into the "url" box when you link up. You'll need to include a link in your post back to the party to link up and participate.
That's so visitors to your blog will be able to find the party and the other Tablescape Thursday participants. Requiring a link back also prevents businesses and scammers from linking up to sell their products. (Yep, that really happens, unfortunately.)
Please, don't add your post name/blog name ALL IN CAPS…it tends to create big spaces between the rows of links.
Please do not link up table settings that were just recently shared in the last few weeks for Tablescape Thursday.
This party has ended, click button below for the links to all who participated.
*If a post is sponsored or a product was provided at no charge, it will be stated in post. Some links may be affiliate links and as an Amazon Associate, I may earn from qualifying purchases. *