Welcome to the 756th Metamorphosis Monday! Hope you had a fabulous weekend! Well, it has been a process spanning several years, but I have finally managed to move all the toys I saved from my son's childhood–to my son's home in Ohio for his children to enjoy. Of course, I didn't save every toy from his childhood, but I did try to save the best ones that I felt were perennial and would never be outdated. Back story: When my brother, who was much older than me, had children, I remember he bought Tonka trucks for them one Christmas. I guess that left an impression on me because I really wanted my son to have Tonka trucks to play with when he was growing up.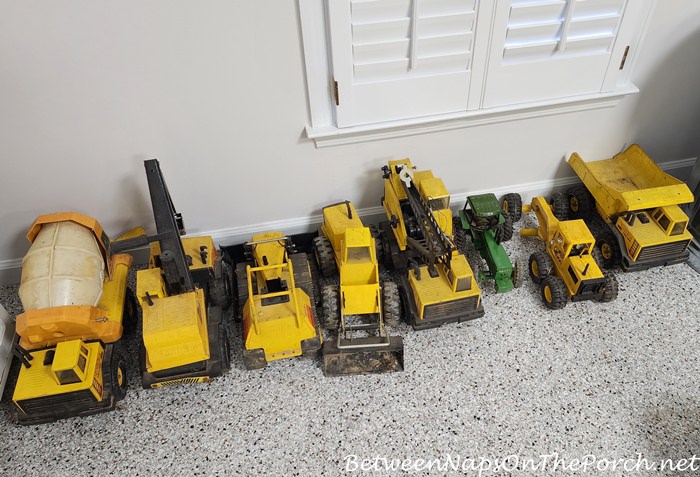 They have been stored away in the basement for many years, frozen in time just as he left them over 30 years ago. Determined to save them for my grandsons, I started working on cleaning them up a couple of weekends ago.
Soap and water definitely weren't cutting it. Some of the dirt stains were really stubborn and almost seemed embedded into the paint. I wondered how the paint would look once they were clean.
I worked on them for several hours over the span of two days and it was a job and a half! So many grooves, so many nooks and crannies to clean!
The only thing that really cut through the dirt and grime was this amazing Super Cleaner that I'm always raving about. It has come to the rescue many times over the past few years, and once again, it saved the day. I can not say enough good things about this cleaner! (This amazing cleaner is available here: Super Cleaner.)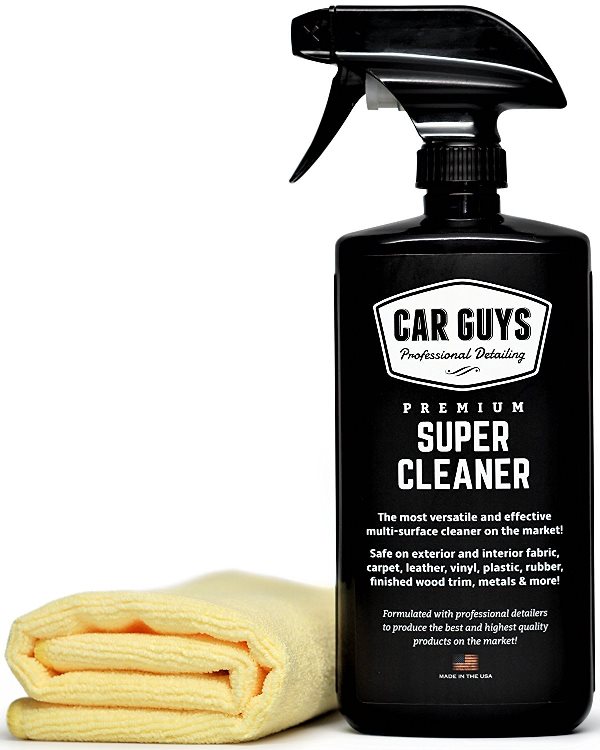 As mentioned, there were so many nooks and crannies to clean, but after hours and hours of cleaning, they were looking almost new again and ready for their trip north to Ohio.
My son and DIL live in an adorable, historical cottage that's over 100 years old, so there's not a lot of storage room for things like big Tonka trucks. But I had an idea that I thought would work.
We added one of these patio/deck storage boxes to their patio area in back. Those weird marks on the top are light reflections. I kept seeing those in various areas of the storage box as I was putting it together and wondered what they were. The light kept reflecting weirdly off the surface and it almost looked like spots/stains, but it was just the light.
After I loaded in all the trucks, there was still plenty of space for other toys. This storage box is supposed to be rainproof, so hopefully it is. It's been raining this morning so I think I'll go out and see if it stayed dry inside.
Okay, just ran outside and took a few photos after this morning's rain ended.
Everything inside was nice and dry. A drop or two fell off the lid and into the box when I first raised the lid…you can see one of those drops on the brown football, but everything inside was nice and dry. Storage boxes like this are also great for storing outdoor furniture cushions–I guess anything you enjoy using outdoors on a regular basis. This box is designed with a mechanism that will let you add a lock if you wish to keep it secured. I doubt we'll ever add a lock to it since it's only being used for toy storage.
It really looks nice with the other furniture, too. My son and DIL are very pleased with how it looks and functions. If you could use a storage box for your patio or deck, this one is available in several colors here: Large Outdoor Storage Patio Deck Box. They also come in smaller sizes, too.
Looking forward to all the great Before and Afters linked for this week's Met Monday! Pssst: Did you know Between Naps On The Porch is on Instagram? You'll find me on Instagram here: Between Naps On The Porch. Like to know when a new blog post is up? Subscribe for email updates (it's free) and your e-mail will never be shared. Subscribe for free post updates here: Subscribe.
Metamorphosis Monday: Metamorphosis Monday is a party that's all about Before and Afters. Please link up your Before and After projects like DIY projects, room makeovers, craft projects even recipes. Please do not link up Table Settings, save those for our Tablescape Thursday party on Thursday. If you are participating in Met Monday, you'll need to link your post to the party using the "permalink" to your MM post and not your general blog address. To get your permalink, click on the name of your post, then copy and paste the address that shows in the address bar at the top of your blog, into the "url" box for InLinkz when prompted. NOTE: Please do not link up more than 3 posts from your blog. In order to link up, you'll need to include a link in your post back to the party so your readers can find the other party participants. When linking up to the party, give the InLinkz system time to find the link in your post to avoid having your link held for moderation/approval. Thanks!
You are invited to the Inlinkz link party!
*If a post is sponsored or a product was provided at no charge, it will be stated in post. Some links may be affiliate links and as an Amazon Associate, I may earn from qualifying purchases. *