Welcome to the 656th Tablescape Thursday, a blog party sharing beautiful table settings for all occasions!
Have you ever fallen in love with a beautiful china or dishware pattern, but then had a difficult time using it in a table setting? Then one day it happens–all the elements just click and come together perfectly! That happened to Warren when he came across this beautiful peacock-designed dinnerware. Warren shared the story of his several-month struggle and ultimate success in creating a beautiful spring-Easter tablescape using this beautiful dinner china that was for him was love at first sight.
"I have a passion for all things "peacock. Not surprisingly, I fell in love with these Toyo (Japan) peacock dinner plates when I first saw them on eBay."
"I was determined to create a tablescape around these plates but their color palette was not complimentary with the color palette of my store of peacock table decorations. Thus, ensured a three-month period of experimentation, a perusal of tablescape websites, eBay, Etsy, Amazon, and Google–and frequent visits to HomeGoods and the Christmas Tree Shops."
"The far end of our dining room table became my laboratory and my wife, Kathie, became my exasperated critic. For three months, I tried various combinations of tablecloths, placemats, chargers, glasses, candles, candleholders, decorations, and flowers. For three months Kathie offered her unfettered criticisms accompanied by sighs and occasional gasps. And then it all clicked."
"To my eye, the dominant colors of the plates are dark blue, seafoam green, and pink around which I created the tablescape. I started with a dark blue tablecloth which would make the pastel shades of green and pink "pop." I then added Waterford seafoam green placemats and napkins, which have been in the family for decades but never used, and pink-rose gold charger plates." (Chargers are available here: Rose Gold Charger Plates.
"The very elegant peacock napkin rings were found on Etsy."
"Since I wanted to showcase the plates, nothing was placed on them aside from the napkins."
Beautiful peacock plates!
"The ceramic peacocks were made by my mother and had been collecting dust in our attic for a couple of decades. I am sure she is happy that seventy years after making them, I am able to use them in a tablescape."
"The centerpiece is a 4 x 7 pillar candle which I decoupaged with peacocks, surrounded by a muted pink and seafoam green wreath found in HomeGoods. The candle is mounted on a glass candle holder."
"The light blue/green vases, made by Akcam-a Turkish company, were found in a small display in the check-out aisle at HomeGoods. I filled the vases with weeping pink silk flowers from Michaels, which did not restrict the view across the table. A mirror placed under the centerpiece subtly unifies the decoration."
"Pink taper candles, water glasses by Waterford, wine glasses, and stainless flatware by Oneida finished the setting. Kathie served her family's traditional Easter dinner: Spiral ham, scalloped potatoes, sauteed Brussel sprouts, and Rosé wine. A marvelous homemade Lemon Pound Cake with lemon glaze was the yummy dessert."
Thanks so much to Warren for sharing this elegant table setting! The colors all came together so beautifully! Doesn't Kathie's cake look amazing?! The glaze on top is perfection! Kathie and Warren make a wonderful team, what a joy to be invited to one of their special dinner parties!
Looking forward to all the wonderful table settings linked for this week's Tablescape Thursday! ♥
Did you know Between Naps On The Porch is on Instagram? You'll find me on Instagram here: Between Naps On The Porch.
Like to know when a new blog post is up and available to read? Subscribe for email updates, it's free and your email will never be shared. Subscribe for free post updates via email here: Subscribe for Post Updates.
Tablescape Thursday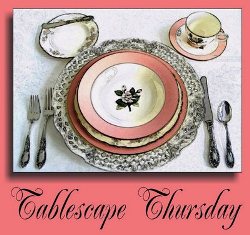 If you are participating in Tablescape Thursday, please be sure to add your permalink below, and not your general blog address. To get your permalink, click on your post name, then copy and paste the address showing in the address bar, into the "url" box when you link up. You'll need to include a link in your post back to the party to link up and participate.
That's so visitors to your blog will be able to find the party and the other Tablescape Thursday participants. Requiring a link back also prevents businesses and scammers from linking up to sell their products. (Yep, that really happens, unfortunately.) If you see a post that's not table setting related, please let me know and I'll remove it.
Please, don't add your post name/blog name ALL IN CAPS…it tends to create big spaces between the rows of links.

This party has ended, click button below for the links to all who participated.
*If a post is sponsored or a product was provided at no charge, it will be stated in post. Some links may be affiliate links and as an Amazon Associate, I may earn from qualifying purchases. *