Welcome to the 663rd Tablescape Thursday, a blog party sharing beautiful table settings for all occasions!
Years ago, I would often stop by HomeGoods just to see what new dinnerware they had in stock. On one of those shopping trips, I came across the most charming dishware: Ma Maison, designed by Dario Farrucci for Tabletops Unlimited. Oh my gosh, it was love at first sight! I envisioned using Ma Maison for dinners on my (at that time) newly added screened porch. I purchased as many place settings as they had at that particular HG location, then spent the rest of the day driving from one HomeGoods to another, collecting additional pieces so I'd have enough to set a full table.
Over the years when I've shared that dinnerware in table settings for Tablescape Thursday, often you all have loved it as much as I did that first day I laid eyes on it. Unfortunately, Ma Maison is no longer in production. Sometimes I think HomeGoods gets discontinued stock because I rarely see the dish patterns they carry available in other places.
Elena, a lovely BNOTP reader, has become a good friend over the years as we have shared out mutual "dishware" addiction. Elena also fell hard for Ma Maison after seeing it in a table setting here at BNOTP and hoped she could collect enough for a table setting one day. One thing I really love about Elena is when she decides to collect a particular item or dishware, she really puts her heart into the task, regularly stalking the pre-loved sites for those no-longer-in-production pieces. I can completely identify because I've been known to do that a few times myself. After years of searching sites like eBay, Poshmark, and Mercari, Elena had finally collected enough Ma Maison to put together a beautiful Mother's Day table this year!
For this special table, Elena found a beautiful Jacquard tablecloth with matching napkins. Its blue color reminds me of a beautiful summer sky, so perfect with Ma Maison! (Tablecloth is currently on sale here: Jacquard Tablecloth in Two Colors.)
Elena created three, beautiful floral arrangements for this summery Mother's Day table. Two of the arrangements are in Ma Maison bowls, love that idea!
I had not realized that Ma Maison was available in square dinner plates. I have some square salad plates but I don't think I have any of the square dinner plates. They look great with the larger square platters/chargers created in this pattern.
The square dinner plates…
The large platter/charger…
Elena also used the round dinner plate with beautiful chargers found at Williams Sonoma.
The round dinner plate…
The filigree etched charger…
Did you notice the beautiful bee flatware Elena used?
That the same bee flatware Brenda used in her Bee themed table setting that I shared for last week's Tablescape Thursday. I'm going to have to break down and get this bee flatware! It's accented with 24kt gold and that really brings out the bee pattern. It would look great with all my gold-rimmed china patterns! This Bee Flatware is currently on sale here: Bee Flatware. Use the code LOVETHIS for another 30% off! It's also available here: I found this flatware for an even better price here: Gold-Accented Bee Flatware.)
Elena's brought out her Waterford stemware for this special Mother's Day table.
This pattern also included adorable bowls!
Notice the cute gardening hat…
Elena tied this element back to her table, adding ribbon to cute, miniature straw hats. Love that!
Another view of the beautiful floral arrangements Elena created for this lovely Mother's Day table setting.
Using the coordinating Ma Maison pitcher, Elena created a beautiful floral arrangement for her sideboard! Sooo pretty!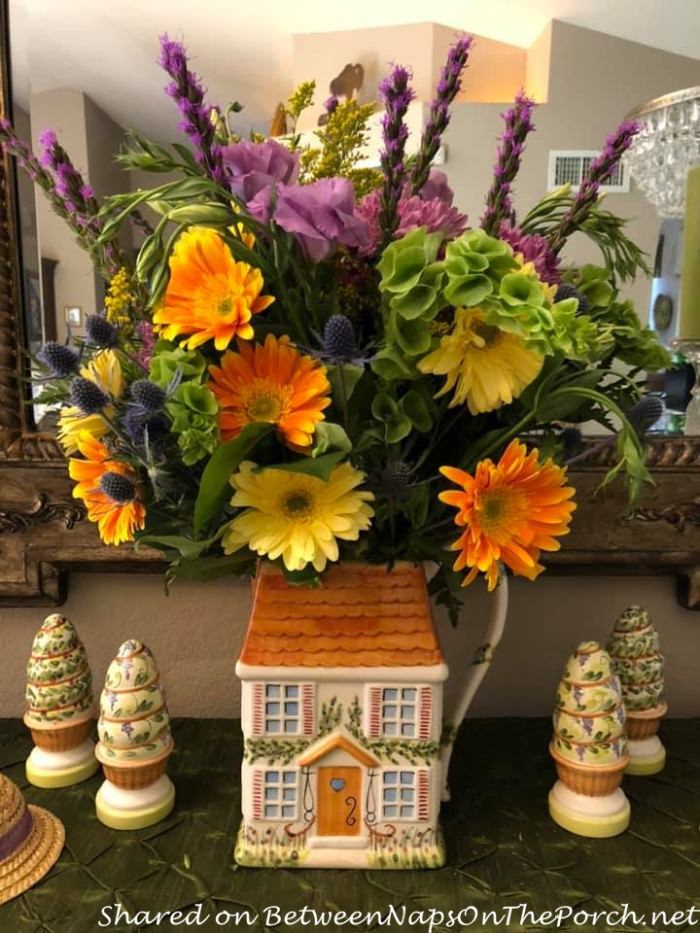 Thanks so much to Elena for sharing this wonderful Mother's Day table setting with her beautiful collection of Ma Maison dinnerware! (Below, you'll find a resource list of where Elena found the various elements used in this table.)
Ma Maison plates, bowls, large pitcher, salt and pepper shakers—From eBay, Etsy, Mercari, and Poshmark
White "Porto Embossed" 13" charger plates—Currently on sale here: Embossed Charger Plates
Blue and white Jacquard tablecloth and 8 matching napkins–available here: Jacquard Tablecloth
Green beaded napkin rings—eBay
Gold accented Napoleon Bee flatware–on sale here: Bee Flatware and here: Bee Flatware.
House of Waterford 9″ Wedge, Fan &Diamond Cut American Heritage Crystal Vase—from ShopHQ (used for the larger center floral arrangement)
Waterford Crystal Eastbridge goblets—from ShopHQ
Waterford crystal pineapple salt and pepper shakers—from ShopHQ
Doll-sized straw hats and sheer lavender ribbon—Michaels
Green taffeta pinch pleat runner on sideboard—White Petals Store, Etsy
Waterford crystal pillar candle holders on sideboard—from ShopHQ
Luminara moving flame battery-powered pillar candles—from ShopHQ and QVC
Fresh flowers from downtown Phoenix Arizona Flower Market: gerbera daisies, Belles of Ireland, small lavender mums, blue thistle, goldenrod, lavender lisianthus, lemon leaf, bupleurum (the green curly wispy filler) and leather leaf fern—all from the downtown Phoenix flower market.
Looking forward to all the wonderful table settings linked for this week's Tablescape Thursday! ♥
Did you know Between Naps On The Porch is on Instagram? You'll find me on Instagram here: Between Naps On The Porch.
Like to know when a new blog post is up and available to read? Subscribe for email updates, it's free and your email will never be shared. Subscribe for free post updates via email here: Subscribe for Post Updates.
Tablescape Thursday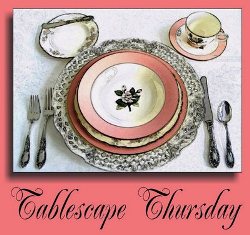 If you are participating in Tablescape Thursday, please be sure to add your permalink below, and not your general blog address. To get your permalink, click on your post name, then copy and paste the address showing in the address bar, into the "url" box when you link up.
You'll need to include a link in your post back to the party to link up and participate. That's so visitors to your blog will be able to find the party and the other Tablescape Thursday participants. Please, don't add your post name/blog name ALL IN CAPS…it tends to create big spaces between the rows of links.
This party has ended, click button below for the links to all who participated.
*If a post is sponsored or a product was provided at no charge, it will be stated in post. Some links may be affiliate links and as an Amazon Associate, I may earn from qualifying purchases. *