A couple of days ago I went outside via the garage door and cut through a little path behind the magnolia to get to the front porch. I'm currently not using the front door since there's a sweet bird nesting in my front door wreath.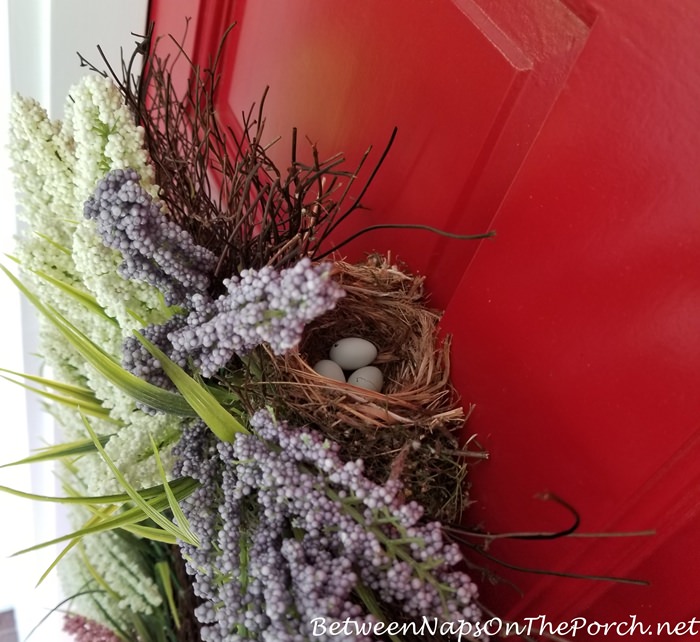 As I passed by the dovecote in the front yard, I noticed a bee flew out? Ummm, I've never seen a bee fly out of the dovecote. The bee flew out of the opening I've circled below. Out of curiosity, wondering if it was just a single bee or if they were actually nesting inside, I lightly tapped the dovecote near the opening with the package I was holding.
Oh. My. Gosh! About 15-20 bees poured out of the opening, swarming all around that side of the dovecote! They looked like bumblebees but smaller than the typical bumblebee I usually see around flowers. As I headed back inside, I was thinking how it's a good thing the bluebirds had finished nesting in this dovecote earlier in the spring. They had been nesting in one of the compartments on the other side of the dovecote. They had also later built a nest where the bees were now nesting. Hopefully, they had finished nesting before the bees moved in!
The next day, I once again had to go out the garage door to retrieve a package from the porch. This time when I took the little shortcut behind the magnolia, I walked by the other side of the dovecote, avoiding the bee side. I was shocked when a Mama bluebird shot out of one of the openings on that side of the dovecote! What?!!!
See the straw hanging out of the opening–that's apparently where she's nesting. So, at the moment, this dovecote has both birds AND bees nesting inside! The bees are on the far right side and the birds are on the left side, opposite the bees. I hope they continue to live in harmony in their own little apartments! From what I've read, bees naturally vacate their nest toward the end of summer. So I'll just wait and clean out the dovecote in the fall as I normally would. Have you ever had bees AND birds nesting in a multi-compartment birdhouse at the same time?
Weekend Shopping
Talbots is having a BOGO sale right now! I was shopping online this morning to see what new goodies they have in. Everything I'm sharing below is part of the sale. I think the sale price shows up once the item is in your cart.
I love Sperry topsiders but haven't tried their sneakers, yet. I love madras and these would look so cute with the Talbots shorts I wear all summer. I especially like that they don't have to be tied. I have a pair of the topsiders in that style and they are so easy to slip on.These are on sale here: Madras Sneakers.
Love the gorgeous combination of blue and white in this sweater! If you have a beach trip planned or will be visiting someplace this summer where the evenings tend to be cool, this sweater would be perfect for those evening walks along the beach. You'll find it on sale here: Blue and White Top.
Another sweater that would be perfect for beach walks or chilly evenings! I actually have one very similar to this that I purchased at Talbots a few years back. I always take it with me when I travel in the summer. This one is on sale here: Sweater for Beach Walks.
another super-cute floral shirt! Love the colors! These are the colors that I look best in so I need to get this one for summer. You'll find it on sale here: Floral Top.
Another great floral tee! This one is on sale here: Floral Top.
I love stripes for summer and this top would be really cute for our upcoming 4th of July celebrations. You'll find this one on sale here: Striped Top.
This top would be beautiful with white shorts or white pants. I tend to wear white shorts/white jeans all summer, just changing my top for a whole new look. It makes getting dressed so much easier! You'll find this pretty floral top on sale here: Blue, White, and Yellow Top.
If you prefer to wear blue denim in the summer, this adorable top looks great with jeans. You'll find it on sale here: Blue and White Top. I love the pattern, it makes me think of blue and white porcelain. ♥
These are my favorite white jeans. I buy their "curvy" fit since that works for my body shape–otherwise, I end up with a big gap in the waist in back.
I'm so glad Talbots carries the "curvy" fit online since they don't carry them in their stores. You'll find these straight-leg jeans (and other styles) on sale in the regular fit here: Regular Fit. The curvy fit is available here: White Jeans Curvy Fit.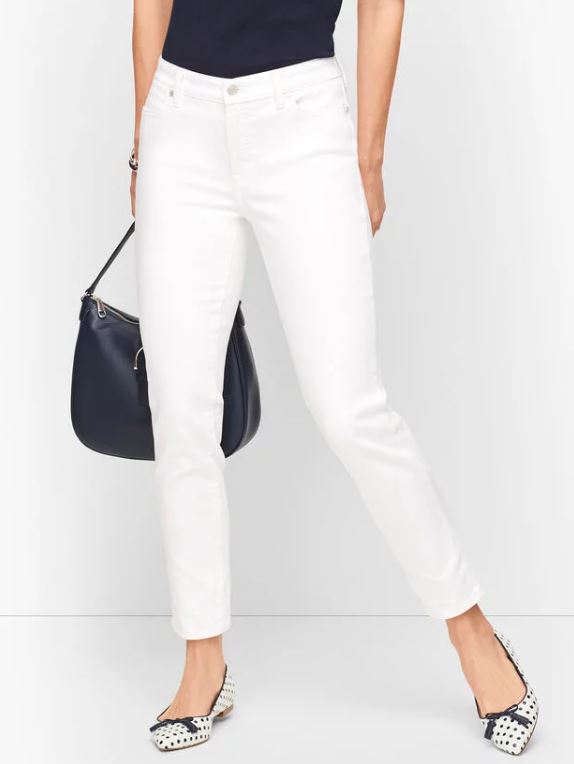 I also love their "French Rose" colored jeans. The color is so beautiful for both spring and summer!
You'll find the French Rose jeans in both the regular and curvy fit here: French Rose Jeans.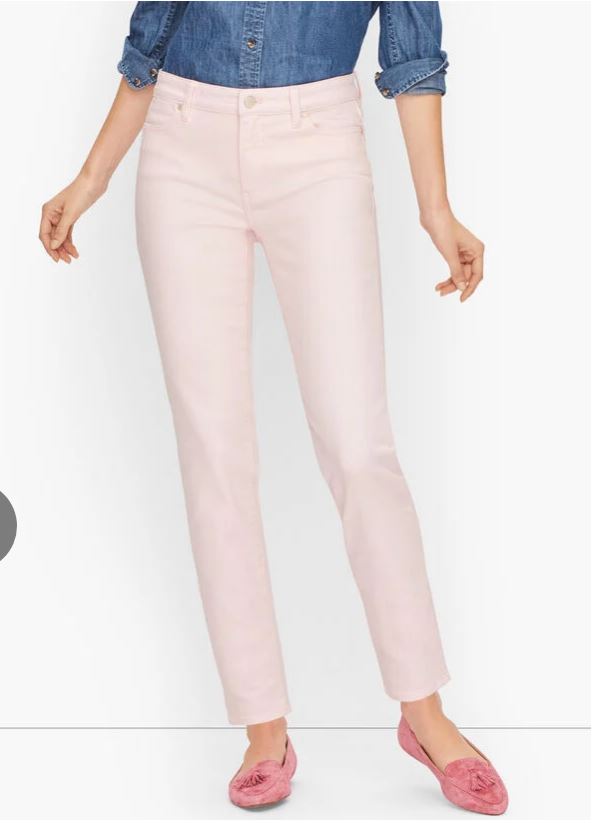 So about those bees–have you ever had bees nest in a birdhouse? I don't think there's not much I can do about the bees, so I really hope the birds will be fine and they continue to live peacefully with their bee neighbors.
*If a post is sponsored or a product was provided at no charge, it will be stated in post. Some links may be affiliate links and as an Amazon Associate, I may earn from qualifying purchases. *