Welcome to the 535th Metamorphosis Monday!
Back around 2008-2010, I used to sit and create blog posts in the evenings after work at the little vanity desk located on the left side of this dressing room off the master bedroom. During that time I started having shooting pains down both arms, starting at my neck. That's when I realized the vanity was a few inches too short to work as a desk and made the decision to turn my son's old bedroom into a home office space.
Back in the day when I sat here and worked, there used to be a full-length mirror on the closet door just to the right. That mirror bugged the heck out of me as I sat and worked. It was a constant distraction since any movement I made was always reflected in the mirror and would immediately catch my attention out of the corner of my eye.
You would think after a while I would get used to it and not notice anymore, but I never did. It drove me crazy until the bitter end when I finally couldn't take it anymore and removed it. I regret doing that now because the only other full-length mirror in my home is on the door of the original master closet where the lighting isn't very good.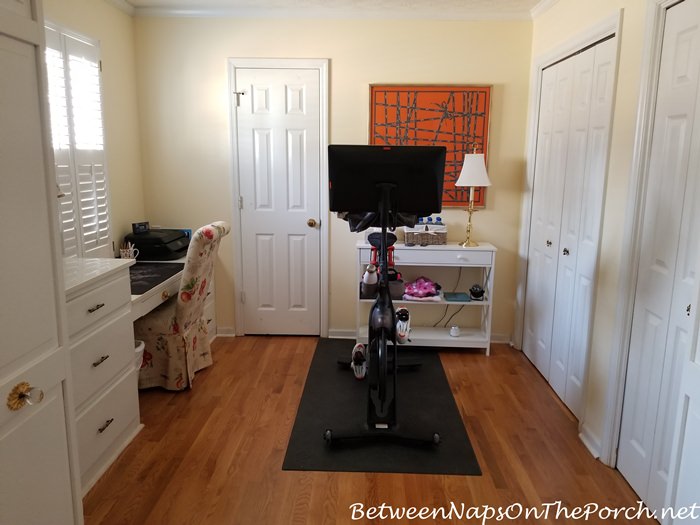 At some point over the years, the closet door was pushed too hard against the door stop and the stop punched a hole through this 6-panel, hollow core door. I think when the hardwood floors were installed, the guys didn't put the stop back on the way it had been because now it doesn't line up with the hole. Maybe they did that on purpose since it wouldn't function as a stop if it did line up.
I've really missed having a mirror here over the years and just recently decided to add another one back. I called up a local mirror company and they came out to measure. I asked if they could make the mirror a little wider so it would cover the hole…kill two birds with one stone. They said, yes–they could, only it wouldn't quite be centered on the door. I don't think it was perfectly centered before due to the door handle, so that was fine with me. I like the idea of a wider mirror, anyway.
The mirror is supposed to be ready sometime in the next couple of weeks. At that time, they will come back out and install it. I know I could have just purchased one of those mirrors that hangs over the top of the door, but I really wanted something professionally mounted to the door as the previous mirror had been.
I really disliked the appearance of the ugly door stop and I didn't care for how it was denting the casing around the door. This type of stop is such a bad design. I decided to look for an alternative.
In my search, I found this interesting design below. Have you ever seen a doorstop like this? I had not, but I was really intrigued. The reviews looked pretty good so I decided to order it. You'll find it available here: Doorstop. It comes in several colors/metals, including brass, but I wanted it to just blend in with the door so I ordered it in this satin nickel-plated design.
To install it you simply remove the old door pin and replace it with this device. I used a really long nail to pop the old pin out from the bottom, then gently tapped the new pin/stop in with a hammer. (Please ignore the black smudges and the dents in the casing left by the old doorstop. I need to try and clean those off or repaint the door.) I bet a Magic Eraser will take off the smudges.
Once the new doorstop was in place, to adjust it I unscrewed the little flat lid thingy at the top, then moved the long clip hanging down over to the position that best worked for my door. The inner mechanism is graduated somehow, so you just find the position that works best for your needs. It's so simple, it's ridiculous! I love it! The instructions that came with this doorstop were very easy to follow. The whole process from start to finish took about 2 minutes, including removing the old pin.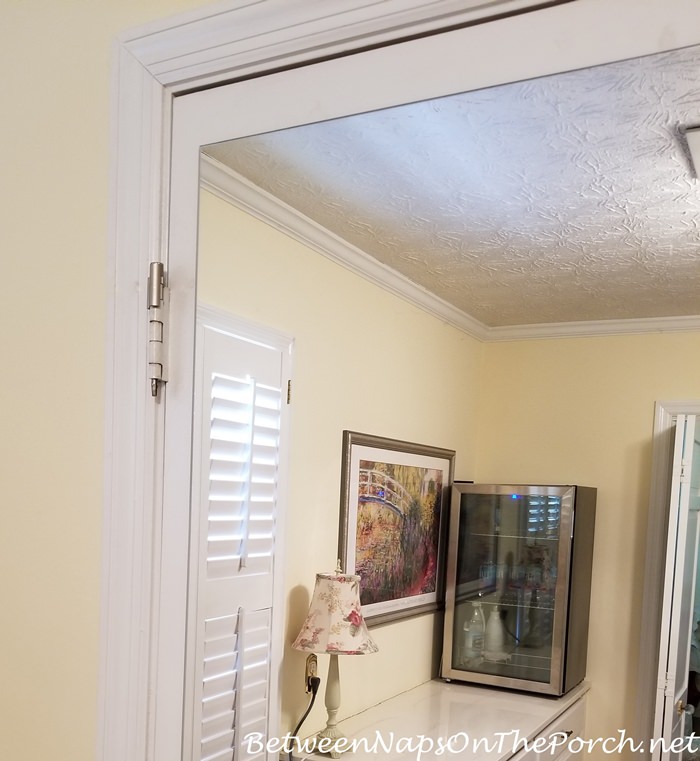 In this photo below, you can how far back the door opens with the setting/adjustment I chose. The opening is plenty wide enough, yet the door is still a nice distance away from the built-in vanity.
I really like this doorstop and plan to buy a few more to use in other areas of my home. I like its unobtrusive, sleek design. You really don't even notice it's there which is exactly what I wanted! If you like this design, you'll find this doorstop available here: Door Stop.
Once the new mirror has been installed, I'll share a photo in a future post so you can see how it looks. I can't wait to have a full-length mirror back in this space!
Have you ever used a doorstop like this one? Such a cool idea!
Looking forward to all the awesome Before and Afters linked for this week's Metamorphosis Monday!
Pssst: Subscribe for email notifications when a new post is available here at Between Naps On The Porch, here: Subscribe.
You'll find Between Naps on the Porch on Instagram here: Between Naps On The Porch on Instagram and on Facebook here: Between Naps On The Porch on Facebook.
Metamorphosis Monday
Metamorphosis Monday is a party that's all about Before and Afters. If you are participating in Met Monday, please link up using the "permalink" to your MM post and not your general blog address. To get your permalink, click on your post name, then just copy and paste the address that shows up in the address bar at the top of your blog, into the "url" box for InLinkz when prompted.
In order to link up, you'll need to include a link in your MM post back to the party so the other participants will have an opportunity to receive visits from your wonderful blog readers.
Feel free to link up Before and After posts that are home, gardening, decorating, crafting, painting, sewing, cooking, fashion, travel or DIY related. Please do not link up to the party if you're only doing so to promote/sell a product.
To those linking up, if you notice a shop or online store linking up to sell products (yes, unfortunately, that happens) please let me know so I can remove their link and block them from participating in future parties. No one wants to visit a link expecting a Before and After, only to find a spam link to an online business/store.
This party has ended, click button below for the links to all who participated.
*If a post is sponsored or a product was provided at no charge, it will be stated in post. Some links may be affiliate links and as an Amazon Associate, I may earn from qualifying purchases. *