Have you ever had that, "Oh great, not again!" feeling driving home from the grocery store? As you turn a corner, you hear all the grocery bags in back turning over. That's normally followed by the sounds of can goods and jars rolling around crashing into each other. You get home and find the bread squished and the bananas in the corner buried underneath a can of peas.
Ugh.
To solve this issue, this has been my high-tech solution for years: a long, shallow Amazon box. A few days ago I opened the back door of my SUV to let the nice guy from Wildbirds Unlimited load in a large bag of birdseed. They are super nice and always insist on helping you out with your seed. I wondered what he thought of my big Amazon box. lol
Suddenly it hit me, I could do better than an Amazon box. It was time!
I searched online and read a ton of reviews and opted for this storage organizer. It had great reviews and it sounded like the sides would be sturdy enough to support a 2-litre bottle of Coke or a large bag of groceries.
Here's how it looks folded out. It has pockets all the way around, including some on the side that close completely up with a flap closure. Forgot to take a photo of that but there are tons of pockets.
At first, I anchored it down with the little straps it came with, but later I unhooked the straps since it doesn't feel like it will slide around. I went on an errand today (eye appointment) and it was still in the same spot when I returned home. It had not moved.
The little divider visible on the left side of this organizer can be unhooked from one side. So that left side can be used as one large section when needed.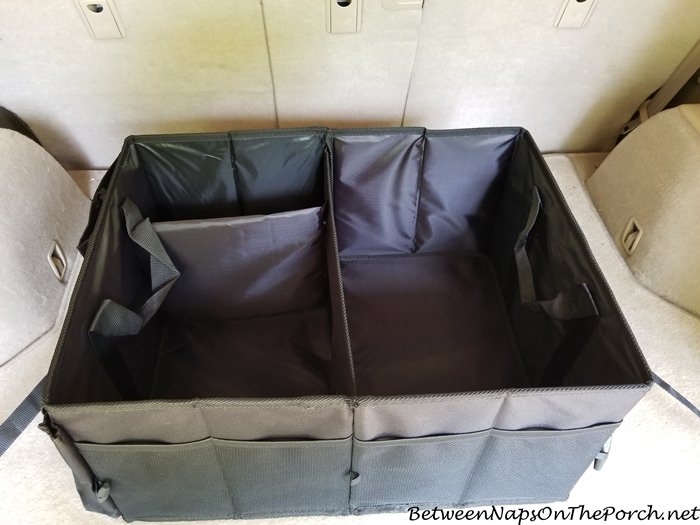 If you're ready to upgrade your Amazon box 😉 and you need an organizer/grocery holder for your trunk or the back of your SUV, you'll find this one here: Trunk Organizer.
I'm pretty excited about this little upgrade. Think the guys at the birding store will be impressed? 😉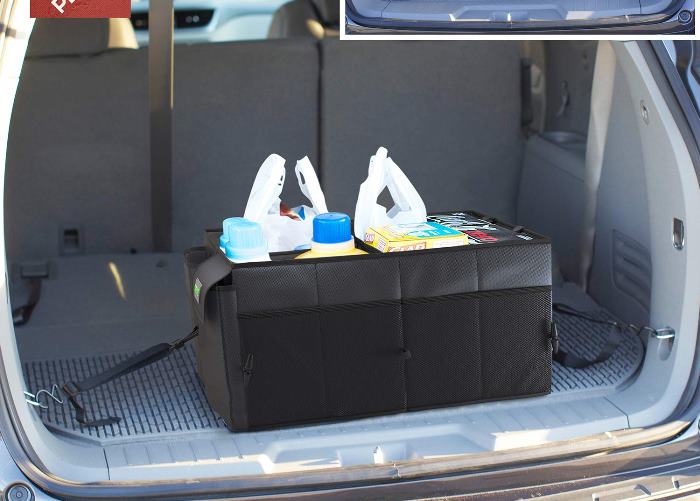 *If a post is sponsored or a product was provided at no charge, it will be stated in post. Some links may be affiliate links and as an Amazon Associate, I may earn from qualifying purchases. *