Welcome to the 126th Metamorphosis Monday!
Happy Met Monday! Hope you've had a wonderful weekend and a great Father's Day! This Metamorphosis Monday I'm excited to share an important addition to my home office.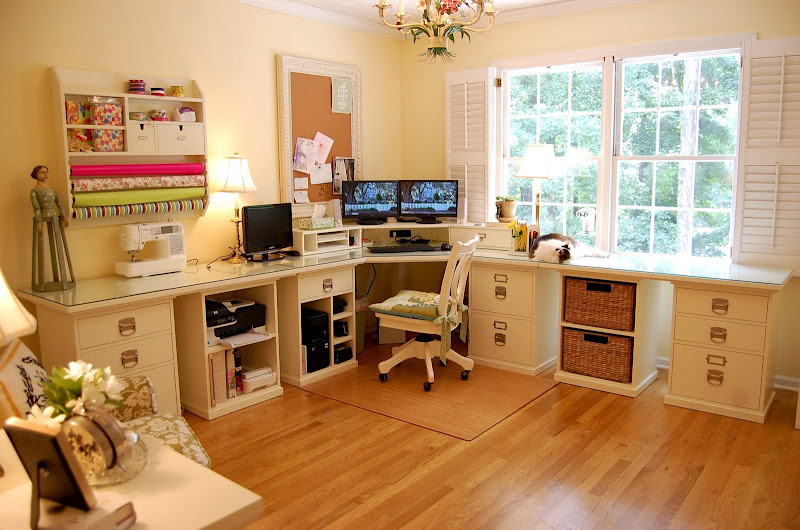 Have you ever searched and searched for a particular piece of furniture for your home and being unable to find it, gave up, only to have it immediately appear the next day? If so, I know just how you feel!
Not long after I started working on converting my son's old bedroom to a home office, I started looking for a small chest to place beside this cottage style chair with the plan of creating a little sitting/reading area on this side of the room.
I've been to just about every antique store and thrift store in the surrounding area multiple times, hoping to find a piece I could rehab or paint, but I was never able to find anything close to what I wanted for this spot. I have this very bad habit of envisioning the piece I want in my mind, which always often leads to a frustrating search for the proverbial "needle in the haystack."
After looking and looking with zero success, I finally gave up the chest idea and just started looking for a small side table. I was delighted to find this cute table online at Pottery Barn Teen. It wasn't really what I had envisioned. It doesn't have all the storage I wanted and doesn't quite fill the space the way I had pictured a small chest doing, but it was really cute and would provide room for a table lamp. Plus, it was only $99…not a bad price for a side table.
About 2 days after the table below arrived, I stopped by Pier 1. I was no longer seeking a small chest, having given up on that idea. Instead, I was on a quest for chargers for a 4th of July tablescape. Guess what I found? It wasn't chargers!
So, how does it look, this chest I had long envisioned in my head? All I had to do was buy something else and it appeared!
It turns out, it was hiding waiting for me at Pier 1 all this time! It's the Ashworth Chest in Antique White and the color is perfect with the Pottery Barn Bedford furniture.
It was designed to go beside the a bed in the Ashworth Bed Collection but it's exactly what I had pictured when I was dreaming of a small chest to go beside my reading chair. Perfect size with lots of storage. 🙂
I thought I might change the knobs to something whimsical after I got it home. Maybe bee shaped or glass knobs…something silly and fun. But once it was in the office beside the chair, I found I loved the knobs just as they are. I like the contrast of the dark, oiled rubbed bronze knobs against the soft, aged white of the chest.
This little chest exceeds my expectations because it even has a little pull-out shelf for holding a drink, notepad, book or whatever you wish. I guess it could even function as a small writing desk, although, I won't be using it for that.
And perhaps the biggest surprise of all is that it actually appears to be pretty well made. I've become so accustomed these days to only finding furniture with hard-to-operate drawers or cheaply made interiors. The top drawer of this piece is lined with a soft felt.
And all the drawers are dovetailed. Love that!
I shopped the house and borrowed a silver lamp from the dining room. Excuse the tarnish, it could use a little polishing. I left the lamp in its slightly tarnished state because I liked how it looked with the oiled rubbed bronze knobs. The silver also works nicely in this room with the metal pulls on the Pottery Barn (Bedford) desk file drawers.
I've also been lamp shopping the last few weeks, with no success. I actually love the way this lamp looks on the chest, but I will need to return it to the dining room since it's one of a pair on the sideboard. This one will do great, though, until another lamp finds me.
Next week, I'll return the Pottery Barn table to the local PB Teen store that's about 25 minutes from my home. Then, I'll only need one more piece for this room and it will be complete, furniture wise. I'll be keeping my eye out for a nice, big bookcase cabinet for the large blank wall on the other side of the room.
I'm in no rush, though. I'm just so happy to have finally found the chest I had sought for so long. If you're in need of a chest like this, you'll find the Ashworth Chest here: Ashworth Chest
If you're new to reading BNOTP, you can view the transformation of this room from bedroom to office in this post: Building a Home Office: The Journey.
What have you been creating/transforming/rehabing in your home this week? I can't wait to see!
Metamorphosis Monday:
If you are participating in Metamorphosis Monday you will need to link up the permalink to your MM post and not your general blog address. To get your permalink, click on your post name, then just copy and paste the address that shows up in the address bar at the top of your blog, into the "url" box for InLinkz.
If you'd like to include the MM button in your post, just copy and paste the Met Monday button to your computer or grab the html code from underneath the MM logo under the "Join a Blog Party" header at the top of this blog.
In order to link up, you'll need to include a link in your MM post back to the host blog, Between Naps on the Porch so your regular readers will be able to find the Met Monday party which ensures your friends and fellow bloggers will receive lots of visits, too. Isn't that what a party is all about? 🙂
PLEASE DO NOT type in all caps…it spreads the links waaaay out. Thanks!




Welcome! Thanks for coming to the party!
*If a post is sponsored or a product was provided at no charge, it will be stated in post. Some links may be affiliate links and as an Amazon Associate, I may earn from qualifying purchases. *