Welcome to the 539th Tablescape Thursday!
Loved your comments so much on yesterday's post about possibly adding three storage cabinets to my upstairs hallway. You had me laughing and nodding my head so many times. I definitely recognized myself! I also loved your ideas for what I could store in them until (and if) my handbag collection ever grows.
For now, I'm trying to resist buying the cabinets for all the reasons my "rational" self came up with, but I'll definitely let you know if I do end up buying them at some point. If you missed yesterday's post, you'll find it here: Inner Conflicts. Be sure and check out the comments, they were so much fun to read and made me feel better about my inner conflicts! lol
In last week's Tablescape Thursday, I shared these cute football-shaped plates in case you had some party plans for the Super Bowl this year. (Football plates are available here: Football Plates.)
I also shared these football-shaped glasses I had purchased several years ago in my local Dollar Tree. By the way, they had them again this year so I was able to replace the one I broke last week. I purchased a couple more in case of breakage, so now I have a total of 8. I think they will probably be going to live with my son and daughter-in-law since they love watching the games every year.
The glasses hold an incredible amount of drink, I was surprised by how much! If you don't have a Dollar Tree nearby or your location doesn't stock these, you'll find them online here: Football Glasses. This picture from the website makes me want a Coke float! Ha!
Instead of creating a full table setting, I put together a little snack table starting with some faux/artificial grass as my tablecloth. I absolutely love how it looks as a backdrop for a football party table! I didn't take time to do it for this setting, but if you are actually having a Super Bowl gathering, it will be so cute to spray paint the sidelines, goal lines, etc… onto the grass. It would take a little time, but it would make such a great impact! Can you just imagine it?
You can purchase tablecloths (paper and fabric) designed that way, but I think it would be so much fun to paint your own football field on this faux grass. You'll find this grass in a lot of different sizes where I ordered mine here: Faux Grass.
I purchased it in the 3'0′ x 7'3″ size because that size will fully cover the table on my screened porch. I'm envisioning using it again this spring or summer in a table setting on the porch. It would be really cute in an Easter tablescape or for a garden party table.
Tip: If you're going to use artificial grass as your tablecloth indoors, buy it far enough in advance that you can place it in your garage or on a porch to air out a bit. The backing of the grass smells a bit like a tire shop when you first unpackage it. Perhaps the black backing is made from recycled tires, not sure. I placed mine out on my screened-in porch to air out and it was fine after a couple of days.
Love these football plates! I ordered two sets of 4, but one set came damaged, so I'm going to call and see about exchanging those today. Forgot to get a close up but I started out with my University of Georgia mini in place on the pedestal.
The football-shaped cookies and cupcakes are from Publix. Did you notice in this photo that I had changed out the red football helmet for this cute football mini?
Here's a better view of the football mini. I just added it to my mini collection recently and I'm so glad I did because it's one of the nicest ones I've seen. It's super detailed. You'll find it available here: Football Mini.
The pedestal I'm using it on is available here: Pedestal. I love this pedestal because it always makes a great centerpiece in any table.
I filled the football glasses with Coca-Cola for this setting, but I really love how they look with a Coke float as seen earlier in this post!
Oh, there's a better view of the University of Georgia helmet mini for you Georgia fans out there who may be reading this. I'm not sure if those are still available since the minis are unfortunately, always discontinued and retired at some point. Update: Good news! The UGA helmet mini is still available, you'll find it here: UGA Mini.
Happy Super Bowl watching to those who plan to watch the game! If you're rooting for one team or the other, hope your team wins! 🙂
Looking forward to the beautiful tables shared for this week's Tablescape Thursday!
Pssst: I post almost daily to Instagram. Follow Between Naps on the Porch on Instagram here: Between Naps On The Porch.
If you enjoyed this post, subscribe for free email updates when a new post is up here: Subscribe for post updates.
Tip: Please do not use a Hotmail e-mail address to subscribe if you can avoid it. Hotmail is notorious for filtering out perfectly good emails. I've found Gmail to be awesome, it's what I use and it's free! Plus, they don't filter out good e-mails in error.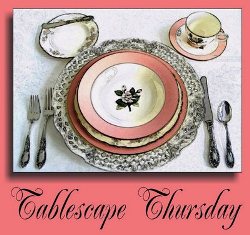 Tablescape Thursday
If you are participating in Tablescape Thursday, please be sure to add your permalink below, and not your general blog address. To get your permalink, click on your post name, then copy and paste the address showing in the address bar, into the "url" box when you link up.
You'll need to include a link in your post back to the party to link up and participate. That's so visitors to your blog will be able to find the party and the other Tablescape Thursday participants. Requiring a link back also prevents businesses and scammers from linking up to sell their products. (Yup, that really happens, unfortunately.)
*If a post is sponsored or a product was provided at no charge, it will be stated in post. Some links may be affiliate links and as an Amazon Associate, I may earn from qualifying purchases. *