Wow, crazy day! This post was suppose to be up hours ago but so much has happened today, I'm running way behind. I've decided to go ahead and sod the back yard at the same time the front yard is being done. Since the job has grown, we've decided to wait and start it on Monday. Monday will be prep day and Tuesday will be install day, barring no more rain. The sod farms can't cut sod when it's standing in water, so keep your fingers crossed the rain holds off for a few days.
With all this yard work/gardening going on, I thought I'd share a quick update on the flowers I planted back in May out on the deck…share what worked and what hasn't worked. Remember the planter with the ponytail fern? In May it looked like this…
And today it looks like this. Looking good!
I always love putting a big red geranium on the chair out on the porch.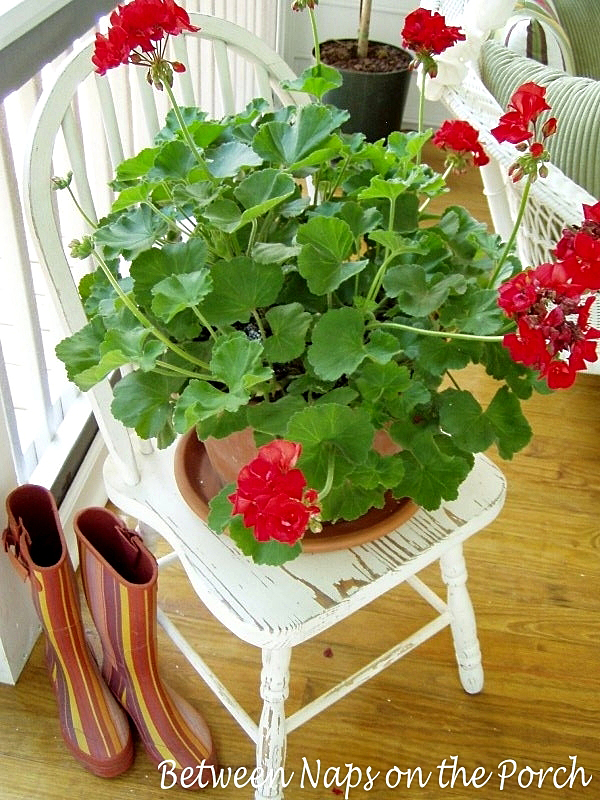 This year the geranium started out like this…
And now it looks like this. Wow…gotten huge!
It's a whopper to move in to place on the chair which is why I'm glad I have the garden stool now…not so far to bend over when I want to move it onto the porch.
Remember the small seating area…here's how it looked in May.
The three small geraniums in the planter under the window looked like this a few weeks ago.
Here they are today. Geraniums like sun and they haven't seen much this summer. All the rain has been good for the plant itself but not so great for creating the pretty pink flowers.
This pot on the left with the sky pencil holly and petunias didn't fair as well. In May it looked like this…
And here's how it looks today. The holly looks happy and has put on some new growth, but the petunia croaked. Umm, guess I need to pick up a replacement sometime soon.
Over on the other side of the table, things are looking way different! Here's the before…
Check this out! Look what happened while I had my back turned? How would you like to sit in that chair? 🙂
I left it just like that. It was so pretty, I just stood there imagining for a moment what it would be like to sit in a bed of flowers and be completely surrounded by pink blossoms.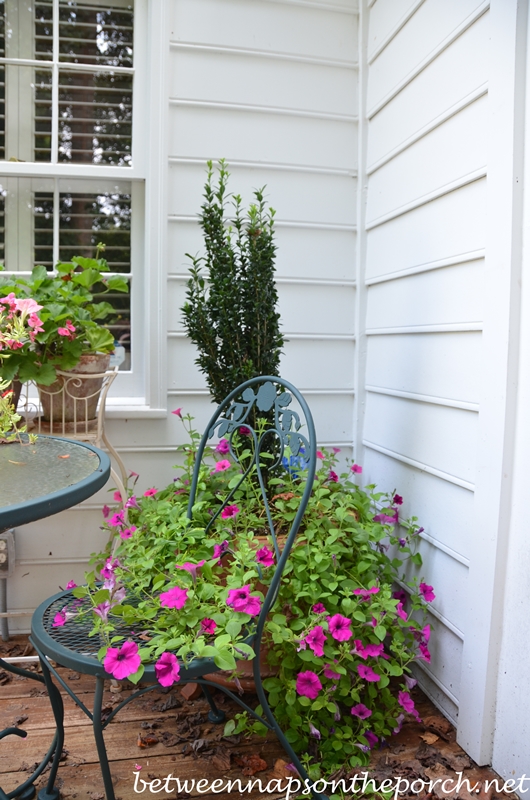 How are your planters looking? The deck is getting so much more sun (when we have sun) since the Leyland Cypress were removed. Will need to water more when the rainfall returns to normal.
*If a post is sponsored or a product was provided at no charge, it will be stated in post. Some links may be affiliate links and as an Amazon Associate, I may earn from qualifying purchases. *