Welcome to the 109th Metamorphosis Monday!
How was your weekend? It's been unbelievably gorgeous weather here in Georgia. I should have been out working in the yard but instead I've been inside working on the office.
Office Changes:
There have been a lot changes in the office this week. I'm working on removing the rest of the wallpaper a little at the time. My arms get tired from scraping so I've decided to just do a little each day. I think I'll be done after just another couple of sessions. Yay! Then it will be time to repair the damage done earlier before I found Safe and Simple.
This week, I shopped the house and stole two things from the upstairs family room. One was the sisal rug you can just barely see in the pic below…
And the other was the floor lamp beside the sofa…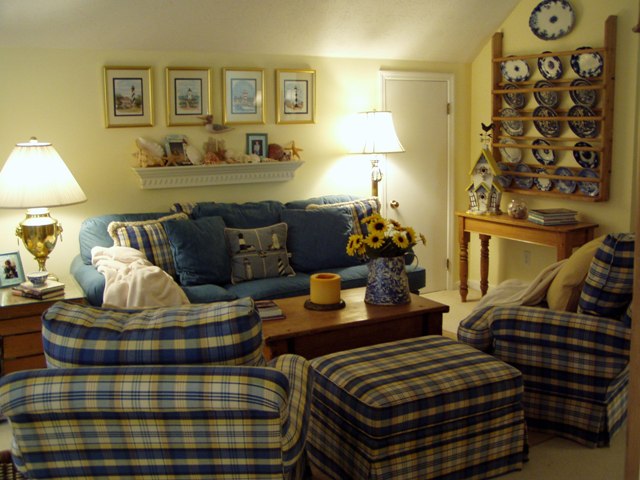 I wanted to get a feel for how the office would look with a natural fiber rug. I sort of like this look, so I may just go with a natural fiber rug. I found a velvet cushion cover in a pretty green color for only $4 at the local Ballards Outlet. I bought some foam cushion "stuff" at Hancocks and cut it to fit…but it isn't firm enough. After shopping both Hancocks and JoAnns and not finding anything firm enough to work as a good cushion, I guess I'll have to have an upholstery shop cut one for me. I need foam that is really, really dense and won't squish down. If I eventually put drapes in here, I may have a cushion made at that time, but this one will do for now.
The glass was delivered for the top of the desk and apparently it met with Max's approval. It looks great…much better than I expected. I wasn't sure I'd like having glass on top but I really wanted to protect the top from ink marks, etc… If you have this PB layout and you're thinking about this for your own desk, it was $257.00, including delivery. I didn't shop around…just went with a local glass company, so you may be able to do better than that.
When I first moved my computer down the hall to this new office, I tried to go wireless and leave the modem and router in the old office. Despite having a very good router and good equipment, I saw a significant drop in speed. Plus, when my computer slept, upon awakening, I'd have to "reconnect" because it kept dropping. Super annoying. So, this past week, the Cable guy had to come out and move the wireless router and modem to the new office so I'm directly wired in again. I just have wireless for my laptop now, which also improved after moving the router and modem. Just sharing this info in case you run into a similar situation.
I had planned to hang the TV on the wall to the left of the shutters, but the cable guy didn't want to fish an outside wall. Plus, I would have to move the shutters over to watch the TV. I rarely turn on the TV but I do like having one in the office. So I decided to just let it sit on the hutch there on the left. So, that isn't a third monitor, although it's about the same size. 😉
I've been giving a lot of thought to what I do and do not want in the office. One feature I knew I wanted was a place to just sit and read…a cozy reading nook. This past week I was out shopping for a rug for the office and I stopped by Pier 1. Isn't it funny how you'll be out shopping for one thing and you end up finding something else? Earlier in the week, I shared this sneak preview of a chair I found for the office. (Not sure why the fabric looks like it has ridges here. It doesn't, it's actually smooth.)
So, at last…here's the chair…the chair that stole my heart in Pier 1 last week. 🙂 I love English Cottage style and I wanted a cottage feel for the office, so this chair was perfect for what I'm trying to achieve in here. And it is super comfortable.
I love, love, love the pleated skirt around the bottom. It goes all the way around, even across the back. 🙂 Green is my favorite color so the fabric totally stole my heart. I placed it against the wall where I've been removing the wallpaper today so you could see it against a neutral background.
But it's really going to go over here against this wall…the one that currently has a mural on it. (I hung one of the drop cloths behind it just for this pic since the mural is really distracting.) Ultimately, I'll place a round table beside it with a table lamp. The floor lamp is just temporary and will go back to the family room once I find a table for this spot. I've been shopping the thrift stores this weekend in search of one, but haven't found one, yet.
By the way, if you really like this chair and think you may want one, go NOW to Pier 1 and buy it. The clerk who helped me told me it came in on Friday. I saw it and bought it on Monday. It was piled high with cushions so no one could really see it or I don't think it would have still been there. They only have 6 in their warehouse here, so I don't think they will be getting a lot of them in. It's called, "Rosalie."
So, those are the changes that have been going on around here lately. If you haven't seen the "Before" posts about this room, click HERE, HERE and HERE. Hopefully by next week, the wallpaper will be gone and I'll be well on the way to repairing the walls and painting them.
Can't wait to see what you've been up to this week!
Metamorphosis Monday:
If you are participating in Metamorphosis Monday: Please be sure to add your permalink below, and not your general blog address. To get your permalink, click on your post name, then just copy and paste the address that shows up in the address bar at the top, into the "url" box for the picture linky. You'll also need to put your e-mail address in, but don't worry, it will not be visible to anyone.
If you'd like to include the MM button in your post, just copy and paste the Met Monday button to your computer or grab the html code from underneath the MM logo under the "Join a Blog Party" header at the top of this blog.
Please include a link in your MM post back to the host blog, Between Naps on the Porch. Why is this important? When you include a link back to BNOTP, it ensures your regular readers/visitors will find the other awesome "Before and Afters" linked for this Metamorphosis Monday. If everyone links back, this maximizes the visits for all participants.

Please DO NOT type in all caps…it spreads the links waaaay out. Thanks!


*If a post is sponsored or a product was provided at no charge, it will be stated in post. Some links may be affiliate links and as an Amazon Associate, I may earn from qualifying purchases. *