Bluebirds, love them so much! Each year they nest several times in the dovecote in my perennial garden.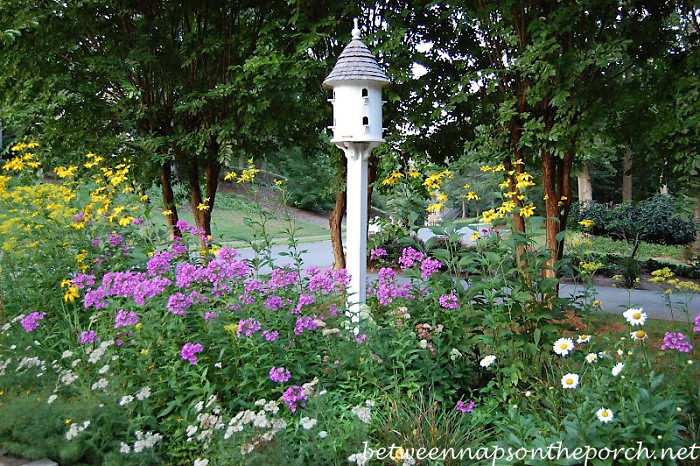 I'm not sure now if it's the same pair returning or if maybe their children are coming back here to nest.
Even though a woodpecker put a big hole in the dovecote this past winter, they still nested in the dovecote once more. I started to take it down to try to repair it this spring but as I began unscrewing it from the pole, a chickadee flew out of the woodpecker hole. I stopped, thinking he was nesting there.
A few days later I returned to check to see if he really was nesting in the hole and by this time the bluebirds were back and had their nest going. They nested in two different cavities this spring, first on the right side and recently on the back side toward the Crepe Myrtles.
I think they have left now but I'm afraid to remove the dovecote since sometimes they will nest three times in one season. I'll watch a bit longer and when I'm sure they are really gone, I'll take it down and attempt to fix it, although I haven't been able to find thin cedar wood pieces to repair it. Unfortunately, the company that made the feeder, Lazy Hill, makes the roofs out of redwood now, which will never match.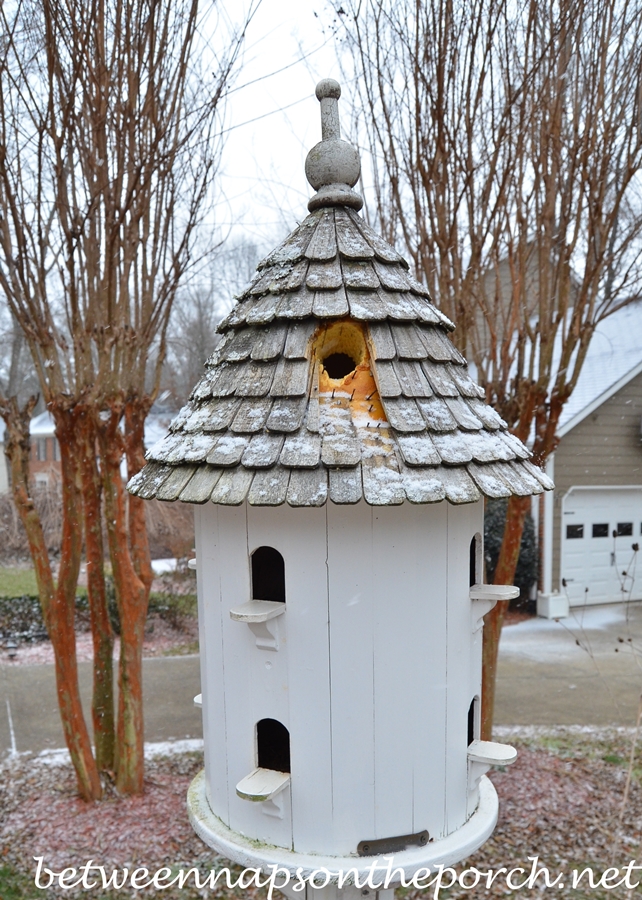 While they've been nesting in the dovecote, I've been putting out mealworms occasionally. I've had several families of bluebirds coming to the feeders. I can tell they are from different families because when they fly away with their mealworms, some head around the house to the front yard and some go out across the field behind my home.
The one's that head for the front yard are nesting in the dovecote. Not sure where the bluebirds that fly out through the trees are nesting, but I think they are repeat customers, too since I've seen them fly away in that same direction in past years. They are apparently returning to the same nesting spot just like the bluebirds nesting in my dove cote do each year.
I snapped a few pics this spring on one of the days they were feeding on mealworms. The bluebird below is a a male Eastern Bluebird, you can tell by his vivid blue coloring. Daddy bluebirds help with feeding the babies…love that!
Isn't he beautiful?! The bluebirds enjoy the birdbath I keep out year around. It's a heated birdbath and I just unplug it for spring and summer.
Leaving the birdbath to check out the mealworms…
A male bluebird dives headfirst into the mealworms. 🙂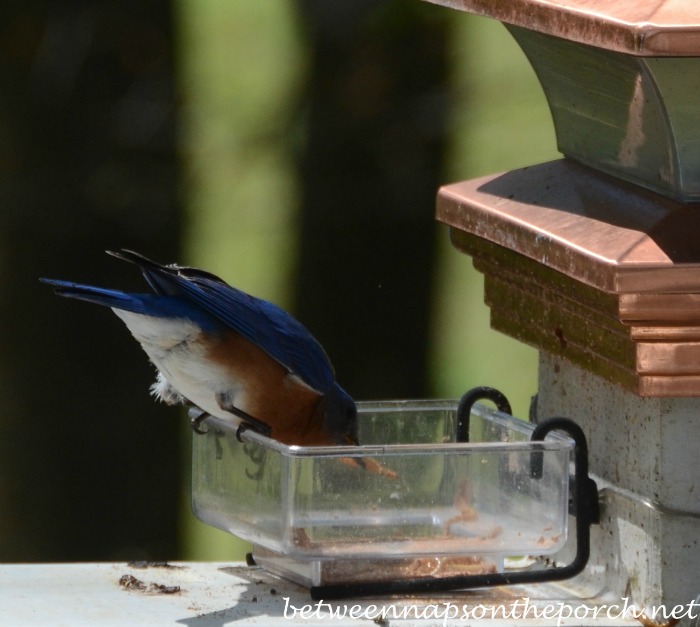 Got one!
This has to be the daddy bluebird that's nesting in the front yard dove cote because when he left, he headed for the front yard taking a worm back for the babies.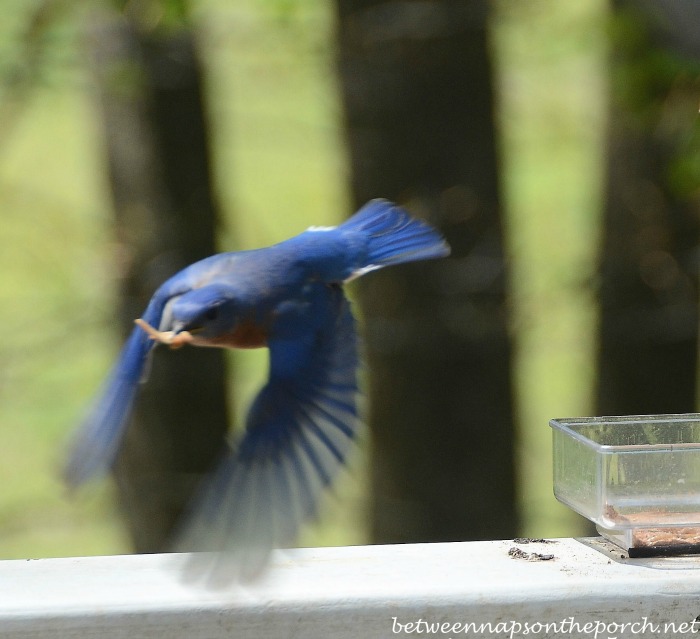 Both the male and female bluebirds visit. Based on the coloring, I think this is an adult female coming for mealworms.
She's getting ready to take off and hop over to the mealworm feeder.
I had to take all of these photos through the bay window. If I go outside, they would never come to the feeders. It was fun looking through the photos afterwards. I had the camera on continuous shooting so it was taking photos rapidly.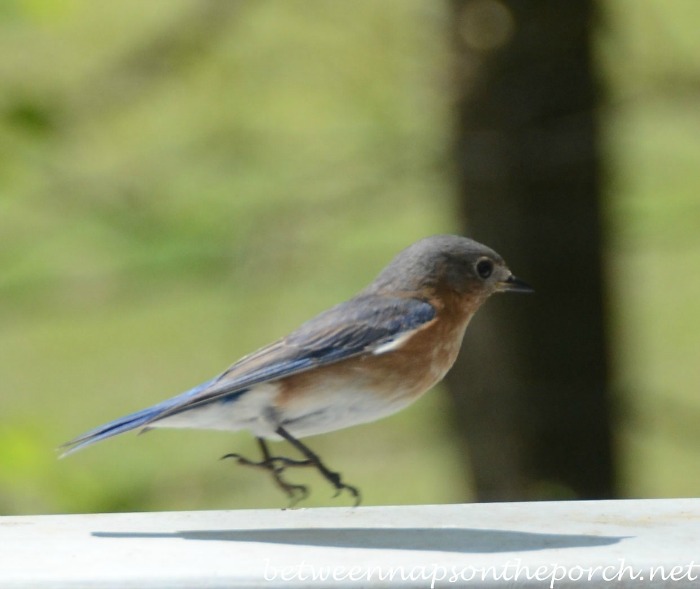 Looking at the pics later was like flipping through one of those action flip books where it almost seems like a video as you quickly flip through them. Here Mrs. Bluebird is coming in for a landing…you can see the braking action. This picture needs sound effects…screeech.
Ummm, which juicy worm should I choose?
Armed with dinner, she's ready to head back to the nest.
Aren't they beautiful?! I have a birding book I'm dying to share with you. It's one I just discovered a few months ago. I'll try my best to share it later this evening. It's wonderful!
I love spring and summer…soaking up every moment. Did you have birds nesting around your home this year?
You'll find many more birding posts here: For The Love of Birds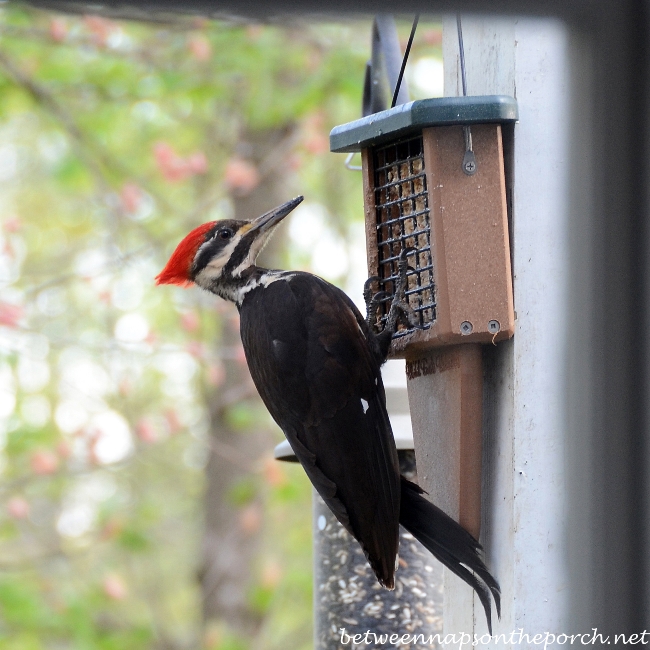 You'll find a tablescape that's "for the birds" here: A Winter Table Setting, Tablecloth By Mother Nature Yes, that's snow! 🙂
*If a post is sponsored or a product was provided at no charge, it will be stated in post. Some links may be affiliate links and as an Amazon Associate, I may earn from qualifying purchases. *