Get ready to have your heart melted just a little. lol Okay, maybe it's just my heart that melted over a few of the lovelies I'm sharing in today's post. I started out with plans to share gift ideas for Mother's Day, but I couldn't resist mixing in a few of the favorites I used and enjoyed during the month of April. Many of those would make great gifts, too!
I have been drooling recently over the Laduree bag/key charms I've been seeing all over Instagram. I'm not normally a bag charm person but there's just something about the adorable Laduree macaroon bag charms that got to me.
After doing a bit of research, I read that all the Lauree charms are made by a company called Mark's. I would love to buy one in Paris one day but I'm not sure when I'll make it there. While checking out the various styles online, I came across this one that's a Limited Edition for 2018 and fell in love.
Here's a better photo of it in natural lighting. It's different from the regular style that Laduree sells during the year because the Eiffel Tower is embellished with sparkly stones, the ribbon is velvet (normally it's not) and it includes an adorable white, furry pom-pom. I knew it would look great on 3-4 of the bags I often carry so purchased it here where I found the best price: Laduree Limited Edition Bag Charm.
It would look great on almost any color bag since the colors are all so neutral. I absolutely love it!
The regular ones that aren't the limited edition are available in a bunch of different colors. I would love one with the aqua macaroons for my aqua and white bag. Sooo cute! You can see them in a bunch of different colors here: Laduree Bag Charm or Key Charm.
When purchasing, make sure you only buy the ones made by Mark's to avoid getting a knock-off. I've read some of the reviews on the knock-off versions and they weren't good…very cheaply made.
I'm very happy with the one I purchased and the packaging it comes in is beautiful! Definitely gift-worthy packaging!
If you purchase one of the Laduree handbag charms as a gift, consider combining it with this book to give as a gift. I just purchased it and I'm looking forward to reading it. I think the book combined with a Laduree Macaroon bag charm/key chain would be such a cute idea for a Mother's Day gift. The book is available here: Laduree Savoir Vivre.
Summer Sandals
Last summer I looked and looked for a good pair of white sandals and never found any. I love wearing white sandals with my summer dresses, shorts and pants, but I have a hard time finding good quality sandals that fit all the requirements I have. I want them to be made of real leather, have a back strap (no slides) and to have a smallish heel, preferably around 1/2 to 1 inch. Picky, picky, picky!
For wearing all day, I don't like sandals without a back strap because I find them tiresome to keep on and I swear I think they encourage bunions. I've noticed when I wear sandals without a back strap, I tend to squinch up my big toe to keep them on and I think that makes a bunion grow and get worse. And that's not just my theory, Google the topic, "Wearing flip flops causes bunions" and you'll find articles on that topic.
After searching and searching, I ordered these and they are perfect! They are real leather and super comfortable. I'm very tempted to order a second pair as a back up since I have such a hard time finding white sandals that I love.
I love the gold-bead detailing! Reminds me a little of Louboutin and Valentino. 🙂 If you're looking for comfortable white sandals with a little bit of a heel, you'll find these here: Sandals.
I also finally got around to ordering these adorable pink sneakers I shared a while back after a BNOTP reader told me about them. I LOVE them! At first, I ordered a 7 (my normal size) and they were sliding on my heel but stayed on with low (no-see) socks. I don't think I want to wear them with socks though, so I reordered and the 6.5 fit perfectly without socks.
So that's the size I stayed with. So if you want to wear them with low socks, buy your normal size. If you want to wear them without socks, consider buying 1/2 size smaller. You'll find these cute sneakers here: Pink Sneakers.
I also love how they look with my new summer hat. 🙂 Hee, hee.
This sun hat is available in 5 different color bows here: Sunhat. They even have a new striped bow now! (Psst: Use the code TNUCKab416 for 10% off.)
If you would like a cute bag to go with your hat, one of my favorite bags is back again this summer. I always get so many compliments and questions about where I got it whenever I carry this bag!
It looks great paired with pants or dresses, even shorts. You'll find it available here: Wicker Bag.
On the Hunt for Maxi Dresses
I've been trying to add more maxi dresses to my wardrobe because they look so effortless to wear. I love it when I'm out shopping and a woman breezes by in a beautiful, casual, summer maxi dress. I want to be that woman! lol
I came across this one and it's mostly cotton, which I really like. I do not like dresses that are all polyester/acrylic/whatever they are making dresses out of these days. I hate how those conform to the body and show every bump or bulge. I find dresses with a mix of cotton don't normally do that.
So I ordered this one today and got 40% off with the code Mom40. I can't wait for it to arrive! I think it will be beautiful paired with my new white sandals. This dress is available here: Maxi Dress.
I also ordered these, my favorite white jeans for summer. The sale gave me 30% off. You'll find them here: White Jeans. Unfortunately, the sizes left now are quite limited. They are always popular so tend to go quickly.
The final item I ordered at 30% off was this adorable tee. Who can resist Audrey on her scooter in Roman Holiday! 🙂 I normally wear a small in tops but I bought this one in a size medium since I like my tees on the loose side. You'll find this cute top here: Roman Holiday Tee.
Ordering the top also pushed me over the limit for free shipping…love that!
For the Cooks
Another gift idea for the cooks in the family is this new cookbook out by Lara Lyn Carter. I saw James Farmer talking about in this book in his Instagram stories. If he recommends it, that's good enough for me! I like the idea…southern cooking without the guilt. 🙂 You'll find it available here: Skinny Southern.
Changed My Life!
I can't do an April favorites post without mentioning the product that changed my life past month…this awesome handbag holder for the car. I've heard from so many of you who purchased it and are loving it, so it has to make this favorites post.
I know a lot of you have purchased it to give to friends, as well. I think it's an awesome gift for Mother's Day or for any occasion. You'll find it available here: Handbag Holder for Car.
I just bought a second one to keep as a backup, just in case something ever happens to my original one. I would be broken-hearted if I couldn't find it again.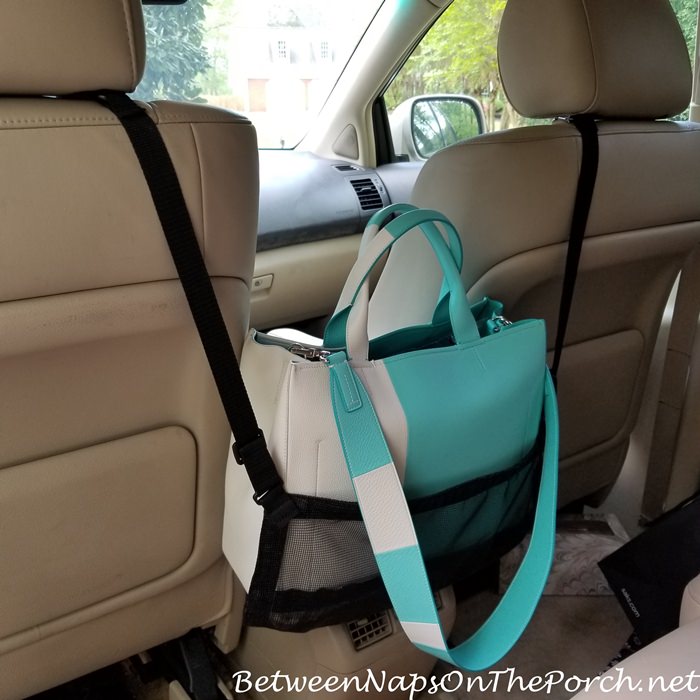 One last gift idea: If you're looking for a gift for someone who doesn't have a lot of space or is really hard to buy for, Louis Sherry Chocolates are a delightful gift to receive. They come in a lovely tin that can be kept for storage once the chocolates are gone.
I've purchased them twice as gifts and had them shipped straight to the recipient. They were a big hit! I've also purchased them for myself. Twice. Did I just admit that out loud?!
You'll find them available here: Louis Cherry Chocolates.
Hope you find these gift idea helpful, whether you're shopping for someone else or picking up some summer goodies for yourself.
*If a post is sponsored or a product was provided at no charge, it will be stated in post. Some links may be affiliate links and as an Amazon Associate, I may earn from qualifying purchases. *