Welcome to the 557th Tablescape Thursday!
With Memorial Day weekend almost here, it's time for a patriotic table to honor those who have so valiantly served in our armed forces. As I did last year with a 4th of July table, I decided to give this table a beach/nautical vibe.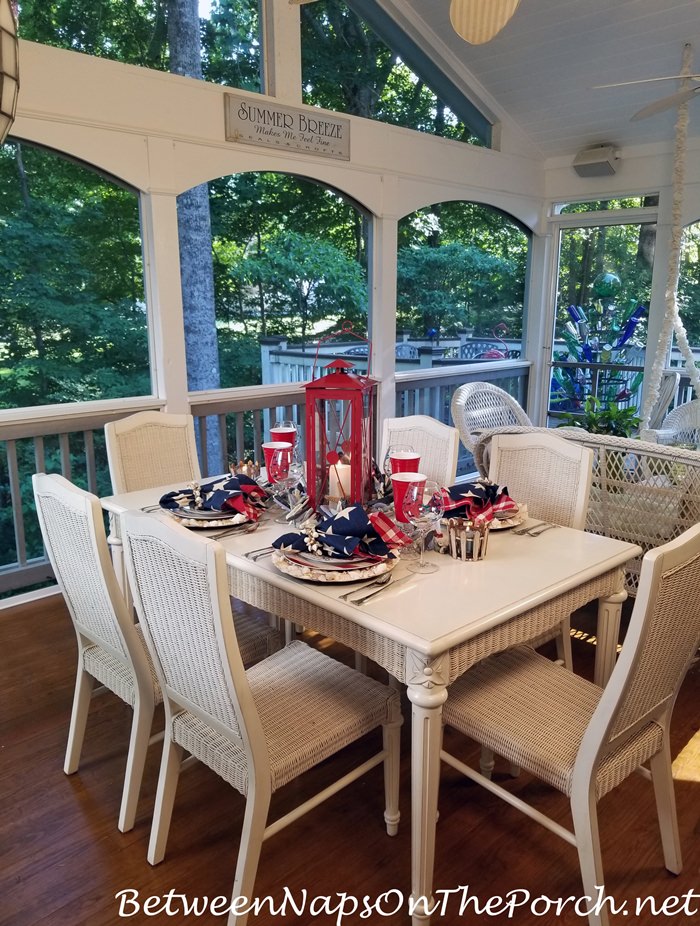 Do you have any special plans for this holiday weekend? Are you heading to the beach, planning a Memorial Day cookout or just spending it quietly with family and friends?
For this week's table, I pulled out a large lantern I haven't used it a while for our centerpiece. I added some pretty, white, beach sand, a white pillar candle and a few seashells collected many years ago on Captiva Island.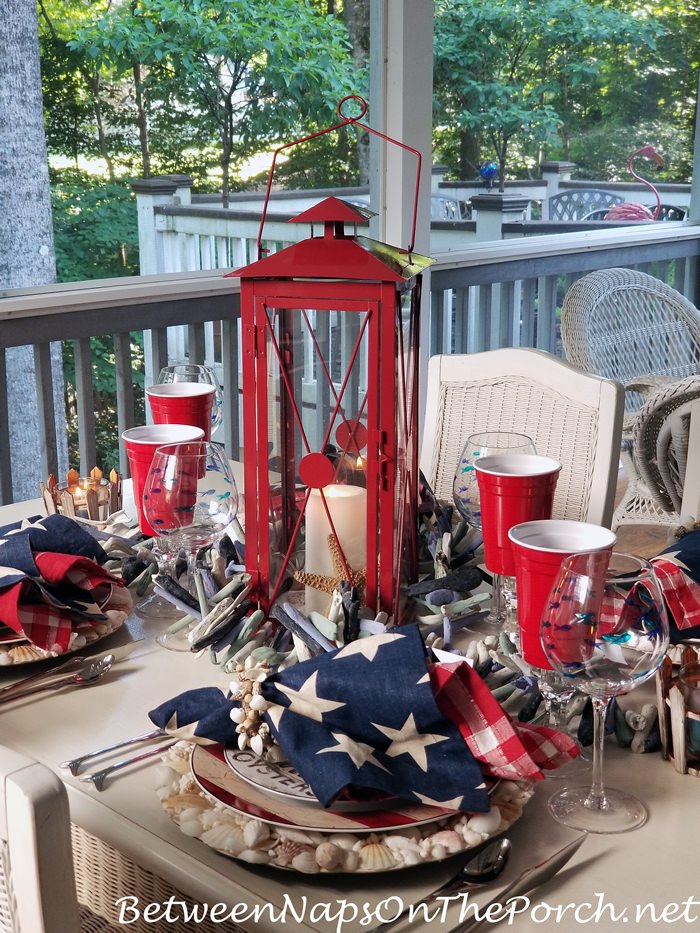 You may remember the blue, white and green driftwood garland from previous beach-themed tables. I found it in Marshalls (I think) several years ago. I haven't used it in tables a lot because it's super long, thus difficult to work into a centerpiece. Yesterday I decided to try cutting it in half and that worked great.
I thought it would be tricky tying off the thick, flexible twine that held it together, but with the help of a pair of needle-nose pliers, it was actually very easy. I think it will be much easier to use in centerpieces now since it can be placed on either side of the main feature (like a large lantern) or can still be used as one long piece to decorate a hutch or table.
I almost brought out the crab and lobster plates I've used in previous beachy tables.
But these cute David Carter Brown plates in a pattern called "Driftwood" won out in the end. I love how they look with the Warren Kimble "Colonial" flag-themed dinner plates. This patriotic "flag" dishware is often available on eBay where I purchased my set. I just now found some here: Flag Dishware.
Last year was the first time I've set a patriotic table with a nautical/beach twist. It challenges my brain a bit, mixing two themes together and trying to make sure one theme doesn't overwhelm the other.
Last year I used my fave Driftwood Chargers.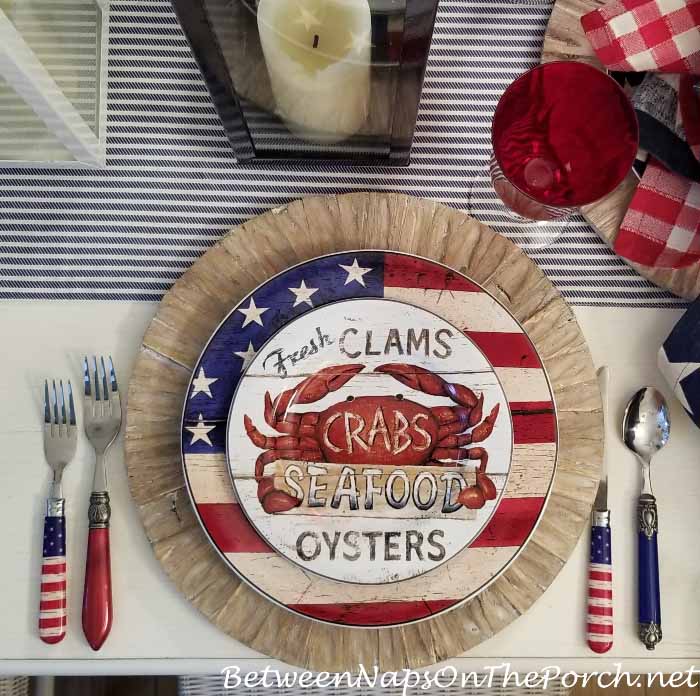 This year I went with the shell charges I made a few years back. If you would like to make these chargers for your summer dining, you'll find an easy tutorial here: DIY Shell Chargers. They are easy to make, just a bit time consuming–a great project while watching a movie or listening to a good book on Audible.
I pulled out the shark flatware for this table. Dun dun… dun dun…. dun dun dun dunnnnnnnnnnnnn…
I love this silly flatware so much!
The knife also has a fin across the top. Ha! I found it a few years back on Amazon here: Shark Flatware.
A few more of the salad plates from this nautical-themed set…
Love these shell napkin rings! They were a find in Cracker Barrel one year. I always take pit stops at CB when making the long trek to visit family in Ohio. I couldn't pass these up when I saw them during one of my stops. CB often has really cute dishware throughout the year. Love walking around their gift shop when my body/legs need a break from driving.
The star napkins are available again this year and are currently on sale 30% off with the code SAVEMORE. You'll find them here: Star Napkins.
I'm having trouble remembering where I found these cute, fishy wine glasses. May have been Pier 1, or was it Dollar Tree? The "redneck" solo cup glasses are made from a very heavy-duty melamine, super sturdy and a lot of fun for casual settings. They can be used for water, tea or wine. I'm using them as our tea glass in this table. You'll find them available here: Glasses.
Of course, I had to use the adorable crab place card holders I shared recently. They weren't on sale when I bought them, but I noticed this evening, they are currently on sale 30% off with the code SAVEMORE. You'll find them available here: Place Card Holders.
Last night I Googled to see what they call the little rickey picket fence that we so often see running along the beach. It appears to be appropriately called, sand fencing. It supposed to help hold the sand and can be moved around to stabilized the sand after a big storm. Guess that's why it always looks a bit unstable…it's movable fencing.
Love these little "sand fencing" votive holders. I believe they were from Colonial Candles many years ago.
A view from above… My neighbors next door are probably shaking their heads right now, wondering about their crazy neighbor who periodically stands atop chairs on her screened porch. 😉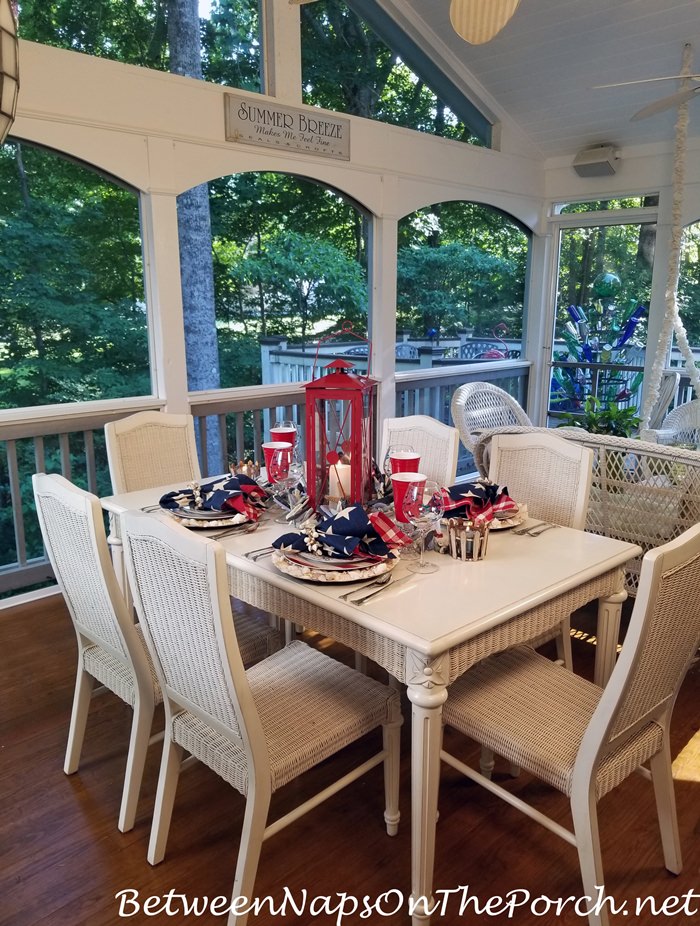 I'll leave you with a few photos of the porch hutch…
If you would like to make this wood flag for your patriotic holiday celebrations, you'll find a detailed tutorial here: DIY Wood Flag.
I hope you have a special Memorial Day weekend and are spending it with family and friends as we honor those who have sacrificed so much to keep us safe and protected. Stay safe this Memorial Day weekend, dear friends!
Looking forward to the beautiful tables shared for this week's Tablescape Thursday!
Pssst: Follow Between Naps on the Porch on Instagram here: Between Naps On The Porch on Instagram and on Facebook here: Between Naps On The Porch on Facebook.
Tablescape Thursday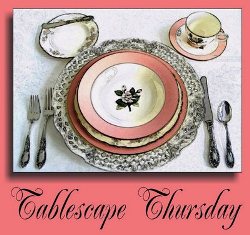 If you are participating in Tablescape Thursday, please be sure to add your permalink below, and not your general blog address. To get your permalink, click on your post name, then copy and paste the address showing in the address bar, into the "url" box when you link up.
You'll need to include a link in your post back to the party to link up and participate. That's so visitors to your blog will be able to find the party and the other Tablescape Thursday participants. Requiring a link back also prevents businesses and scammers from linking up to sell their products. Please let me know if you click on a link that isn't a tablescape or table related so I can remove it.
This party has ended, click button below for the links to all who participated.
*If a post is sponsored or a product was provided at no charge, it will be stated in post. Some links may be affiliate links and as an Amazon Associate, I may earn from qualifying purchases. *