Welcome to the 539th Metamorphosis Monday!
How has your Memorial Day weekend been going? Hope it has been a relaxing one spent with family and friends.
A while back I shared a little problem I was trying to solve. Last summer when I carried this handbag for the first time, I worried about the canvas fabric handles becoming dirty. I tried covering the handles with a Hermes twilly, a popular method I've seen many YouTube handbag fashionistas employ to protect the handles of their handbags. That did not work well for this bag, I think because of how the handles widen out at the base where the handle attaches to the bag.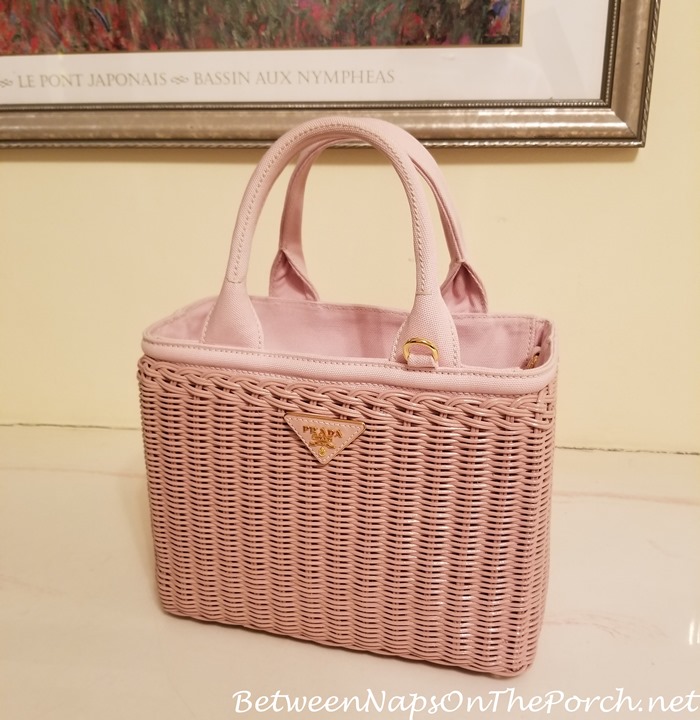 I wondered if someone made covers for handbag handles and Googled to see what I could find. I came across these cute little handle protectors at Etsy and ordered a set of pink ones that I thought would coordinate with my bag. I went with the color above the arrow.
They arrived a few days ago and here's how they look on the bag. I'm really happy with how they look and feel. I wouldn't mind if they were about an inch longer overall, but they are working great so far.
Here's how they look from above. They are held in place via a narrow strip of velcro where the cover sections overlap. So the velcro doesn't touch the bag, only the soft handle covers come in contact with the bag itself.
They are so soft, very comfortable to hold. I will feel much more at ease carrying this bag this summer now that the handles are protected from lotion, sweat, skin oils, etc…
If you have a handbag with handles that could use a bit of protection, you'll find these in a bunch of different colors here: Handle Protectors. I like their motto: Solving Purse World Problems-One Bag at a Time. Ha! 🙂
A Change-up for Our Summer Dining
Last summer when I was visiting with my grandchildren, while everyone was away from home for a few hours, I set a fun table for dinner with some new melamine dinnerware I had just purchased.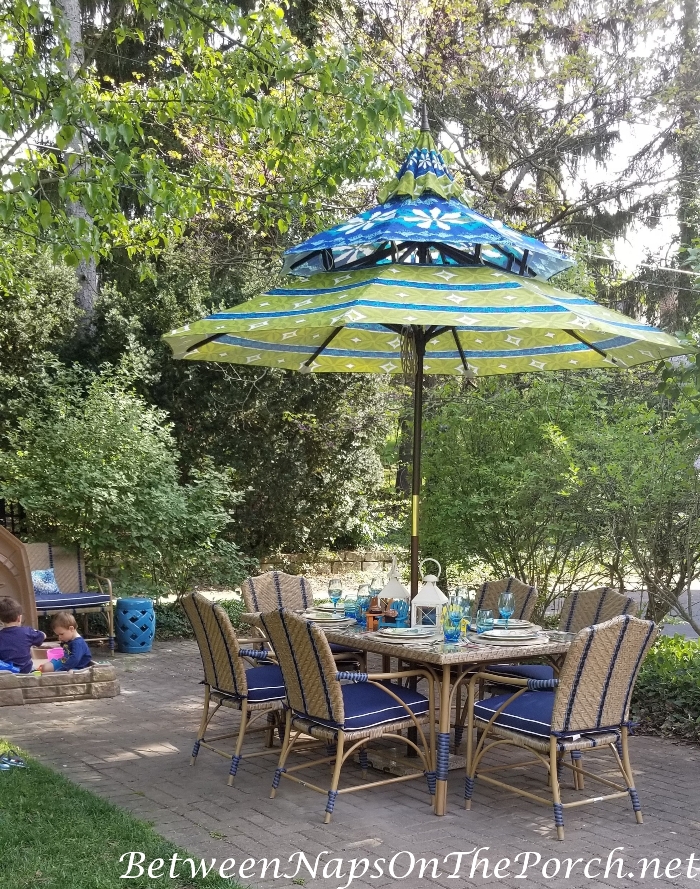 It was a big hit with my two grandsons, as well as my son and daughter-in-law. (View this previous tablescape here: Beach Themed Table That's Mostly Child-Friendly.)
Recently, while shopping in Target, I came across these adorable jungle plates. The price was so good, I couldn't pass them up. I'll be visiting family again in a couple of weeks and I can't wait to use these in another surprise table for my grandsons. I'll have to think of a fun centerpiece to go with this jungle theme. I may look for some jungle toys for the centerpiece.
This is the platter that goes with this set. Isn't it hilarious?! I thought my son could use the platter for hamburgers or whatever he will be cooking on the grill for our outdoor feast.
This set is even cuter in person. It was hard to take photos because the reflection of the melamine sorta freaked out the camera. If you look down at the plates stacked in front of the platter, you can see how they look in person. The colors are vivid and really cute for summer.
You'll find this dinnerware available online here: Jungle Theme Dinnerware for Summer.
The other item I picked up was this beautiful blue and white hurricane pillar candle holder. I can't wait to use it in a blue and white table this summer! It's available here in two sizes: Blue & White Hurricane. The one I bought is the larger one. It's really beautiful when the candle inside is lit in the evening!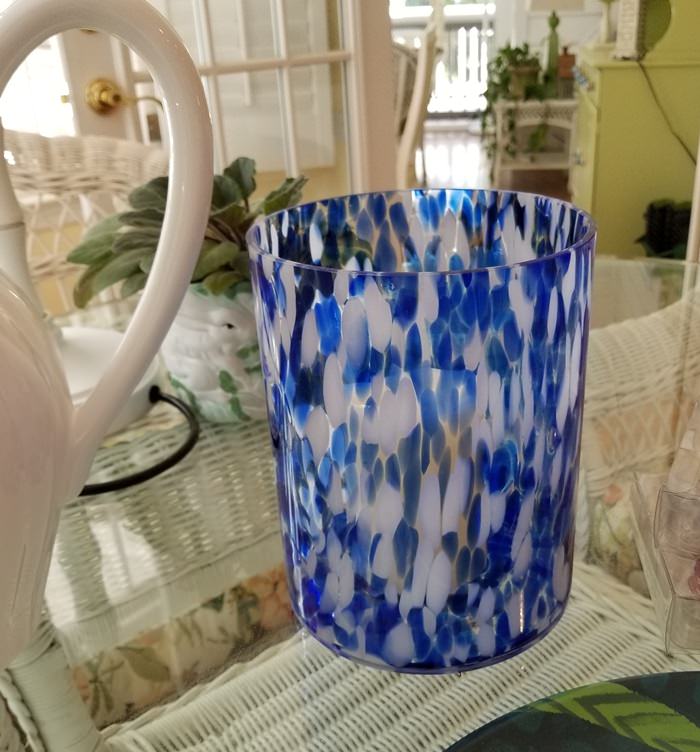 Enjoy the rest of your Memorial Day!
Looking forward to all the fabulous Before and Afters linked for this week's Metamorphosis Monday!
Pssst: Subscribe for email notifications (it's free!) when a new post is available at Between Naps On The Porch here: Subscribe.
You'll find Between Naps on the Porch on Instagram here: Between Naps On The Porch on Instagram and on Facebook here: Between Naps On The Porch on Facebook.
Metamorphosis Monday
Metamorphosis Monday is a party that's all about Before and Afters. If you are participating in Met Monday, please link up using the "permalink" to your MM post and not your general blog address. To get your permalink, click on your post name, then just copy and paste the address that shows up in the address bar at the top of your blog, into the "url" box for InLinkz when prompted.
In order to link up, you'll need to include a link in your MM post back to the party so the other participants will have an opportunity to receive visits from your wonderful blog readers.
Feel free to link up Before and After posts that are home, gardening, decorating, crafting, painting, sewing, cooking, fashion, travel or DIY related. Please do not link up to the party if you're only doing so to promote/sell a product.
To those linking up, if you notice a shop or online store linking up to sell products (yes, unfortunately, that happens) please let me know so I can remove their link and block them from participating in future parties. No one wants to visit a link expecting a Before and After, only to find a spam link to an online business/store.
This party has ended, click button below for the links to all who participated.
*If a post is sponsored or a product was provided at no charge, it will be stated in post. Some links may be affiliate links and as an Amazon Associate, I may earn from qualifying purchases. *