Welcome to the 193rd Tablescape Thursday!
This Sunday is Mother's Day. In honor of this special occasion, I've put together a table setting using very special table "linens." My Mom crocheted this luncheon set back in 1956 while she awaited my arrival.
Here's a photo of my Mom (and me) around the time she would have completed this set. Unfortunately, I never really got to know my Mom very well since she became ill when I was still small. She never really recovered and passed away when I was a senior in college.
My sister took special care of this set for many years and passed it down to me just a few years ago. I'm always in awe of all the work that went into making it. I've crocheted, but never with such small thread. The detail is really beautiful.
I worry that these lovely old traditions of crocheting and other beautiful needlework will cease to exist one day. I don't know too many folks who still crochet.
Needlework can be so relaxing. I used to crochet on long car rides to Washington, D.C. when we were stationed in Aberdeen, MD for Office Basic Training. We loved visiting all the museums on the weekends. I got a lot of crocheting done between Aberdeen and Washington. I still have the huge throw I made during those trip and it has seen a lot of use over the years.
This china has a pretty gardenia in the center. You can just see it in this photo below.
I love the sweet little jackets Mom crocheted for each glass.
So pretty!
I can't imagine how long it took to make each one.
Thanks so much to Kathryn who left a comment on THIS previous post identifying the source of the pattern for this set. I was able to find a copy on Amazon.
I forgot to take a photo of the place mat so I snagged one from the table setting posted back in September 2008. I had only been blogging for a month when that was posted. The Puritan book actually calls this piece a place mat but that just doesn't seem to do it justice, does it?
Mom also crocheted an oval hot plate mat and two pot holders.
I can't begin to imagine how long it took to crochet this whole set since each piece is double sided.
Another hot plate mat…this one is round.
I placed it under the pitcher of flowers for this table setting.
One more photo of my Mom. My sister told me the reason this photo is so creased and tattered is because my Dad carried it with him throughout World War II.
I wish the roses and lilies had opened in time. It's been raining and a bit chilly here the last few days, so I think that's why they haven't opened. Hopefully they will open soon and I'll snap a photo to share.
I hope you have a wonderful Mother's Day! If you can't spend it with your Mom, I know she will be with you in your heart and in your memories.
Happy Mother's Day to mother's everywhere!
Chargers: Horchow, 4-5 years ago
Dinner and Salad Plate: International Glenwood, found antiquing
Flatware: Towle, King Richard
Napkins: Found antiquing
Napkin Sheaths: Local shop-The Magnolia Room
Napkin Rings: Pottery Barn, last year
Crocheted Luncheon Set: Crocheted by my Mom
Receive BNOTP updates right in your Inbox:
To receive the latest posts, as well as updates about upcoming blog parties, subscribe To BNOTP posts via an RSS Reader. Or, have BNOTP delivered right to your Inbox. You'll find links to subscribe via RSS and e-mail on the top ride sidebar of the BNOTP home page, OR click HERE to subscribe via RSS Reader and HERE to subscribe via e-mail.
Reading this post via e-mail or RSS feed?
*If you are reading this via email or RSS feed, to view all the tablescapes linked for Tablescape Thursday, click HERE.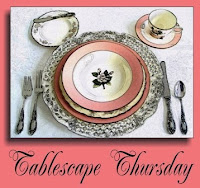 Please Read:
If you are participating in Tablescape Thursday, please be sure to add your permalink below, and not your general blog address. To get your permalink, click on your post name, then just copy and paste the address that shows up in the address bar, into the "url" box when you link up.
You'll need to include a link in your post back to the party in order to link up and participate. That's so visitors to your blog will be able to find the party and the other Tablescape Thursday participants.
If you would like to use the Tablescape Thursday logo button in your post, just copy and paste it to your computer and upload it to your post as you would any photo. Or, grab the html code you'll find under the "Parties" heading at the top of this blog.
Please, don't add your post name/blog name ALL IN CAPS…it tends to create big spaces between the rows of links. Thanks!
Let's try something fun today! Please visit the person who linked before you and after you…that way everyone will get some visits. Hope you'll visit more, of course.




Welcome! Thanks for coming to the party!