Over the last few weeks, I've received several comments and emails asking if I had made a decision on a carry-on bag for future trips. You may remember I was looking a lot of different choices in this previous post: An Away Luggage Update & Help Me Choose a New Carry-on Bag.
I am happy to say, I have made a decision. I've decided to go with another Away bag since I loved so many features on the one I took to Egypt last October.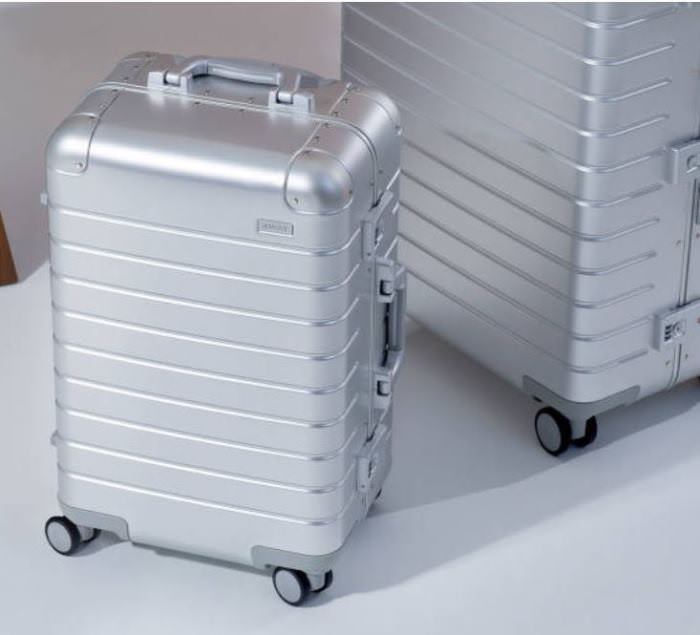 It absolutely rolled like a dream, practically rolls itself, it's so effortless! I especially loved the built-in charging feature and used it several times during the trip, as did others who were traveling with me. It also gave me such peace of mind knowing if I wanted to remove it to keep it in my handbag to use during the flight itself, I could easily pop it out at the press of a button.
The only issue with that bag was that since it was the aluminum version, it turned out be a bit too heavy for me to get into the overhead bin unassisted since I'm only 5'4″ tall. I think it would be fine for someone a few inches taller.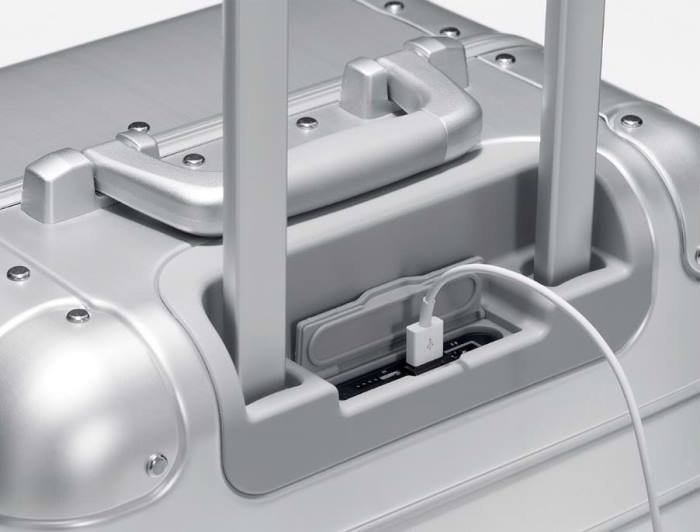 So, the Away bag I've decided to go with is their non-aluminum Bigger Carry-On with a nice big exterior pocket. I didn't realize until recently that they made a carry-on bag with a large pocket on the front. Love that!
That's one of the features I loved so much about the carry-on bag I used for so many trips when I first started traveling. I could easily unzip it and reach in to retrieve my laptop or any books/magazines I had brought along for the trip as I sat waiting to board. That bag is still a great bag and I'm sure I'll still use it from time to time, but I do like the idea of a bigger carry-on for the longer international trips I take.
(This rolling carry-on below is available in different prints/scenes here: Rolling Carry-on Bag.)
So with this style Away bag, I'll get the bigger carry-on bag I wanted, and I'll still have easy access to the things I want to use while I'm sitting/waiting to board. Inside the exterior pocket, there's a special pocket designed to hold a laptop to keep it safe and secure.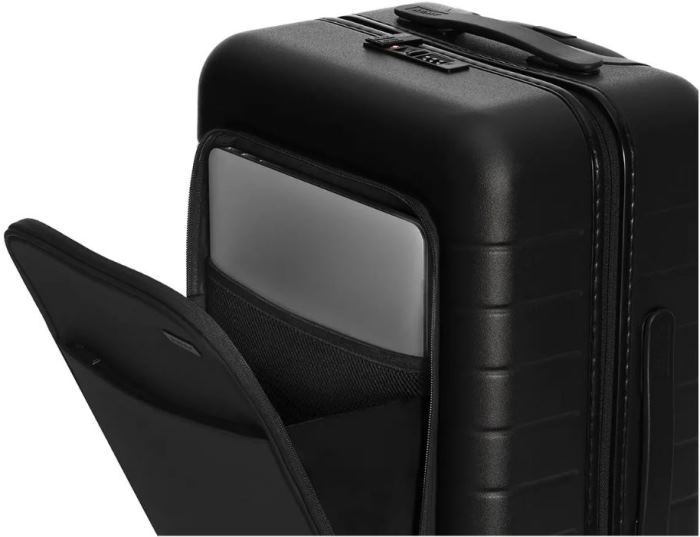 There's also another pocket that's handy for storing a book, cables, mouse, etc… This will be perfect for when I travel since I always take my laptop along to create blog posts while I'm away.
Of course, this carry-on bag has the same awesome charging feature. Again, the battery is easily removed at the press of a button if I wish to place the battery in my handbag to use for charging my phone during the flight.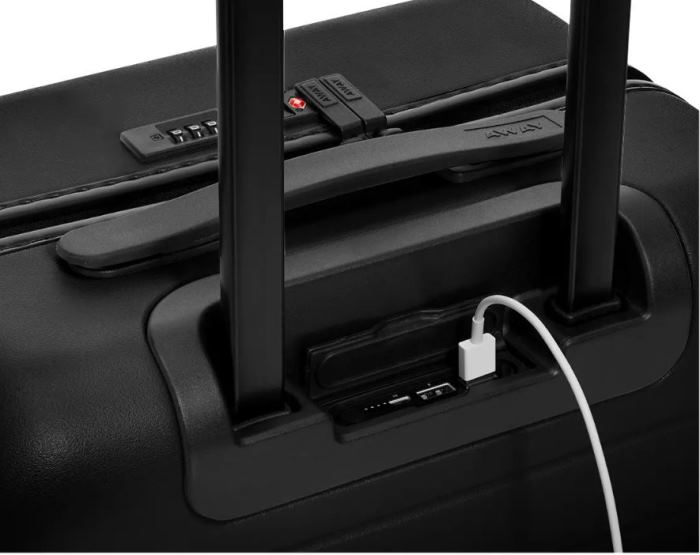 This version of the Away Carry-on bag with the exterior pocket comes in 5 colors. I'm torn between the black, navy and gray. All three are very practical colors since they won't easily show marks or scuffs. I'm leaning toward the black because I like how the exterior pocket blends in so nicely, although it looks great on the gray suitcase, as well.
If you would like to see all the colors this bag comes in, you'll find it available here: Carry-on Bag with Exterior Pocket. That link will give you $20 off, I believe, as part of their "Refer a Friend" discount.
If you don't need or want the exterior pocket on your carry-on bag, you'll have even more color choices.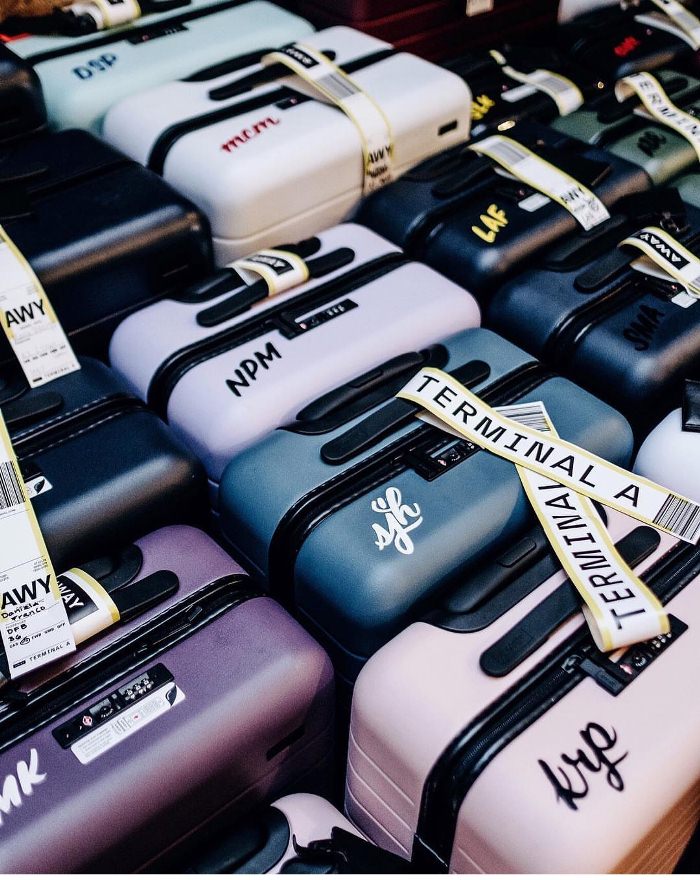 So, I've decided to go practical, which in the long run should be a good choice. I love the idea of getting a pink bag, but I love the exterior pocket even more! 🙂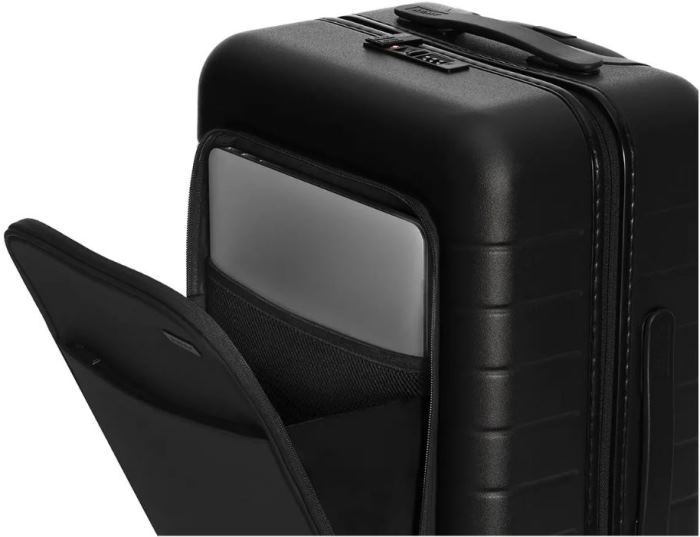 One More Alternative
There is one more alternative. I could get their Bigger Carry-on without the exterior pocket in pink or white, and buy their Everywhere Bag that fits down over the handle of the bag. Then I could store my laptop, books etc… in the Everywhere bag.
You gotta admit, this Everywhere bag in pink leather is pretty darn cute! It also comes in black leather and 3 non-leather versions/colors. It has a special pocket inside designed to hold a laptop and other items. If I went with it and a pink or white Away Bigger Carryon bag, it would be my "personal" item to take on the flight. I could just stick my actual travel handbag inside of it or pack it inside the carry-on. Arggg, so many choices!
You'll find the Everywhere bag under their Shop category here: Everywhere Bag.
The way the Everywhere bag is designed to fit over a suitcase handle so you don't have to carry it is a pretty genius idea! I like that a lot. That exterior pocket on the Everywhere bag is probably where I'd keep my boarding pass, passport, phone, etc… for easy access. They've really thought of everything with how they've designed their bags!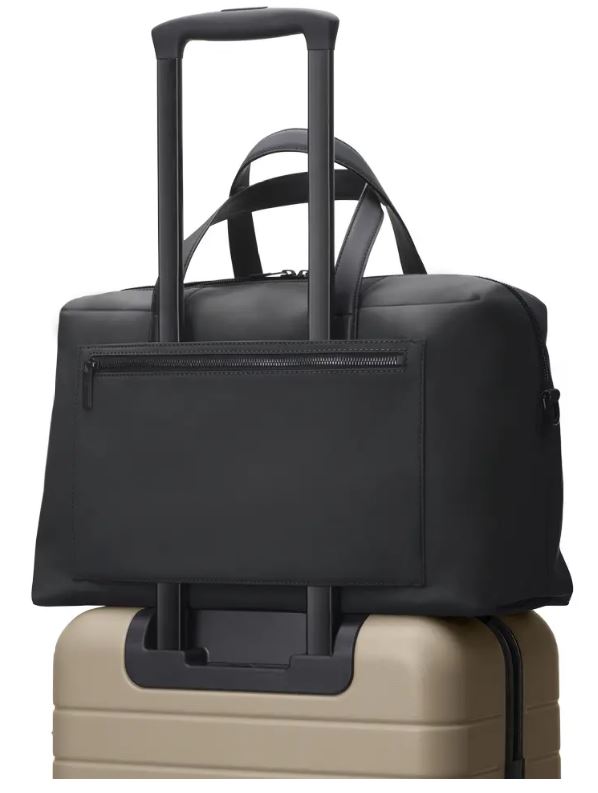 Now I'm a bit torn. Should I go with the Away Bigger Carryon with the exterior pocket or go with a white or pink Away Bigger Carry-on (minus the exterior pocket) and the Everywhere bag in pink to sit on top? (See both styles here: Away Carry-on Bag and Everywhere Bag.
I'll probably stay with the bag with the exterior pocket since it's the more affordable choice (again being practical) and I could always purchase the Everywhere bag later on if I really wanted to add it down the road.
Which do you like? Would you rather have an exterior pocket built into the bag for carrying a laptop, books etc… or a removable bag that fits over the handle for carrying those items?
*If a post is sponsored or a product was provided at no charge, it will be stated in post. Some links may be affiliate links and as an Amazon Associate, I may earn from qualifying purchases. *