Welcome to the 237th Metamorphosis Monday!
This weekend was a first for me. It was the first time I've ever planted annuals in August. When I went shopping, I wasn't sure if I'd find any since I've never shopped for them this late in the season. Surprisingly the usual places (hardware stores, big box discount stores and garden centers) do have them, even in August. The selection isn't what it is in mid April (annual planting time here) but it was better than I ever expected. Before my yard succumbed to shade, invasive tree roots and a gazillion acorn bombs, you would find me in the garden centers the first weekend after the magic planting date of April 15th.
Before Landscape Renovations Began: Buried in the trees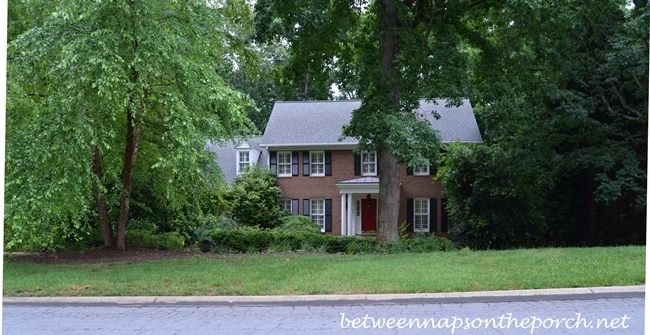 With a newly liberated home and garden, even the late date and heat of August couldn't sway me from planting a few things. The first spot screaming for a bit of color was this area in front of the shrubs.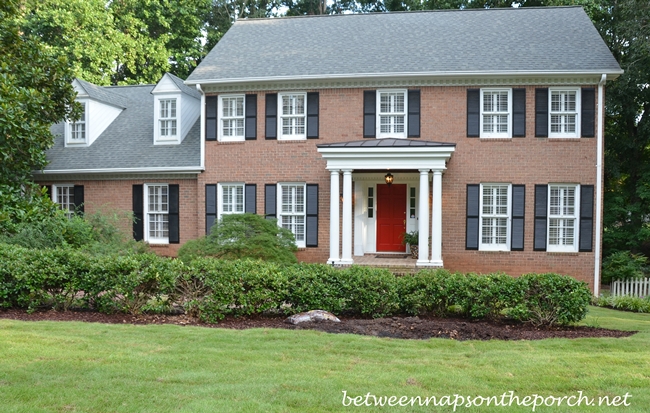 You can see it a bit better in this overhead view.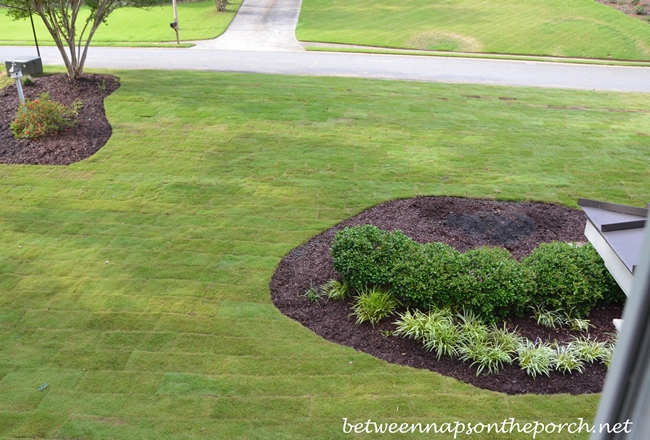 I'm not a big begonia fan and I don't normally use red/orange in my plantings, but these Dragon Wing Begonias were pretty big. Big is good when you're planting toward the end of the season.
Normally I would have spread them out more but since they'll only be in the ground a couple of months, I planted them pretty close together. I'll have to get more creative with this space next spring, this is a bit too "commercial" looking for me. But it's color. And it's pretty. 🙂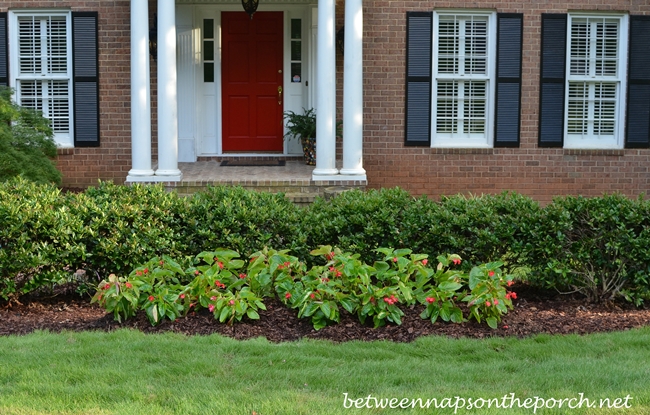 Come October, it will be time to pull them out and plant pansies. Pansies do really well here and you get almost three seasons out of them (fall, winter and early spring) so they are definitely worth the investment each fall.
The area at the foot of the gas lantern needed a little something.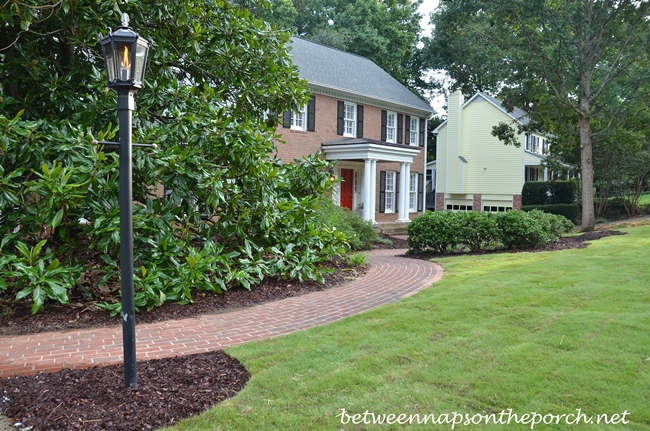 I found some pretty lantana, again a fairly decent size. Since it is so late in the season, I kept looking for plants that were big, yet not too expensive since they won't be in the ground too long. I'm going to be incorporating some perennials into my annual beds to save on cost. More on that in a later post. The label didn't show the variety for this particular lantana but it's definitely an annual and not a perennial like "Miss Huff."
I had originally been thinking about planting a climbing vine here, but I'm not so sure now. This weekend I passed a house that had a vine of some sort (may have been clematis) growing up the pole of their lantern and I didn't like the way it looked. The vine had become so full, the lantern itself looked tiny and lost sticking out at the top of the huge vine. I do have plans to give it a fresh coat of black paint, but I think I'll nix the climbing vine idea, at least for now. There would be some serious maintenance involved to keep it from looking like the one I saw this weekend.
Can you believe a blue mushroom grew right out of the ground here? Amazing, right?!
Remember the little area on the other side of the walk in front of the magnolia?
This little spot next to my bird girl…
I filled it with pink and lavender Vinca. Couldn't get a great pic of the colors to save me. The colors are much prettier in person than in this photo below.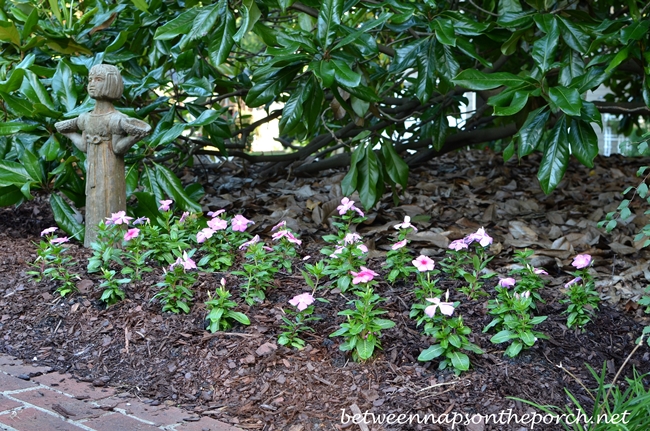 Switching gears, years ago I found these little hose minders in Smith & Hawken. That's what I call them but I think the correct term is hose guides. They are heavy (feel like cast iron) and they keep hoses from being dragged right into the flower beds or shrubs. I only purchased three because even on sale, they were a little pricey. Totally worth it though since they look as good today as they did years ago when I purchased them.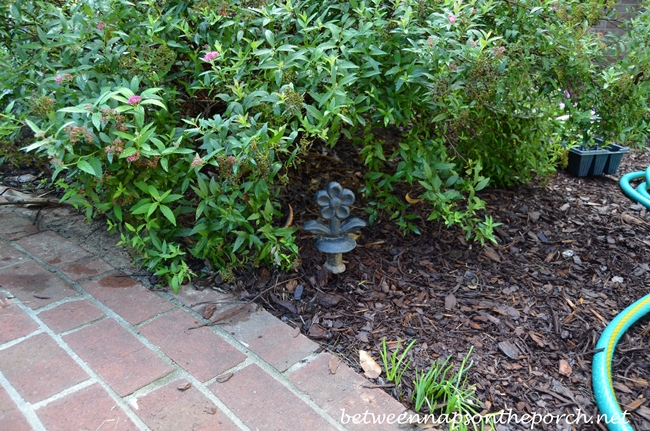 This past weekend, I purchased a few more. These didn't come from Smith & Hawken since they have all closed in our area.
They aren't cast iron so not sure how long they will last but I loved the cute pine cone shape.
I worried a little about the chipmunks during all the this grading and sodding process. I can quit worrying. I'm pretty sure they all survived just fine because my beds are FULL of chipmunk doorways. Wonder how deep those tunnels go?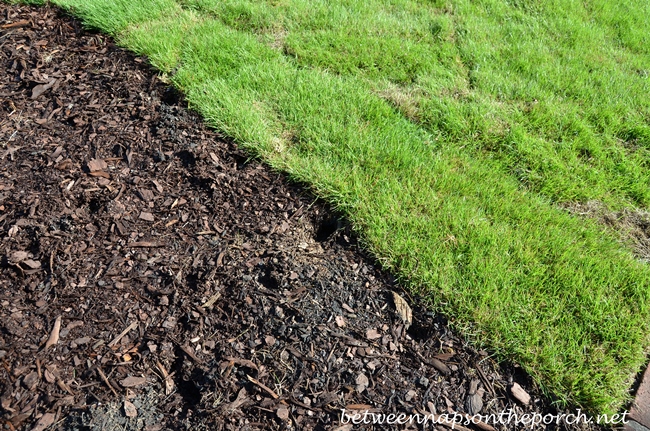 Nutsedge Wars:
Changing gears again, remember our little discussion about nutsedge. You may remember some of the Zeon Zoysia that was delivered and installed recently contained nutsedge. Well, the sod farm brought out around 40 new pieces and replaced the bad nutsedge pieces. We had a few left over so I placed those pieces in areas where we could have used a bit more sod toward the side/back.
Later this weekend, I found three more pieces of sod containing nutsedge and replaced two of those myself with the newer sod. Man, that stuff is heavy to haul around! One of the pieces containing nutsedge only had one plant growing up through the grass, so I left it and I've ordered a product called Sedgehammer.
The sod farm recommends a product called Certainty, but it appears that's it is just available to businesses, not the general public. I did find one place that sold it, but the price was INSANE! In the comments for the previous gardening post, you guys mentioned a product called Sedgehammer. It has good reviews online and I found it available in packets for a reasonable price. I purchased a couple of packets to have on hand and I'm going to try some on that one piece of nutsedge I found. I'm afraid I'm going to eventually find more.
I took one of the nutsedge sod pieces and dug out the nutsedge so I could show you why it's so invasive and so difficult to get rid of. You can pull out nutsedge 'til the cows come home, but it keeps coming right back because of these things–tubers (or nuts) that grow on underground stems. This one nutsedge plant had three tubers attached (see arrows). The tubers are hard, round balls about the size of a pea. I think nutsedge is the cockroach of the plant world. No doubt it would survive nuclear war or a meteor/asteroid hitting the earth!
Okay, I can't leave you on a depressing nutsedge note. There's a little pot of flowers spilling out onto the walkway this morning. It was so pretty with the morning sun shining down on it. 🙂 Happy Monday!
Did you work in the garden this weekend? Go to a movie? Eat dinner out with friends or family? How was your weekend?
Metamorphosis Monday: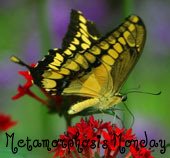 Update: Recently, I made a change to how the links will display for Metamorphosis Monday. They will display randomly each time you visit BNOTP so all participants will have a chance to have their link displayed near the top of the group of links. You'll easily be able to tell which links you've already clicked since those links will change color once visited.
If you are participating in Metamorphosis Monday you will need to link up the "permalink" to your MM post and not your general blog address. To get your permalink, click on your post name, then just copy and paste the address that shows up in the address bar at the top of your blog, into the "url" box for InLinkz.
In order to link up, you'll need to include a link in your MM post back to the party so the other participants will have an opportunity to receive visits from your wonderful blog readers.
Please observe these few rules:
Only link up Before and After posts that are home, gardening, crafting, painting, sewing, cooking, DIY related.
Do not link up if you're doing so to promote a website or product.
Do not link up a post that was just linked last week since a lot of readers will have already seen that post.
Do not type in ALL CAPS. It spreads the links waaaay out.




Welcome! Thanks for coming to the party!
*If a post is sponsored or a product was provided at no charge, it will be stated in post. Some links may be affiliate links and as an Amazon Associate, I may earn from qualifying purchases. *