Welcome to the 614th Metamorphosis Monday, a blog party sharing fabulous Before and Afters!
This post is going up a bit late because I changed horses midstream. lol When I awoke this morning, all I could think about was how much I wanted to put my flannel sheets on the bed. I'm definitely in the mood for some autumn/fall decorating. Time to cozy up the house before the cold weather arrives! Though I'm not a big fan of fall or winter (def more a spring-summer kind of gal) I do love alllll the cozy that comes with winter. If we are going to survive winter, we need cozy and a lot of it! That's my winter philosophy. Ha!
Normally when I share this room, the bed is all made up. Today I thought I'd share a more relaxed look. I kept the chandelier off for these photos to keep that cozy, bedtime feel. Ummm, maybe I should take a few nighttime pics to add to this post once it gets dark out this evening.
Update: It looks like this tartan bedding is finally back in stock! I know several of you have asked about it. You'll find it available here: Tartan Bedding.
I piled on many of the pillows that I use when I make the bed (both the Euro and Standard Shams) since they pick up the colors in the sheets so nicely. Of course, those get removed when it's time for bed.
See that preserved boxwood wreath over the bed? It lives there full time since I've never found anything that I really love to go over the bed, and I do love the wreath. I have an idea, though, and I got it from a comment left on a previous post!
Remember this gorgeous puzzle I shared a few weeks ago? In the comments, someone mentioned they had this puzzle in a painting. What?! Of course! I should have realized that this wonderful puzzle was probably created at some point from a beautiful painting.
I know it's a "Christmas" scene but I would relish the idea of keeping a little Colonial Williamsburg Christmas with me all year long. I just love this painting! If I ever got tired of having this beautiful Christmas scene hanging above my bed, I could always tuck it away to bring out at Christmastime. If/when I purchase it, I'll be sure to share a photo of how it looks.
Update: Just purchased this beautiful painting in a canvas Giclee directly from the website of the artist. You'll find The Governor's Party and many more of his beautiful paintings here: Chuck Pinson.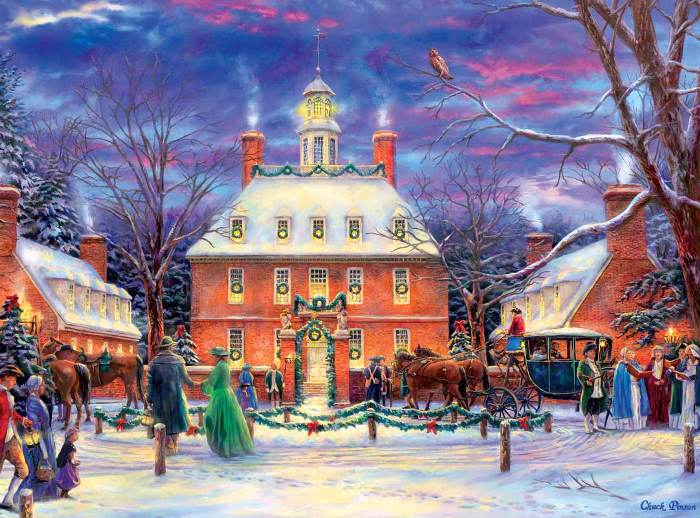 You may remember when I purchased this pinecone woodland flannel bedding a year or two back. I found it at L.L. Bean but I don't see it available at the moment. You can still see it on their website here: Pine Woodland Bedding. Maybe it's a little too early and they'll get it in later. They have some flannel bedding that is similar here: Flannel Bedding.
A while back a BNOTP reader left a comment asking if I would share how I make my bed. I never did a post about that because it's pretty basic, really. I start with a good quality mattress pad, then the sheets go atop that.
Occasionally if I really want to be super cozy, I'll add a thick, plush mattress topper I purchased many years ago atop the mattress pad. It adds another inch or two to the height of the bed, really taking the bed to that "Princess and the Pea" level. lol I tend to like sleeping on a firmer bed so I rarely use it, though I must say, it is very dreamy to see a bed made up with it in place.
After the fitted sheet and top sheet, I add an off white/cream Matelasse purchased many, many years ago at HomeGoods. I actually have two that are identical so when one is in the wash, I have a spare for the bed.
After the matelasse, I add whatever duvet I'm using–I have both summer and winter bedding, although I love the winter bedding so much, I sometimes get lazy and don't swap it out until well into the spring.
At night, I typically push the heavy, plush duvet to the foot of the bed. I rarely sleep underneath it since sleeping in flannel PJs underneath the flannel top sheet and matelasse are usually plenty enough to keep me warm.
I have an electric blanket that I often add to the bed during the coldest months of winter. When I add it to the mix, I usually turn it on as I'm just starting to get ready for bed. By the time I'm done brushing my teeth and getting on my PJs, it has warmed up the bed to a nice toasty level. Then I turn it off when I climb into bed–it would be too warm to sleep underneath all night unless I turned the thermostat way down.
I got the "electric-blanket-prewarming-the-bed" idea from you guys, so thanks for that! I know from your comments that several of you do the same thing during the wintertime.
Have you already cozied up your bed for fall? I'm so glad I took time to do that this morning. I'm looking forward to those flannel sheets this evening!
Looking forward to all the wonderful Before and Afters linked for this week's Met Monday!
Pssst: Did you know Between Naps On The Porch is on Instagram? You'll find me on Instagram here: Between Naps On The Porch.
Like to know when a new blog post is up and available to read? Subscribe for email updates, it's free and your email will never be shared.
Subscribe for free post updates via email here: Subscribe.
Metamorphosis Monday
Metamorphosis Monday is a party that's all about Before and Afters. Please link up your Before and After projects like DIY projects, room makeovers, craft projects even recipes. Any Before and After is great! Please do not link up Table Settings, save those for our Tablescape Thursday party on Thursday.
If you are participating in Met Monday, please link up using the "permalink" to your MM post and not your general blog address. To get your permalink, click on your post name, then just copy and paste the address that shows up in the address bar at the top of your blog, into the "url" box for InLinkz when prompted.
In order to link up, you'll need to include a link in your MM post back to the party so the other participants will have an opportunity to receive visits from your wonderful blog readers.
Update: Please do not link up table settings/tablescapes for Metamorphosis Monday. Please save those for our Tablescape Thursday party on Thursdays. Recipes are fine because that's definitely a "Before and After" but please save your beautiful table settings for Tablescape Thursday. Pretty vignettes (transformations) you've created on atop a chest or somewhere in your home are great for our Before and After party, but let's save the actual table settings for Tablescape Thursday.
This party has ended, click button below for the links to all who participated.
*If a post is sponsored or a product was provided at no charge, it will be stated in post. Some links may be affiliate links and as an Amazon Associate, I may earn from qualifying purchases. *