Welcome to the 641st Metamorphosis Monday, a blog party sharing fabulous Before and Afters!
Do you ever go on spring garden tours? I love garden tours, they are sooo much fun and provide so much inspiration. For many years, whenever I would go on a garden tour, I would see these magnificent birdhouses in many of the gardens that we toured. Eventually, I found out who made them and dreamed of one day having one in my own garden. They were such incredible statement pieces, they almost stole the show in every garden they graced.
When I added the screened porch to the back of my home in 2008, in celebration I finally purchased a dovecote for my yard. This photo was taken not long after I placed it in the garden. The bluebirds immediately took a liking to it and decided to nest there. I kept them well-stocked in mealworms and they nested in the dovecote three times that year!
Over the years, the roof aged to a pretty silver color–still beautiful and still so grand! Seeing the dovecote in the garden always made me smile each time I arrived home and pulled into my driveway.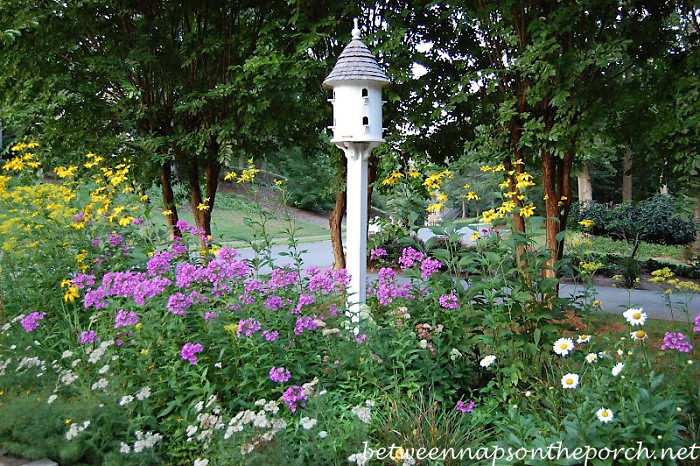 I love feeding the birds and have quite a few woodpeckers visiting my feeders each day.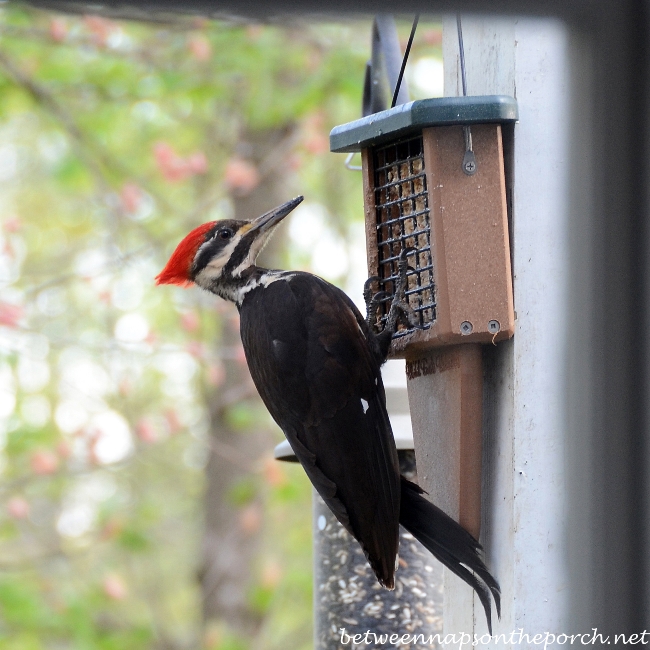 I'm guessing it was a naughty woodpecker who did this to my beautiful Lazy Hill Dovecote back in 2016. 🙁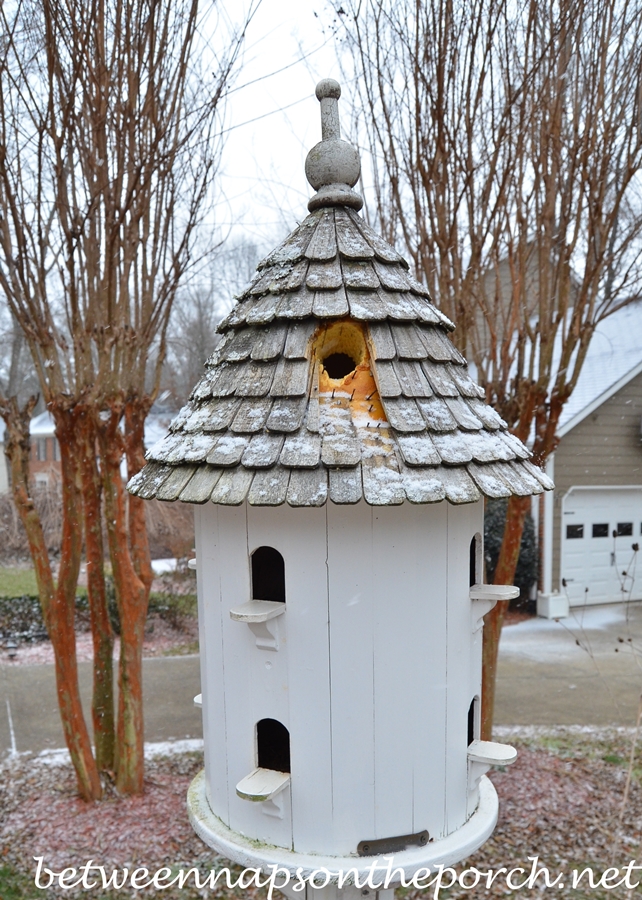 I was not happy when I discovered this damage. It took me a while to figure out how I was going to fix it.
I called up Good Directions, the new company that bought out or took over Lazy Hill, and they shipped me some new shingles. They had changed the type of shingles they were using on their dovecotes. I've forgotten the kind of wood they changed to but I knew it would weather out to a silver color so it didn't manner if it didn't match perfectly. You can read more about how I repaired the huge hole and added the new shingles in this previous post: Repairing a Woodpecker Damaged Roof of a Lazy Hill Dovecote
Here's how the dovecote looked after I repaired the roof, gave it a good cleaning, and a new paint job with my white, exterior, house paint. I also repainted the post at that time.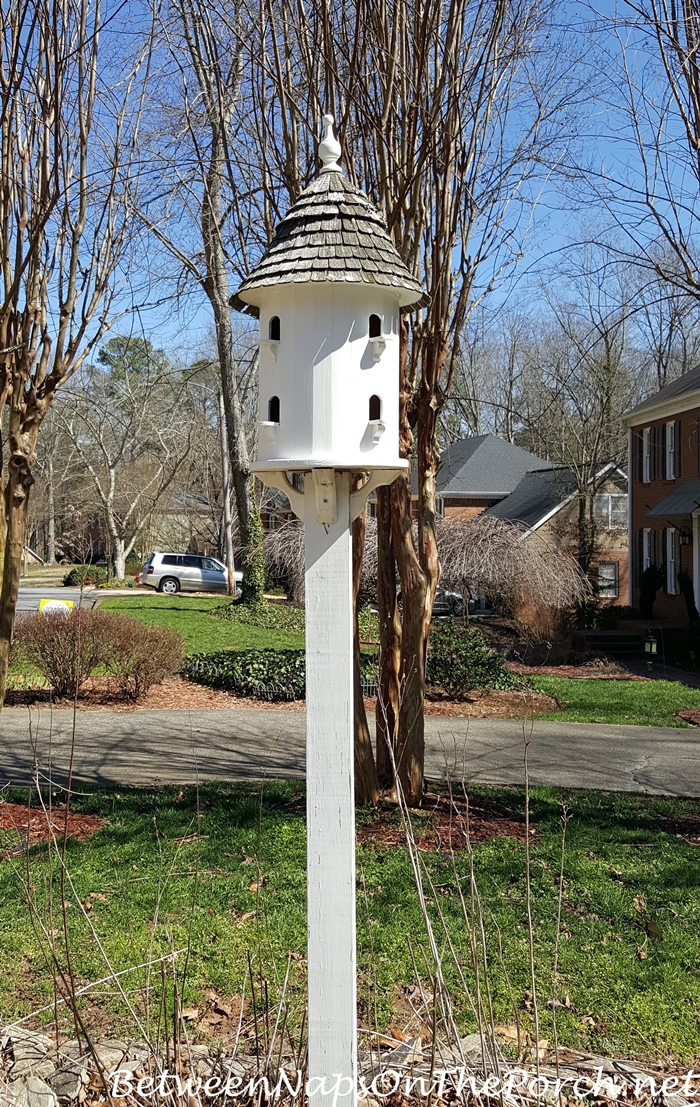 Initially, you could see the newly replaced shingles, but it didn't take long for them to gray out and match the others.
Well, it has happened again. A few weeks ago I noticed this from the driveway upon returning home. What the heck?!?!
I found this on the other side. 🙁
You may remember a few years ago when I redid all my foundation shrubs, I added a new dovecote to the front of my home. I went with this one shown below that has a copper roof. One huge advantage of the new dovecotes is how easy they are to clean out at the end of the nesting season.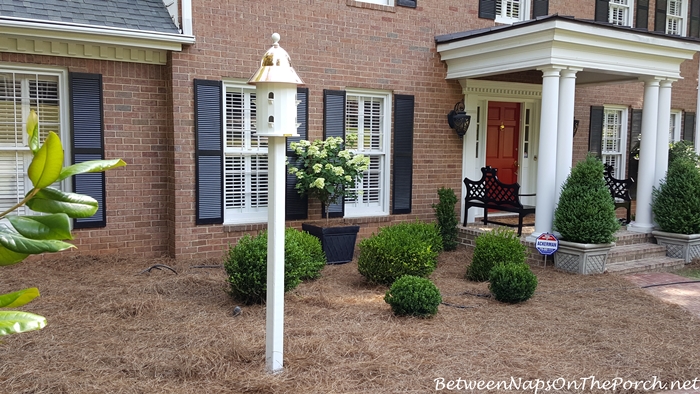 With my old dovecote, when it was time to clean out old nests, I had to get on a ladder and stick a coathanger or whatever I could find into each of the little openings and try and grab the old nests and pull them out. They usually fell apart so it took quite a bit of digging and cleaning to get the old nests out through the small openings.
The nice thing about the house I added to the front a few years ago (seen below before I had painted the post) is the roof is removable which makes cleaning out old nests a breeze!
I decided it was time for a change. I hated trying to clean out old nests from the original dovecote and was really tired of fighting the woodpeckers.
So I ordered a new dovecote. It arrived on Saturday and the box was HUGE!
It was packaged really well inside, happy to see that!
The roof lifts right off the top so it's easy to access the 8 nesting compartments when it's time to clean out old nests.
Here's how the lid looks underneath. It just neatly fits down onto the top of the birdhouse. This makes it even easier to clean out than my other cooper-roofed dovecote.
Though this one down near the front of my home is easy to clean out, you do have to unscrew the finial on top to remove the roof. If you look off in the distance, you can see the other dovecote silhouetted against my neighbor's Crepe Myrtle trees. That gives you an idea of the location of the two dovecotes here in the front yard.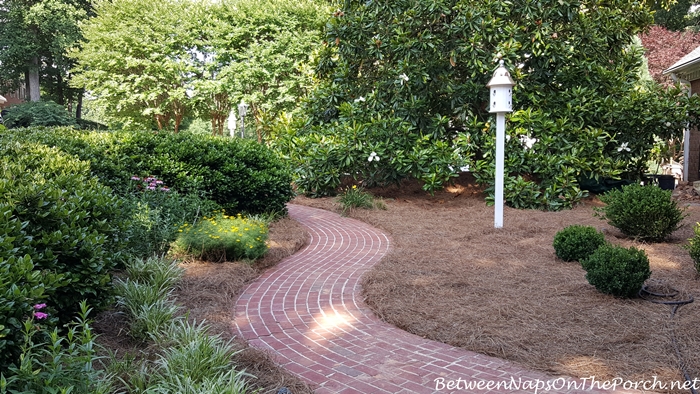 This spring I had bluebirds nesting in the dovecote near the house. That's Mama Bluebird awaiting dad's return with a fat, juicy bug. lol
With the new dovecote, to clean out the nesting compartments in the future, I'll only need to lift the lid off of the house. Genius design!
Look how big it is! Wow! It's even taller than my original dovecote! (Dovecote is available here: Dovecote with Copper Roof.)
Almost 33 inches tall–these dovecotes are truly the star and focal point of any garden!
Another wonderful feature about the new house is it doesn't require any work to attach it to the 4 x 4 post. The old, original dovecote, the one that keeps getting destroyed by woodpeckers, required screwing it down to the post, as did the one below that I installed a few years ago down near the front of my home.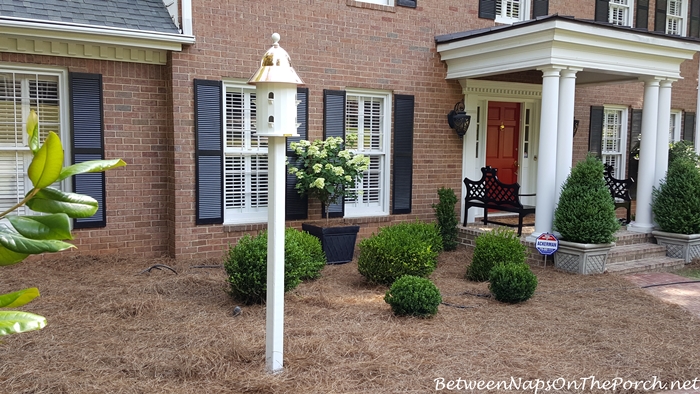 But not this new one! It literally just fits down over the top of the post! No screws or screwdriver needed! Another brilliant improvement!
The post itself was looking a bit haggard, time for another fresh coat of paint.
Getting the old house down was not easy! The screws had rusted so badly, they just turned around and around when I tried to unscrew them. One of the screws came about halfway out, but wouldn't come out all the way out. Other screws wouldn't come down and out at all. They just spun and spun. Argggh!
I ended up having to pry this metal plate (that attached the house to the post) slightly down and away from the house to forcibly bring the screws that wouldn't come out, down a bit. Then I had to brace a flathead screwdriver under/against the screws as I unscrewed them to keep them from shooting back into the house. I've never seen screws do that when a drill is in the "reverse" setting. Any pressure sent them right back into the dovecote.
You know, whenever I start a project like this, I always feel a bit of anxiety welling up inside because I know that something is bound to go wrong. I just have to remind myself to take it one step at a time. If something does pop up, like old, decrypted, rusted screws that won't come out, I will figure it out–because I always do!
So here's Miss Dovecote on her newly painted post. Every few years when it's time to repaint this post, I am reminded of the hilarious stories Erma Bombeck told in her book, The Grass is Always Greener Over the Septic Tank. In Chapter 10, titled, Super Mom, Erma talks about her new neighbor across the street with the always perfect home, perfect children, and perfect life.
Shortly after the neighbor moved in, Erma wrote, "The moving van hadn't been gone a minute when we saw her in the yard waxing her garden hose." I sometimes wonder if that's what my neighbors think when they drive by and see me outside in the garden giving the birdhouse post a fresh coat of paint. Ha, Ha, Ha! I just can't put a shiny, new birdhouse atop a yucky, paint-peeling post.
I've super happy with the new house, although I think they'll be some disappointed woodpeckers around here. lol
If you would like a dovecote for your garden, you'll find this one where I purchased mine here: Lazy Hill Dovecote.
Looking forward to all the great Before and Afters linked for this week's Metamorphosis Monday!
Pssst: Did you know Between Naps On The Porch is on Instagram? You'll find me on Instagram here: Between Naps On The Porch.
Like to know when a new blog post is up and available to read? Subscribe for email updates, it's free and your email will never be shared.
Subscribe for free post updates via email here: Subscribe.
Metamorphosis Monday
Metamorphosis Monday is a party that's all about Before and Afters. Please link up your Before and After projects like DIY projects, room makeovers, craft projects even recipes. Any Before and After is great! Please do not link up Table Settings, save those for our Tablescape Thursday party on Thursday.
If you are participating in Met Monday, please link up using the "permalink" to your MM post and not your general blog address. To get your permalink, click on your post name, then just copy and paste the address that shows up in the address bar at the top of your blog, into the "url" box for InLinkz when prompted.
In order to link up, you'll need to include a link in your MM post back to the party so the other participants will have an opportunity to receive visits from your wonderful blog readers.
This party has ended, click button below for the links to all who participated.
*If a post is sponsored or a product was provided at no charge, it will be stated in post. Some links may be affiliate links and as an Amazon Associate, I may earn from qualifying purchases. *