Happy Wednesday! Hope your week is going great! I have a couple of small tweaks to share today. One I knew I would love because I just made the same upgrade at home a few months back, but the other one was a delightful surprise! I'm obsessed with how both turned out!
You may remember a few months ago I upgraded the old flatware storage organizer I had been using for years to this clear expandable one shown below. The awesome thing I love about this flatware organizer is how it expands out to fully fill a drawer. So you don't end up with that awkward, empty/unused space down one side of the drawer.
The interior of my kitchen drawers are stained, so hard to photograph, but here's how the new organizer looked filled with 12-place settings of flatware I had just purchased. (Flatware was purchased here: Flatware.)
Nancy revamped her flatware storage using the same style organizer and here's how it turned out. Her old flatware holder had fit sideways inside the drawer, so it was kinda awkward putting the flatware away since it had to be put away sideways. This drawer isn't quite as wide as mine back home, so the side area of the organizer turned out a bit more narrow. However, it was the perfect size to hold the child-size flatware my two grandsons use for meals each day.
The children's stainless flatware visible on the right is available here: Child-size Flatware. The expandable flatware organizer is available here: Flatware Storage.
When my first grandson was just starting to feed himself, I purchased the adorable bunny/carrot spoon and fork here: Bunny/Carrot Fork and Spoon.
The other update Nancy made this week just blew me away with how nice it looked! I am seriously thinking of adding one to my staircase when I get back home.
A few weeks ago I shared this photo showing the pretty staircase treads Nancy had added to the home's main staircase. When I shared this photo, you may have noticed the two small, wooden boxes on the staircase. Those boxes are where the boys place things that somehow end up downstairs but really belong upstairs. Sometimes it's a sweater or my oldest grandson's Batman bedroom slippers. Or sometimes it's my youngest grandson's nighttime ducky or a new book that's just arrived that's will be read at bedtime.
Recently one of the boxes met with a mishap. Since the boxes are no longer available, thus a replacement couldn't be found, it was time for a new strategy.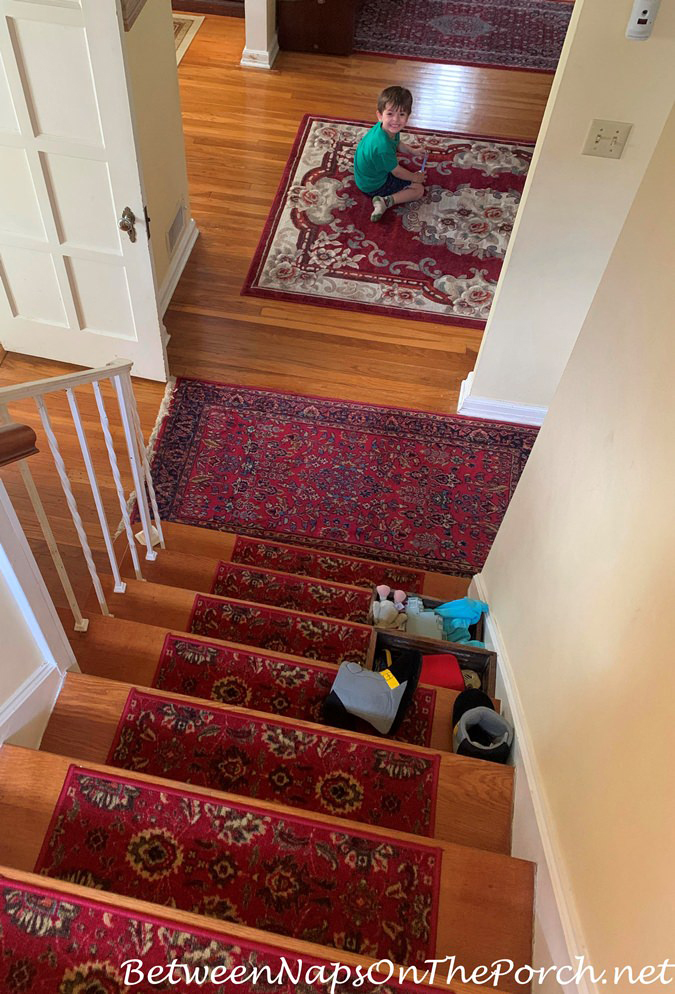 Is this staircase basket just not the cutest thing ever?! I was in love the first time I saw it!
I love how it fits nestled into this spot on the staircase. It feels so solid–like it's not going anywhere! I guess all steps are designed at the same height because the basket fits like it was specially designed for this staircase.
If you live in a two or three-story home, this is a great "holding" spot for those items that need to be taken upstairs on a future trip up. It really helps to have a staircase organizer like this because it helps you remember to take something up as you head up the stairs.
I forgot to take a photo from the top but this staircase basket is divided into two separate sections. The top section is one step-deep and the lower one is 2-steps deep. So it works great for holding both small and large items. So far, it has worked out great for the boys and they love it!
If you could use a pretty staircase basket, this one is available here: Basket for Staircase.
Hope you enjoyed these two little changes made over the last few days. See you tomorrow for Tablescape Thursday!
*If a post is sponsored or a product was provided at no charge, it will be stated in post. Some links may be affiliate links and as an Amazon Associate, I may earn from qualifying purchases. *