Today's post is an April favorites post that sorta ended up morphing into a summer earrings post. I'm really into earrings right now. I think it started when I bought these adorable daisy earrings that I literally find myself wanting to wear every single day.
But before we get to that, here are a few of the other items I've really enjoyed over the past month. Last winter when random products like toilet paper were vanishing from shelves and couldn't be found anywhere, one of the products I wanted to order but was always out of stock was this Aquaphor Lip Repair. I used to put vaseline on my lips at night before turning in. That works fine but I've found I prefer the Aquaphor a lot more.
I just love how it feels on my lips, it's not as greasy feeling as vaseline. It is finally back in stock and it appears they've lifted the restriction on how many you can order (last winter you could only order 2) so I purchased a couple last month. I'll probably buy a couple more this summer so I'll be ready for winter when it comes around again. My son, dil and grandson like it, as well. So get it while you can! You'll find it here: Aquaphor.
Another item I have been hoping to purchase again but had mysteriously vanished for a while was this timer. I have two of these currently on lamps in my home and love how easy they are to operate.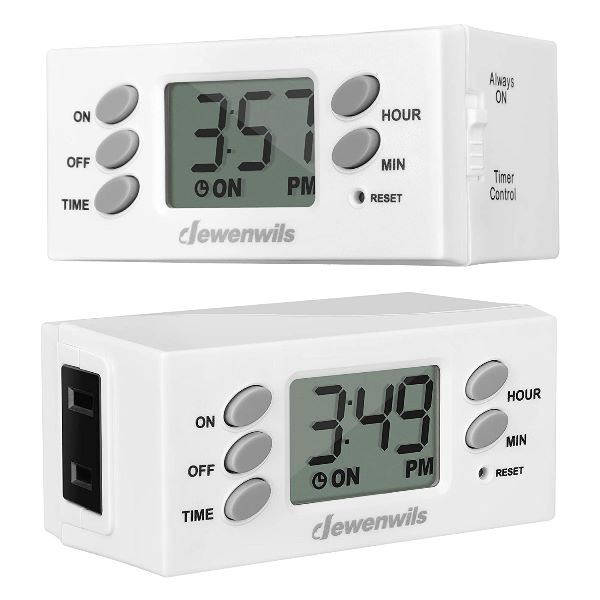 I have one on the lamp in my entrance and one on the lamp in my kitchen. I love having lights in my home that automatically come on in the evening so I'm never walking into a dark house or a dark kitchen.
Now that they are finally back in stock, I just purchased two more timers (they come in sets of two) for two other areas in my home. I added a timer to the lamp on this chest here in the upstairs hall so the hall is automatically lit in the evening.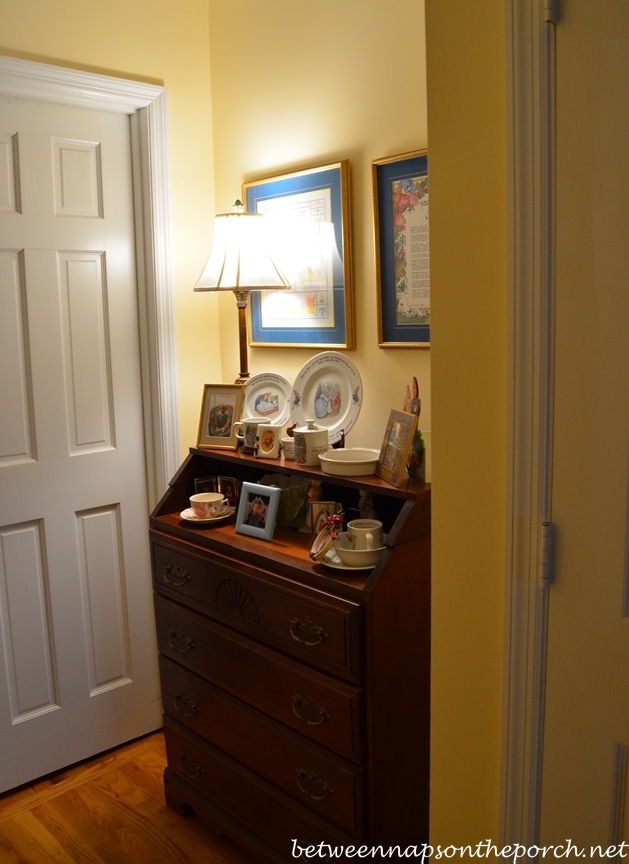 The other one ended up here in my dressing room so there's automatically light in this dressing room off my bedroom in the evening.
That way, if I walk into the bedroom at night and the lamps beside the bed are turned off so that the wall switch doesn't work (this happens a lot!), I'll still have light to navigate across the room to turn on one of the lamps.
I love these timers because they are super easy to program. If you have a really dreary, rainy day (like we had here a few days ago) and want the light on right then, you just flip the "Always On" switch on the side. So there's no need to unplug the timer or change your settings. Sooo easy! These timers are available here: Timers.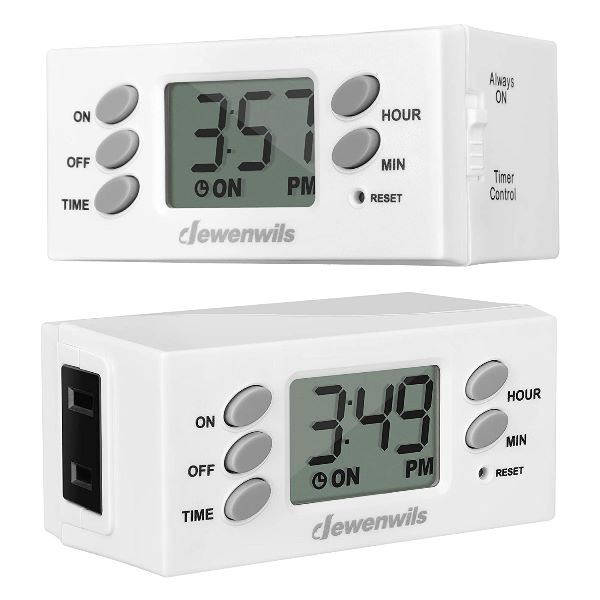 Years ago I purchased a shredder online to shred old bills and such and it was awful. It was a pain to use and could only shred a sheet or two at the time. Since then, I've been carrying old bills/papers, etc… that I wanted to have shredded to UPS periodically, but that gets expensive. I decided to try one more time to find a decent shredder that didn't cost a fortune. I purchased this one that had great reviews and I've been very pleased. I shredded a ton of old bills and bank statements this past weekend and it worked beautifully. I did the shredding while I was watching a YouTube video so that made the process go quickly.
There are quite a few of these shredders online and I went with this one because it can handle up to 8 sheets at a time. I found I could shred for about 20 minutes before the little red light would come on indicating it was getting too hot and needed to rest. After a 30-minute rest, it was ready to go again. I'm super happy to have a good shredder now so I can keep up with my shredding on a yearly basis so it doesn't pile up anymore. You'll find this shredder available here: Shredder.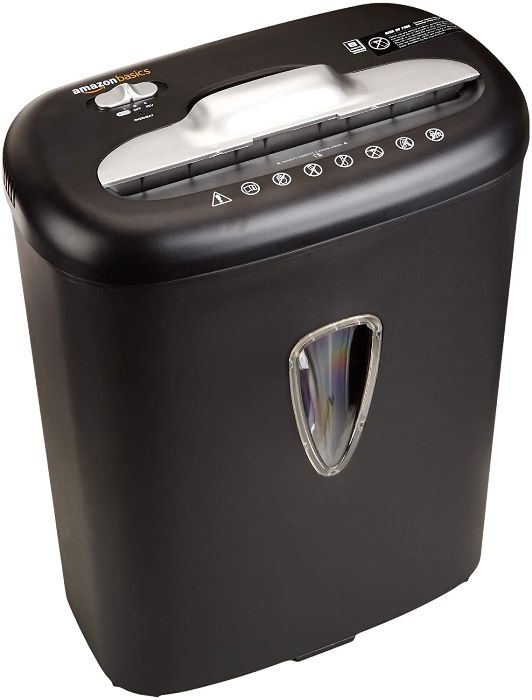 Still loving these BIG puzzle sorting trays I purchased last month. They are amazing! If you know someone who loves doing puzzles, this would be a great gift. Definitely speeds up the process of finding the puzzle pieces you need when doing a puzzle, These are available here: Puzzle Sorting Trays.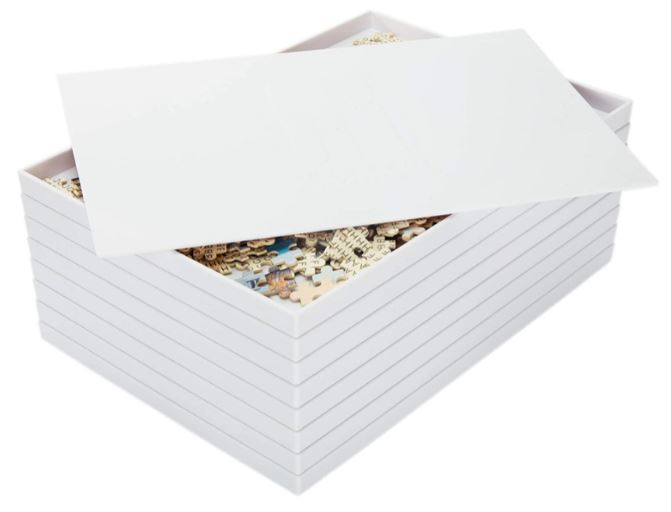 Earrings I'm Loving and Coveting for Spring
I discovered a new shop recently and have fallen in love with so many of their clothes, bags, and jewelry. I purchased a pair of their earrings and have worn them almost every single day since they arrived! I love these adorable daisy earrings seen below in my travel jewelry box. They are sooo dang cute and look adorable with my spring/summer tops and dresses. You'll find them available here: Daisy Earrings.
I shared the blue Beaded Drop Earrings and pink Bon Bon Earrings earlier this spring but want to mention them again since I love them for spring and summer. All of these earrings are lightweight, so they don't pull down on your ears. Love that! You'll find the blue Bon Bon earrings here: Blue Beaded Bon Bon Earrings and the pink Bon Bon Earrings here: Pink Bon Bon Earrings.
A while back I purchased two pairs of beautiful, butterfly earrings in pink and in blue. The pink ones are visible in this older photo below.
I haven't been able to find my blue ones, have no idea what I did with them. They may be in a handbag somewhere. I've missed them, so I reordered them again. They are available in several colors here: Butterfly Earrings.
I just ordered these today. They are available in three colors and I went with the pink shown below. They are currently on sale for a steal! They were originally $39.50 and are now on sale for $10.99, and when I checked out, it gave me free shipping. At first, it appeared it was going to charge for shipping but then it changed to free shipping once I logged in. Update: I just ordered them in green, too–that price is just too good to pass up! You'll find them available in three colors here: Floral Earrings.
These cute bee earrings are also currently on sale. They were originally $39.50, marked down to $29.99, and are now 50% off the sale price making them $14.99. You'll find them here: Bee Earrings.
One more pair of earrings that I really like–these are currently on sale 40% off with the code, MOTHERSDAY at checkout. They are available here: Pearl Drop Earrings.
These are also on sale 50% off! You'll find them here: Bee Earrings. Check out all the jewelry that's currently on sale for Mother's Day here: Jewelry Sale.
I'm doing a bit of spring shopping online today so I may add to this post later today if I find some great spring/summer sales.
Update: I've been working in the yard all day, have a neat little Met Monday to share for this Monday. Came in to find an email that Talbots has 30% off everything right now. I'm eyeing this cute pink top, I love vertical stripes, they are always so flattering. (Top is available here: Pink Striped Top.)
Another one I would love to add to my wardrobe this summer. (Top is available here: Summer Top.)
Both tops would look great with white jeans or jeggings. I usually go with the curvy fit in their jeans to avoid gaps in the waist, and those are all available online, not in stores. All their white jeans (actually all their jeans) are on sale. The white ones are available here: White Jeans/Jeggings.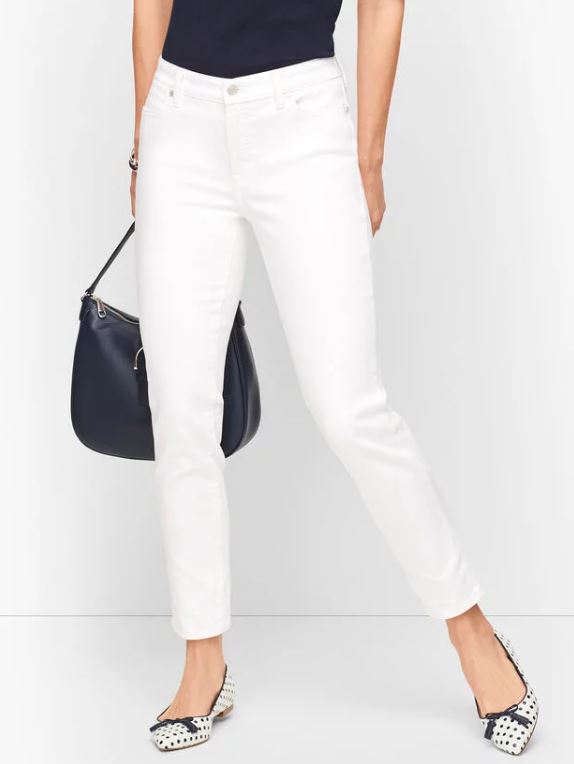 Oh my gosh, these are sooo cute! At 30% off, I may order these tonight before the sale ends. You'll find them on sale here: Beachy Earrings for Summer.
Happy Weekend to you and Happy Mother's Day to all moms–including the moms of much-loved furbabies!
*If a post is sponsored or a product was provided at no charge, it will be stated in post. Some links may be affiliate links and as an Amazon Associate, I may earn from qualifying purchases. *