Welcome to the 514th Metamorphosis Monday!
I had hoped to do an update on the installation of the Ring Doorbell today, but I need one more part to fix an issue it's having. Hopefully, the part I've ordered will arrive this week, then I'll be able to complete that final post. So watch for that coming up real soon.
Pottery Barn Inspired Christmas Garland Gets an Update
Many, many years ago I came across this beautiful image in a Pottery Barn catalog. I thought it was beautiful and I could not get it out of my head. For several years it reappeared each Christmas in their catalogs and on their website. Though we don't often get this much snow during the winter here in Georgia, I finally decided to try and recreate the beautiful ornament-covered garland.
I purchased my plain, lit garland in Old Time Pottery and was able to make it for much less than what it would have cost to purchase it. I liked how it turned out, but I always wished the garland was just a little longer and a bit fuller.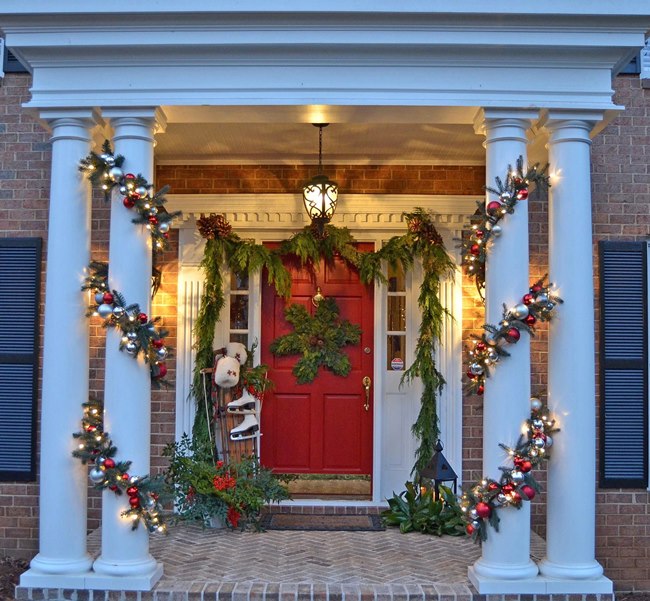 Have you noticed how most garland comes in 9 ft lengths? That really wasn't quite long enough to fully go around my columns so I had to improvise as best I could. This photo shows how I improvised on the back of the column at the top. I had to do something similar at the bottom, too.
Over the years I've been keeping my eye out for some slightly longer garland. When I could find it, the prices were always ridiculous, so I just kept making do with my existing garland.
It's been a few years since I used this garland on the columns.
I made the garland back in 2010 and over the years it has continued to get more and more sparse. It was also starting to look a bit faded.
This year I looked again and came across some very affordable garland HERE that had great reviews. It is 12 foot long so plenty long enough for the columns, plus it looked a lot fuller. Also, the lights are battery powered, so no electrical cords. Like that!
Straight out of the box it was pretty squished down.
Here's how it looked all fluffed up. I kept the side it was laying on flat, with intentions of the flat side being the side that would wrap around the column.
Update: I've had several questions about the plaid lamp here in the kitchen. I purchased it in HomeGoods several years ago after seeing it in Linda's pretty 3-season Christmas porch. I first posted about it here: Plaid Lamp for the Kitchen.
I don't know if HomeGoods still has this lamp, but I found a similar one just now here: Red Plaid Lamp. I couldn't resist and ordered one. Not sure where I'll use it, but it's so cute I would like to see it in person–and it's only available online. If I end up keeping it, I'll share it in a future post.
It took a couple of hours one night to remove all the ornaments from the old garland. Most were still in great shape, despite several years of use in the winter weather.
Last time I made the garland, I used some fairly thick green wiring that I already had. This time I remembered that I had some much thinner green wiring from my wreath-making phase many years ago.
When making this garland, I always start with the largest ornaments first and then move on to the medium and small ornaments.
I finished one garland last night, will work on the other one today. I hope to finish it today. I may not wrap them around the columns this year. I'm toying with the idea of placing the garland around my front door instead of the live garland I normally use. I'll have to see how it looks tomorrow (once I complete the other garland) to decide if I'll use it or some live greenery. I do love how much fluffier this garland is than my old garland!
NOTE: You'll find the tutorial for making this garland here: Pottery Barn Inspired Christmas Garland.
If you decide to make this garland for your front porch, this is the garland I used as my base to make it this year: Christmas Garland. I'm really pleased with how full it is and I'm looking forward to hanging it!
Remember this fun "Christmas Vacation" themed wrapping paper I used last year to wrap Christmas presents?
It's back again this year! I thought at first it was sold out because they had so few rolls showing left last time I checked. But apparently, they've found more because it's currently showing available. Not sure how long it will last since it tends to go quickly each year.
You'll find it available here: Wrapping Paper.
I also love this and had to order a roll. Sooo cute! You'll find it available here: Red Christmas Truck Wrapping Paper.
I ordered a couple of these 1955 red Chevy trucks to go on top of the presents wrapped with the paper above. Last year I covered all my grandson's presents with vintage cars and trucks after wrapping them in the "Christmas Vacation" wrapping paper. They loved it!
They don't need more cars/trucks this year since they still have all the ones they received last year, but I couldn't resist wrapping at least one of their presents that way for this Christmas. You'll find these cute red trucks here: Red Truck.
Looking forward to all the fabulous Before and Afters linked for this week's Metamorphosis Monday!
Pssst: I post almost daily to Instagram. Follow Between Naps on the Porch on Instagram here: Between Naps On The Porch.
If you enjoyed this post, subscribe for free email updates when a new post is up here: Subscribe for post updates.
Tip: If possible, please do not use a Hotmail e-mail address to subscribe. Hotmail's servers are notorious for filtering out perfectly good emails.
Metamorphosis Monday
Metamorphosis Monday is a party that's all about Before and Afters. If you are participating in Met Monday, please link up using the "permalink" to your MM post and not your general blog address. To get your permalink, click on your post name, then just copy and paste the address that shows up in the address bar at the top of your blog, into the "url" box for InLinkz when prompted.
In order to link up, you'll need to include a link in your MM post back to the party so the other participants will have an opportunity to receive visits from your wonderful blog readers.
Feel free to link up Before and After posts that are home, gardening, decorating, crafting, painting, sewing, cooking, fashion, travel or DIY related.
Be sure to include a link back to the party in your post, so your readers will be able to find and visit the other bloggers who are participating.
Do not link up to the party if you're only doing so to promote or sell a product.
To those linking up, if you notice a shop or online store linking up to sell products (yes, unfortunately, that happens) please let me know so I can remove their link and block them from participating in future parties. No one wants to visit a link expecting a Before and After, only to find a spam link to an online business/store.
–>
*If a post is sponsored or a product was provided at no charge, it will be stated in post. Some links may be affiliate links and as an Amazon Associate, I may earn from qualifying purchases. *