Welcome to the 376th Metamorphosis Monday!
The past couple of weeks have been busy ones. With friends coming to stay for a few days, I threw it into high gear and cleaned all those places that never seem to make it to the top of the cleaning list…things like shutters and molding.
During my cleaning frenzy, even though the pollen siege wasn't quite over, I wet a tissue (a la Mom) and tried to get that big, yellow, pollen smudge off the face of the screened porch. I think it looked presentable when my guests arrived. Just don't rub your hand over the top of the ceiling fans, never made it to those. That's a job that requires breaking out the tall stepladder I keep in the basement.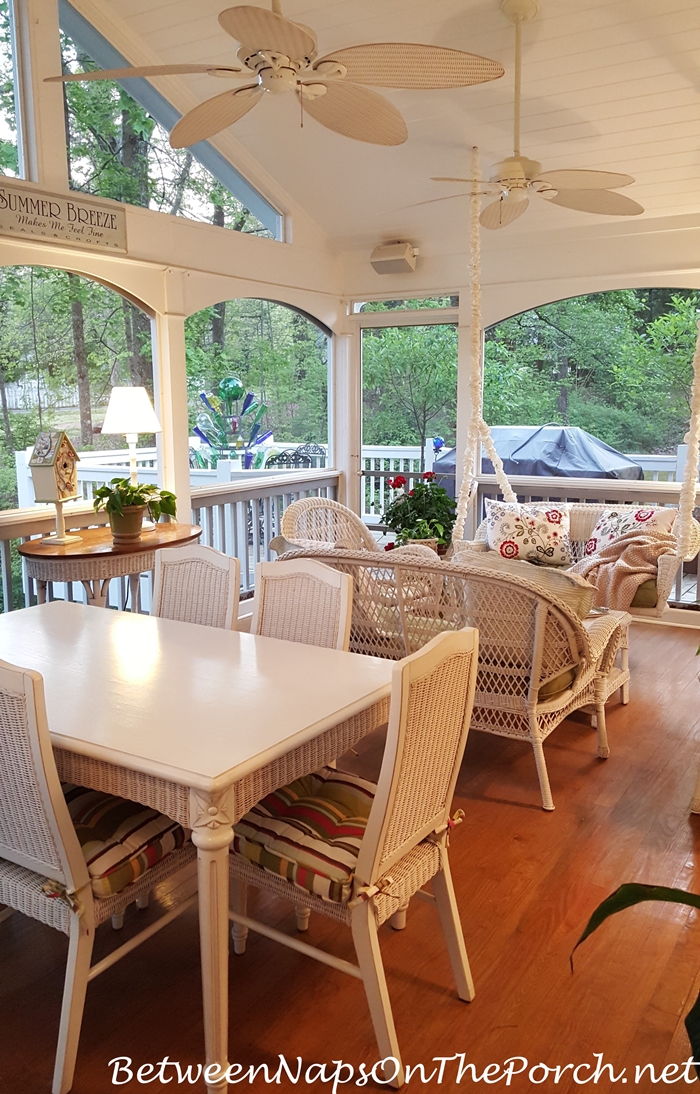 Last week I bought a pretty red geranium for the chippy chair I keep over by the swing.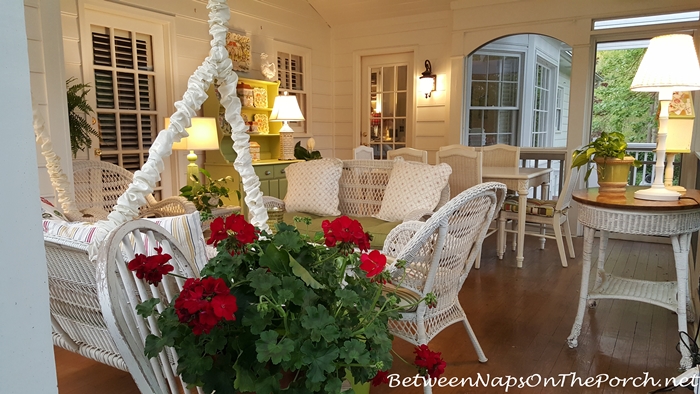 I even bought a fluffy Boston fern (couldn't find my favorite Kimberly Queen Fern that doesn't shed) and a Peace Lily for the corner by the hutch. I'm not the greatest with indoor plants so we'll see how the Peace Lily works out. lol
The hutch got a little makeover with my fave porch dishes, Tabletops Unlimited, Ma Maison. (Click those links for a couple of tablescapes with Ma Maison)
A little view through the screen in the evening as the sunlight begin to fade and the porch gets cozy for the night…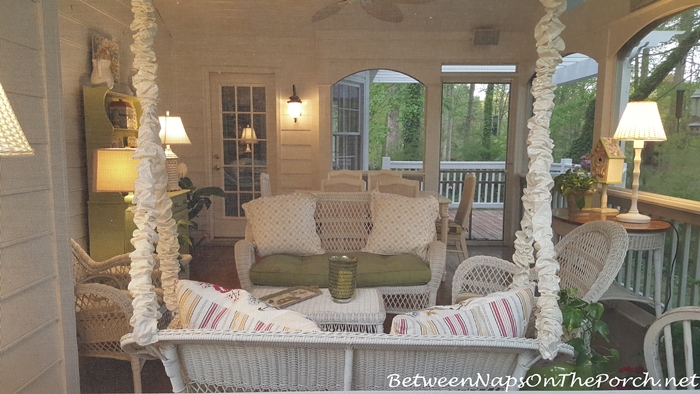 The pollen isn't near as intense as it was a week ago; I think pollen season is almost over. We had a gorgeous spring here this year. In another week the view through those windows will be all green.
Today, I need to hook the gas grill back up. It was disconnected when the decks were cleaned last Thursday. It has a "quick connect" attachment to the gas line, so that should only take a minute.
If you're interested in adding a screened porch to your home some day, check out this previous post for all the details on what was involved when I replaced my old deck with this porch: Screened in Porches: How Much Do They Cost to Build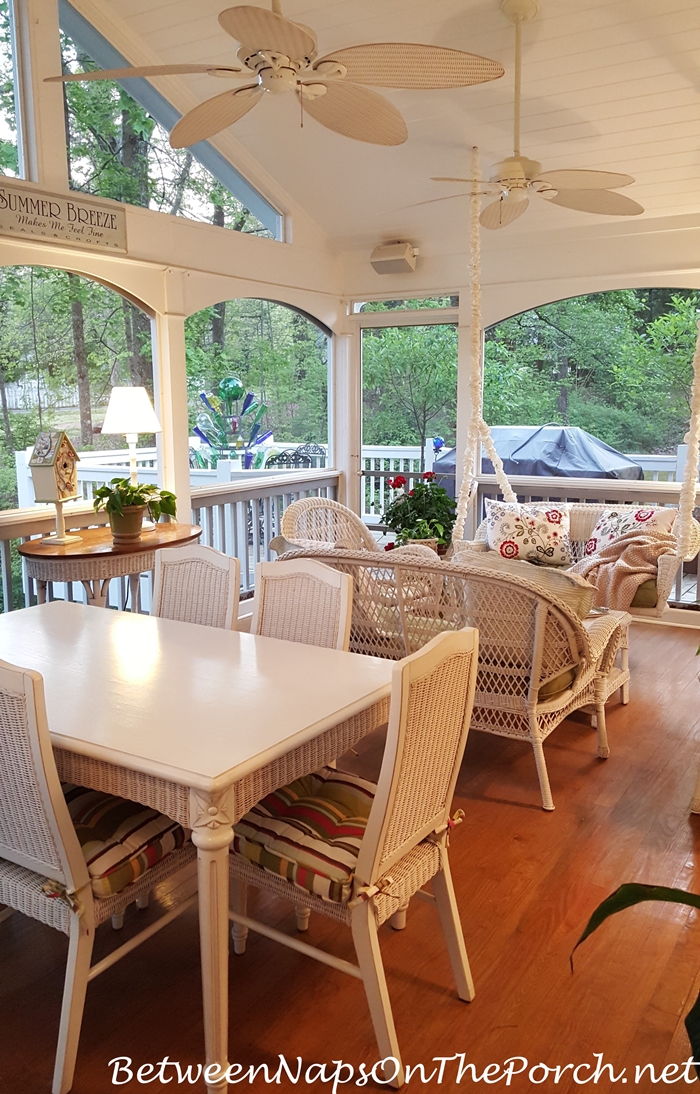 I have another job awaiting me today. The new post caps are primed and ready to be painted. I thought about using my paint sprayer to spray them, but I think I'll just hand-brush them. I want to make sure they each get a couple of good coats of paint. They will need it for all the cleaning they will get over the next few years, a necessity with a backyard full of trees.
What's on your agenda today? Is the pollen finally slowing down a little in your area, or are you further north where it's just getting started? It's worth it for all those gorgeous flowers and leafy trees! 🙂
Looking forward to all the wonderful Before and Afters for this Metamorphosis Monday!
If you are participating in Metamorphosis Monday, please link up using the "permalink" to your MM post and not your general blog address. To get your permalink, click on your post name, then just copy and paste the address that shows up in the address bar at the top of your blog, into the "url" box for InLinkz.
In order to link up, you'll need to include a link in your MM post back to the party so the other participants will have an opportunity to receive visits from your wonderful blog readers.
Please observe these few rules:
Only link up Before and After posts that are home, gardening, crafting, painting, sewing, cooking or DIY related.
Do not link up to the party if you're doing so to promote a website or sell a product.
Do not link up a post that was just linked up last week since readers would have already seen that post.
Please do not link up more than 3 posts per week.
*If a post is sponsored or a product was provided at no charge, it will be stated in post. Some links may be affiliate links and as an Amazon Associate, I may earn from qualifying purchases. *