I'm late as usual in sharing my favorites for this past month. Spending a week out of town with family and working on taxes (ugh) has me a bit behind.
My most favorite item for the month of March has to be this car handbag holder that I shared a few weeks back. It works exactly as I had hoped it would keeping my bag out of the sun and from flying off the seat into the floorboard if I have to brake suddenly.
A few days ago I was carrying a larger bag that's kind of a small tote. I ended up lowering the holder a good bit (it's adjustable) so now it's positioned lower and closer to the back of the console than it was in this picture below. I wish I had thought to take a photo. If you would like to see how it looks with a larger bag/tote in place, let me know and I'll take a photo and add it to this post. Definitely loving this item! You'll find this handbag hold here: Handbag Holder for Car.
See my previous post about this handbag holder with more detailed photos here: This 16.99 Product Changed my Life!
Update: A few folks requested I add some photos to show how a larger handbag/tote fits in the holder. Here are two photos I took this afternoon with the tote I took with me to Ohio this past week. I used it for a few days after I returned and that's when I discovered a larger bag/tote works fine in the carrier/holder.
As mentioned, I lengthened out the straps (which are adjustable) a week or so ago. That worked out even better for the tote since it's taller than a regular handbag. So the carrier hangs several inches lower than it did when I first installed it.
For reference, this bag/tote measures 13.3 inches wide x 5.7 inches deep x 11.6 inches tall.
The view from the front…
Again, you'll notice I have the cording draped through my armrests on the two front seats since I don't have a console that opens from the front as one would normally use for this handbag holder. My console works via push button and opens in the center. But I still made it work and the holder doesn't budge, even if I lift up one of the armrests. Very pleased with how this has been working for holding my handbags/totes in the car.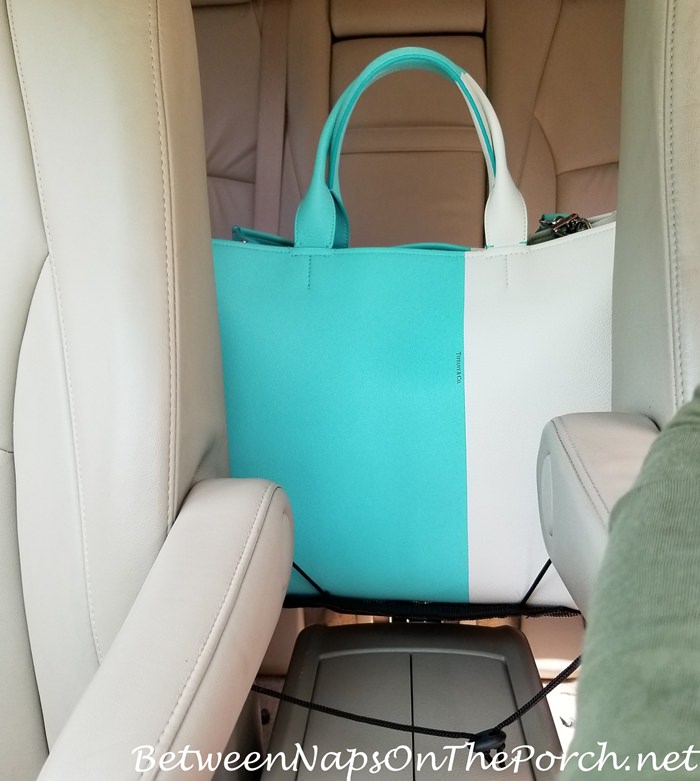 Here's how it looks from the back…
Some tips: I find a bag will hang a bit more even/straighter if the two front seats are positioned about the same distance forward/back. It still works fine if one seat is further forward or back, but it just hangs at a bit of an angle. Still works, though.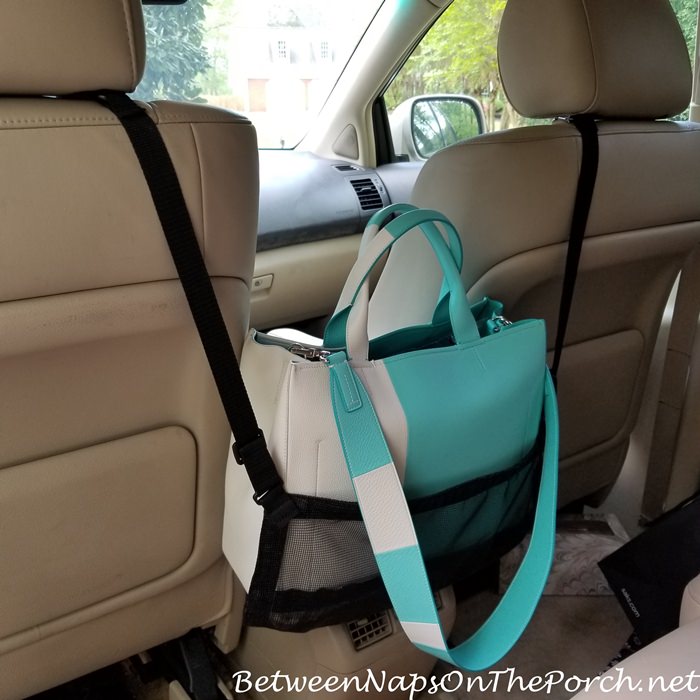 Stylus Pen for iPad/Notebook/Phone
I'm hooked on an app called, Happy Color. I just discovered it after a YouTuber I follow shared it in a video. It's sooo addictive! I rarely use my iPad, but it's gotten quite a bit more use over the last few weeks than it has in a very long time. Happy Color definitely makes waits in airports and plane flights pass quickly.
I needed a stylus pen before I wore my fingertip out! Ha! So I purchased this set and I really like them. They are perfect for an iPad, notebook, phone or any device like that. You'll find this set here: Stylus Pens.
You can thank me later for your addiction to Happy Color! 😉
Best Trash Bags I've Found for 13 Gallon Kitchen Trash Cans
I've been searching forever for trash bags that were easy to use in my 13-gallon size kitchen trash can. Seems like most bags are too tight to easily get over the rim and/or they never cinch up and tie properly when it's time to tie them up to dispose of them. The ones I've been using are especially bad, even though they are a well-known name brand.
I found these recently and they had outstanding reviews (91%-5 Star after 1,136 reviews) so I decided to give them a try. I ordered the biggest set (270) and I will not need bags for a very long time. If you would like to give them a try before committing to 270 bags, you may want to order the next size down, which is 90 bags.
The quality is excellent and I'm very pleased with how well they fit over the rim of my kitchen trash can. They do not slide off the rim since they are big and deep, not so shallow like so many bags are these days. Also, they tie up beautifully…no more flimsy straps that break or don't close off the bag completely. Very happy with these and will definitely order more when I need them. They are available here: Trash Bags.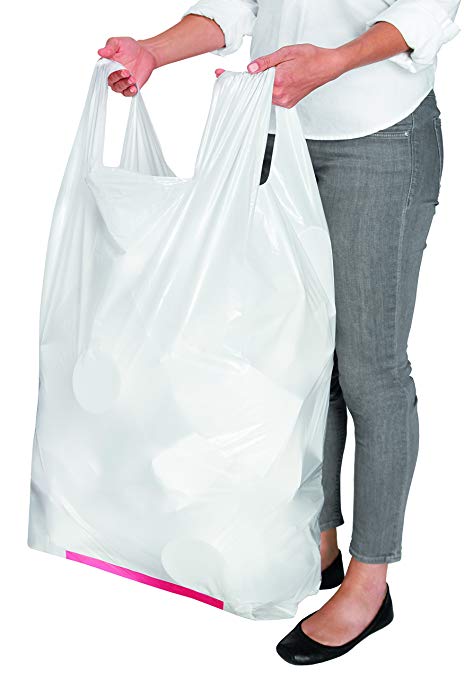 Lovin' My Sunhat!
I'm enjoying this pretty sun hat I ordered recently. I've worn it a few times and gave one to my daughter-in-law, as well. She wore her hat on an all-day outing to Keeneland in Lexington, Kentucky that she and my son attended with friends this past week while I was there visiting. I'm looking forward to wearing it a lot this spring and summer. I hate putting sunscreen on my face, this hat keeps the sun off my face so I don't have to. You'll find it in 4 colors here: Sunhat.
Psst: The code TNUCKab416 will give you 10% off if that code is still valid. That's the one I used when I ordered my hat.
Agatha's on DVD Now…Yay!
The second season of Agatha Raisin is available to watch on Acorn now, but unfortunately, they haven't filmed that many shows yet. While I wait for the rest of the season to appear, I came across the whole first season (9 episodes) available on DVD. Awesome!
Since it's so rare I find anything I like to watch these days (everything is usually too violent for my liking) when I saw the first season was available on DVD, I had to purchase it. I love that this show is filmed in the Cotswolds. The show is original, intriguing, funny and entertaining, but I'd watch it just for the houses and scenery! lol Yup, I really would!
If you're an Agatha Raisin fan, you'll find the whole first season (all 9 episodes) available on DVD here: Agatha Raisin. It also includes some behind the scenes"featurettes" and a photo gallery. I love knowing I have it just in case Acorn goes away one day or no longer has the past episodes available.
Random Life Hack
I have to share this cool thing I saw/learned the other day. I was returning something in a local store and the very nice gentleman who was helping me was having trouble reading something on the terminal/computer he was using to complete the return. He took out his camera and took a photo of the thing he was trying to read, saying he had left his readers in his car by accident.
So what he does when he runs into this issue is he takes a photo of whatever he is trying to read, then uses his fingers to expand the image on his phone. I thought that was brilliant! I don't run into that issue unless I'm wearing multi-focal contacts, which I am trying again right now with zero success as usual. I won't bore you with that story.
Since I'm quite nearsighted and usually wearing glasses, I can just lift up my glasses to read tiny writing, but I wanted to share this cool life hack with you in case you run into this issue from time to time. Amazing all the stuff we can do with a cell phone!
Bonus Favorite:
I enjoy the occasional Ice Coffee but it's hard to find without sugar unless you get it completely plain. I just discovered yesterday that Dunkin Donuts has unsweetened ice coffee in several different flavors. So far I've just tried their Toasted Almond (purchased via the drive-thru) and it was yummy! I'm looking forward to trying some of the others.
Have an awesome weekend! See you on Monday for Metamorphosis Monday!
Pssst: Leave me a comment sharing the apps/games you're hooked on, as if I need another one. Ha! 🙂
*If a post is sponsored or a product was provided at no charge, it will be stated in post. Some links may be affiliate links and as an Amazon Associate, I may earn from qualifying purchases. *