Welcome to the 541st Metamorphosis Monday!
No big Before and Afters happening around here so I'm taking you on a little garden tour for this week's Met Monday. Actually, now that I think about it, there are a couple of really cute Before/Afters in the garden!
A few days ago, a friend and I enjoyed touring five beautiful gardens as part of The Secrets Gardens of Avondale spring garden tour.
I loved the entrance to this little "secret garden."
This secret garden was a small, shady area alongside the home. Since it was so shady, there weren't a lot of blooming plants or color. It was very private and cozy, though…a good place for an afternoon nap or some quiet reading time.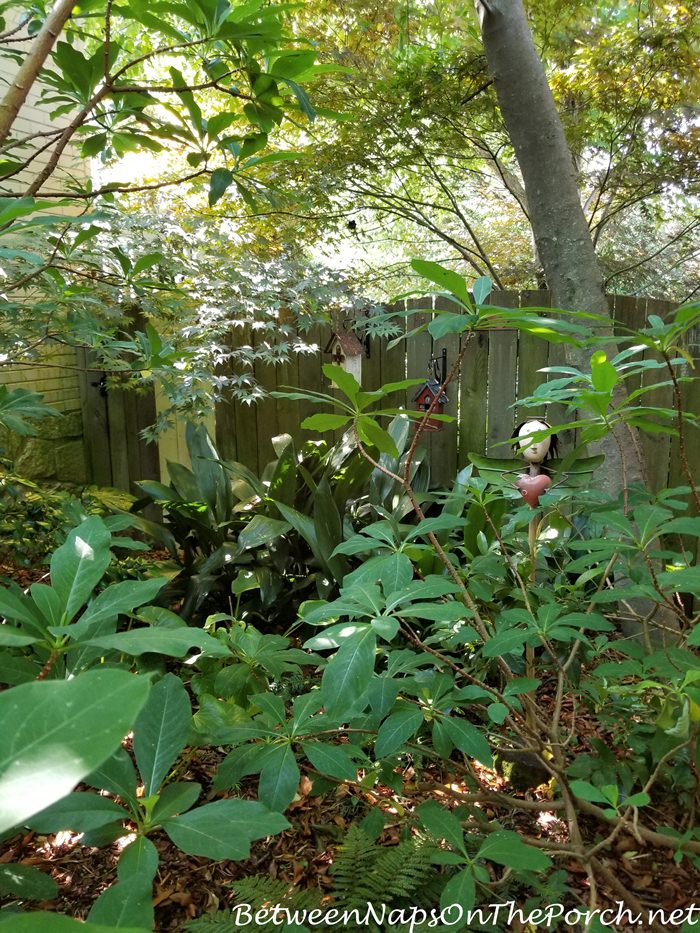 This garden was the same garden that had the wonderful screened summer house I shared a few days ago in this post: Life in a Summer House, Step Inside a Cozy Screened-in Gazebo. As mentioned in that previous post, of all the gardens we saw that day, this one was my favorite. It was filled with wonderful "rooms" and so much whimsy.
Here's a little Before and After…the repurposing of a birdbath into a pretty planter for the garden. Love this idea!
I love a pretty window box. Imagine being inside that room and opening back the shutters to discover a little garden growing just outside!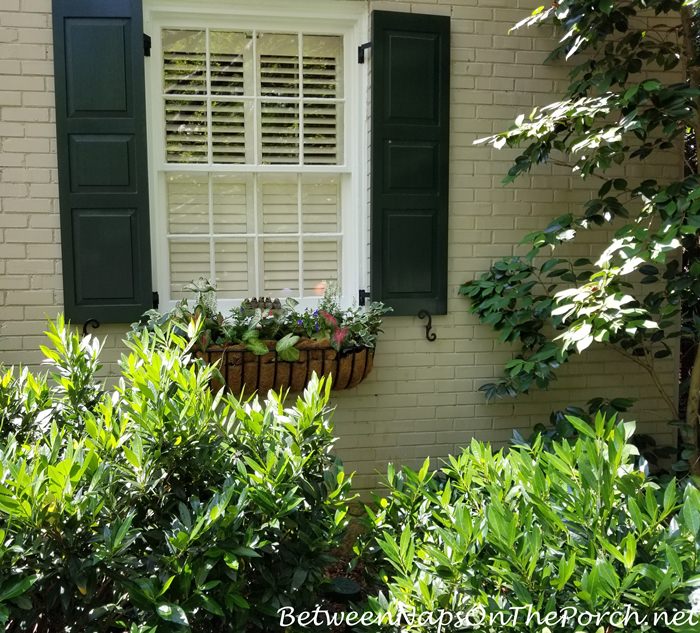 Here's a second little Before/After, a way to repurpose old flatware.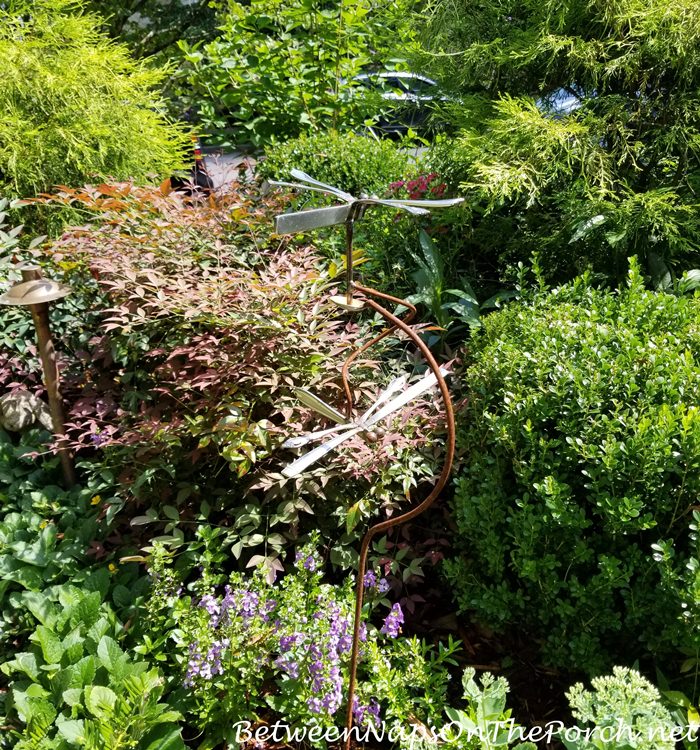 If you have some old stainless flatware that's pitted and not in the greatest shape anymore, turn the handles into dragonflies for a bit of whimsy in your garden. I like the one on bottom best…the tapered handle makes a really cute dragonfly body. lol
This wonderful garden gate took us into the backyard. I love the dragonfly knocker and the wonderful green color of the gate.
So, I came to a realization in this garden, something I sorta knew already, but this garden really confirmed it. I have come to realize that my favorite gardens are the ones with lots of "rooms." Just as I'm not that crazy about homes designed with big, open interiors, I love a cozy garden with a lot of little rooms, over having a large expanse of lawn. It just feels so warm, intimate and inviting and around every corner awaits another wonderful surprise.
Everywhere you turned, there were little spaces to sit and enjoy in this wonderful backyard. I'll share more of those in an upcoming post this week for Tablescape Thursday. You are going to be delighted when you see all the lovely spaces for dining, but today we're just focusing on the seating groups. This lovely space was near the house, just at the foot of the deck stairs.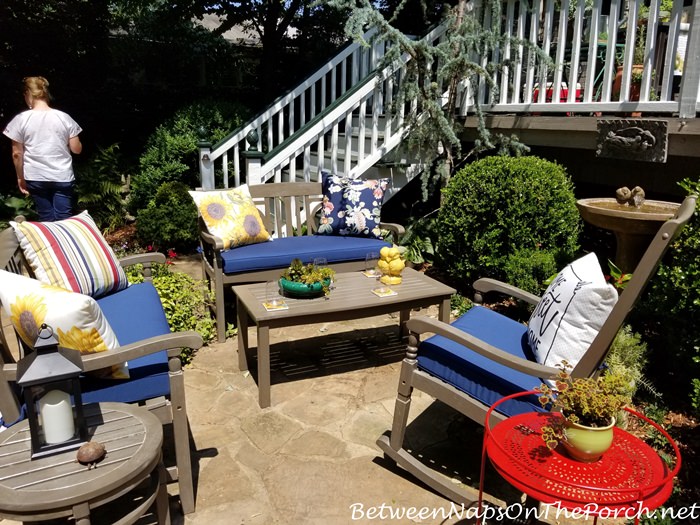 Every garden needs a cute bunny to help with the weeding.
Notice all the little touches of color and whimsy throughout this garden–like this pretty blue and white urn tucked against a bed of bee balm.
Another beautiful "room" to sit and read or just enjoy the garden and the birds singing their spring songs.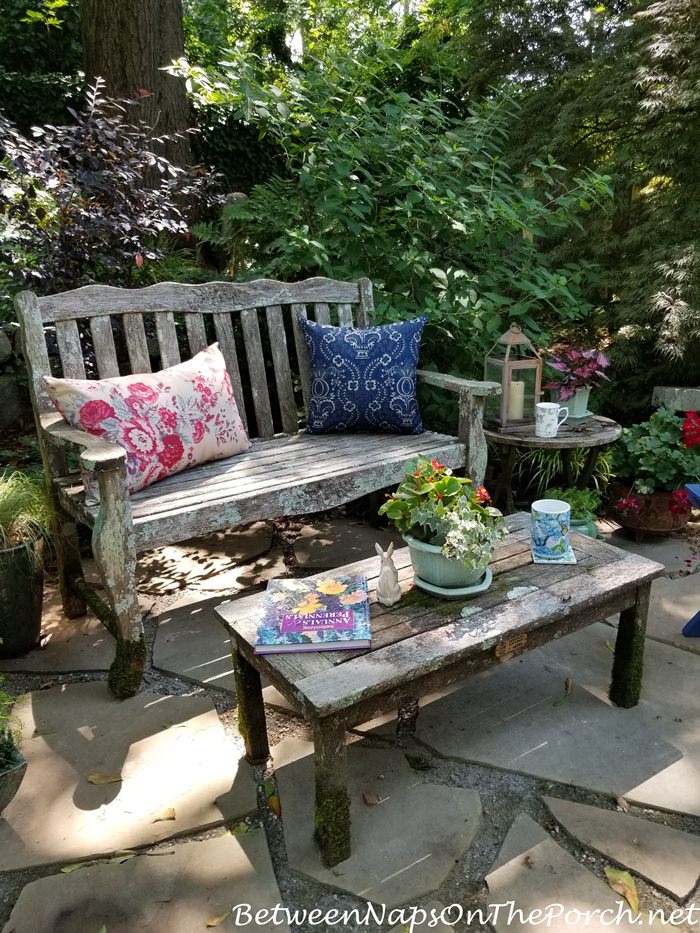 I would have trouble choosing where to sit, there were so many lovely areas to enjoy!
Just outside the summer house at the very back of the garden, we found an artist hard at work. That was one of the neatest things about this garden tour: at each home, an artist could be found painting a pretty scene from the garden.
I snapped this photo of an artist working in the backyard of another home.
I loved this painting—loved her style of painting! I wish I had thought to ask for her card or contact information. I noticed another one of her paintings on the bench nearby was already sold.
I can't wait to share the pretty tables we saw in the garden this Thursday for Tablescape Thursday! Have you taken any garden tours this spring? This one definitely provided so much inspiration! Love a great garden tour!
Metamorphosis Monday
Metamorphosis Monday is a party that's all about Before and Afters. If you are participating in Met Monday, please link up using the "permalink" to your MM post and not your general blog address. To get your permalink, click on your post name, then just copy and paste the address that shows up in the address bar at the top of your blog, into the "url" box for InLinkz when prompted.
In order to link up, you'll need to include a link in your MM post back to the party so the other participants will have an opportunity to receive visits from your wonderful blog readers.
Feel free to link up Before and After posts that are home, gardening, decorating, crafting, painting, sewing, cooking, fashion, travel or DIY related. Please do not link up to the party if you're only doing so to promote/sell a product.
To those linking up, if you notice a shop or online store linking up to sell products (yes, unfortunately, that happens) please let me know so I can remove their link and block them from participating in future parties.
This party has ended, click button below for the links to all who participated.
*If a post is sponsored or a product was provided at no charge, it will be stated in post. Some links may be affiliate links and as an Amazon Associate, I may earn from qualifying purchases. *