I've been weeding the gardens (still have so much more to do!) and this trash bag holder has been invaluable! It's almost like having a second person helping you, holding the bag open while you toss stuff in.
I've been impressed with how well it works, even when I'm tossing in heavier stuff the bag has never comes loose. I use it so much, I leave it out full time in my garage for easy access. I think it's one of the most helpful purchases I've ever made for use in my garden and for just general cleaning like when I'm cleaning out the garage or closet.
You'll find it available here: Trash Bag Holder (Note: The one I have and love is the third one over on that page, the one listed for $21.82.)
Lately, I've been trying out various types of straws as a plastic straw alternative. So far, I've found I did not like silicone straws…they stick to your lips which is not a pleasant drinking experience. lol Another set of straws that I tried were too small and it was exhausting trying to suck up liquid through them.
So far, I really like these cute bamboo straws.
This set comes with a variety of straw sizes/widths so you can choose the one that fits with the type beverage you're drinking. Several are wide enough for really thick milkshakes. Plus, they don't stick to your lips like the silicone straws I tried.
I like the cleaning brush that came with this set, it really does a good job at cleaning them. I also like the cute little bag for carrying a single straw with you when you're on the go. You'll find these here: Natural Bamboo Straws. I think they would make great stocking stuffers. It's never to early to start picking those up.
I absolutely love this organizer I purchased for holding groceries and such in the back of my SUV. I forgot and left my regular reusable bags in the car this day, but you can see some of what it holds. It actually holds more than what it looks like here because some stuff is hidden behind the cereal boxes. I love the smaller compartment at the back on the left because it perfectly holds two 1/2 gallons of A2 milk or any similar beverage. Of course, that compartment is adjustable by just removing the partition where it's velcroed in. I've used it several times now and I've never had anything turn over during the ride home. Also, the organizer doesn't slide around. I'm very pleased with how it's working, definitely an improvement over the cardboard box I was using! You'll find this Trunk/SUV organizer here: Organizer.
I always have a problem opening pull tabs on some cans (like tuna) and small bottle tops. I purchased this recently and it works great! I bought the set that comes with three so I could keep one upstairs, one downstairs and give one to my son and daughter-in-law which I'll do next week when I'll be visiting with them. This would be another great stocking stuffer. You'll find this opener here: Bottle/Pull-tab Opener.
Tip: I discovered the first time I used this opener that it works best when you actually turn it the right way. Ha! Yup, I actually did that!
I don't have personal experience with these next two items but my daughter in law, Nancy, said my two grandsons (ages 3 and 5) loved using them for the beach vacation they took the week before Memorial Day. I sent her photos of the bags in advance and we let the boys each choose the bag design they wanted.
She sent me a video when the bags arrived and they were beyond excited, having never had their own suitcases before. I loved watching them in the video, checking out all the little side pockets and how they rolled, all the things we as adults take for granted in suitcases.
After the trip, I asked my dil via text message if they were able to pull them by themselves during the trip. Here's her reply below. The card she's referring to is a funny birthday "cow" card I had sent to my youngest grandson–his birthday was this past week. Excuse the typos, I voice-text all my text messages and Google never gets my accent! lol It also capitalizes random words for no reason. Has anyone else had that problem?
It cracked me up that they slept with their suitcases for the first few nights. lol Have you ever done that as an adult–bought something that you loved so much, you slept with it for a few nights. I confess I have done that–once with a bracelet that I didn't want to take off. 🙂
You'll find these two, plus many more styles (for boys and girls) here: Rolling Suitcase for Children, Boys and Girls.
I can't remember if I shared these in last month's favorites or not, but I am still loving my pink sneakers. I ordered these in my regular size but had to exchange them for 1/2 size smaller. Those fit great! Love these for summer! You'll find them here: Pink & White Sneakers.
Hand-made Party Themed Cookies
Know anyone who has a bit of handbag obsession? (Raises hand.) I recently ordered a dozen of these as a gift and they were a huge hit! They would make a great birthday present for the handbag lover, or to serve at a luncheon or party.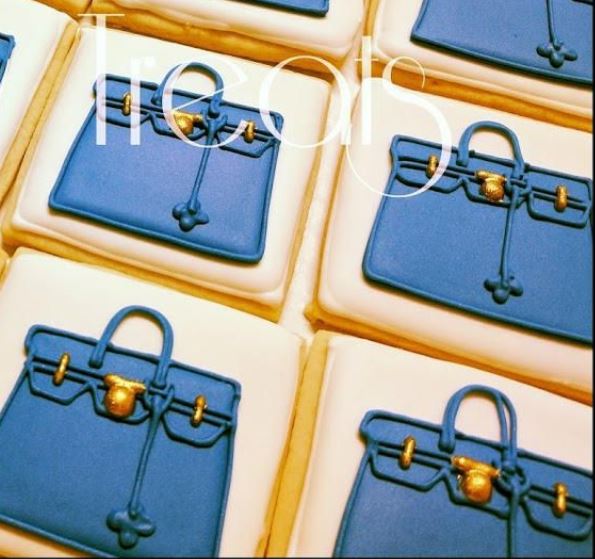 They are designed to look very similar to the infamous Hermes Birkin bag.
They have so many cute designs, including Paw Patrol Cookies. I need to order some of these for my grandsons; they love watching Paw Patrol!
The "Monopoly Game" cookies are hilarious! If you are planning a Monopoly board game party or any kind of game party, these would be great! You'll find all these cookies here: Hand-made Cookies.
Have you ever played Cornhole? I had never played until a few a couple of years ago when I was visiting my son. He and a good friend had constructed their own cornhole board set. Ever since then, we play almost every time I'm there if the weather allows. We are all addicted! lol
If you are having a summer gathering or have grandchildren over regularly, you need a set of cornhole boards. They are so much fun! Good exercise, too. After several hours of playing, you feel it over your whole body. Apparently, you use a lot of muscles when playing.
When we play, we don't want to stop. We'll sometimes play long after the kids are in bed and have been known to play until well after midnight. It's addictive…did I mention that? lol
If you would like to purchase boards, I found some really cute ones online recently when purchasing new cornhole bags for my son and dil. The last ones they had were eaten by a squirrel! No joke. My grandson looked out the window onto their screened in porch and said, "A squirrel is eating our bags!" And he was right, he caught him in the act! Ha!
You can see the many different designs available here: Cornhole Board Set. Also, at that link, they have unfinished boards that you can paint yourself. I wish I'd had a set of these when my son was growing up. They would have been perfect to set up on my front lawn for him and his friends to play during the summer and on weekends.
These are the bags I purchased for my son and dil a few months back. You'll find them in a bunch of different colors/designs here: Regulation Cornhole Bags. When buying the bags you want to make sure they are made with real, whole-kernel corn, something my son says is very important. Not sure why that's important but I think it has to do with how they function when thrown. Just don't leave them out on a porch! Ha!
I also purchased a set of these for my son and dil since they are both UGA graduates. You can see all the various sports-team-themed bags here: Sports Team Themed Cornhole Bags.
Have an awesome weekend! See you on Monday for Metamorphosis Monday!
*If a post is sponsored or a product was provided at no charge, it will be stated in post. Some links may be affiliate links and as an Amazon Associate, I may earn from qualifying purchases. *