Welcome to the 309th Tablescape Thursday!
Little Announcement: Before we dive into Tablescape Thursday, I wanted to give an update on the Between Naps On The Porch group tablescaping boards recently created at Pinterest. Thanks to everyone who joined the boards. The tables that are being pinned are stunning! Love seeing them all!
If you requested an invite to one of the boards but haven't received it, please double check to make sure you are "Following" Between Naps On The Porch at Pinterest. If you are following BNOTP, the invite should be waiting for you when you next log-in to Pinterest.
I was unable to send invites to several folks. When I attempted to send out the invite, Pinterest wouldn't send it saying they were not "Followers" of BNOTP at Pinterest. In order to join a BNOTP group board, Pinterest requires you be a Follower of BNOPT at Pinterest. So if you haven't gotten your invite, that's probably why since almost all of them have been sent out now.
If you missed the post where I announced the tablescaping group boards, check out this previous post: Pin With Me, Join My Tablescape Group Boards You can also request an invite via that previous post if you would like to join a group tablescaping board.
As mentioned in that previous post, you don't have to be a Blogger to join one of the boards at Pinterest. Anyone can participate and enjoy pinning beautiful tablescapes to the boards, wherever you find them online.
Dining On A Summer Porch
I'm taking you back out on the porch for this week's Tablescape Thursday. Notice anything different?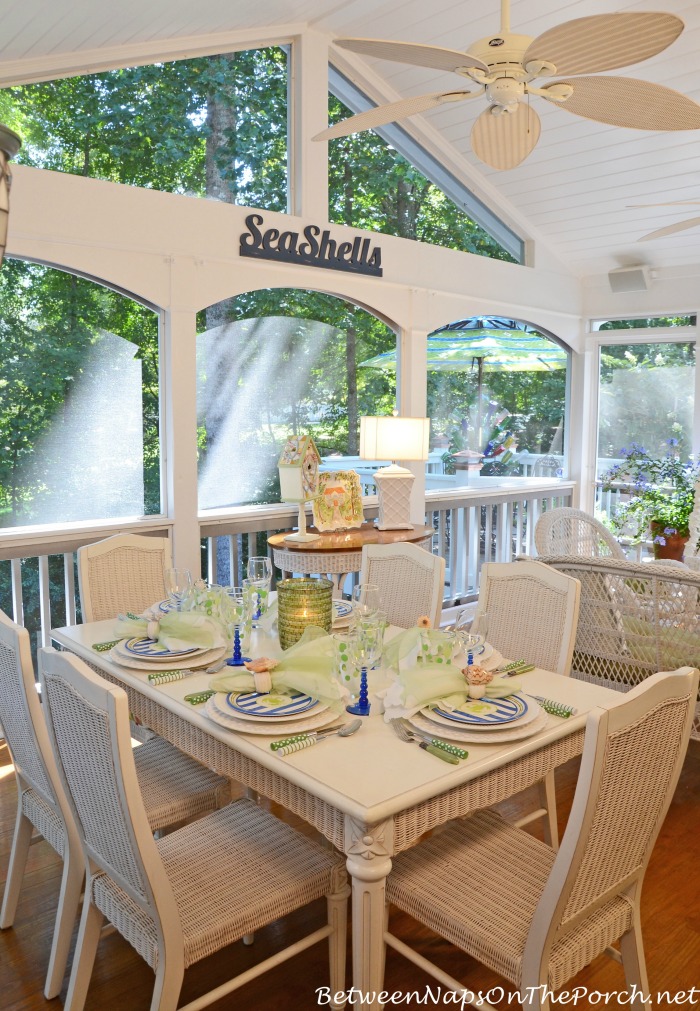 This picture from last week's Tablescape Thursday may help you spot a change I made.
Did you spot it–the little change I made to the porch for this week's Tablescape Thursday? It's pretty hard to miss, isn't it?
I found the navy-colored "SeaShells" sign in Marshalls last summer. I wasn't sure how I'd use it when I purchased it, but it was so inexpensive (just $12) I couldn't resist bringing it home since I love decorating and tablescaping out on the porch in a beach-inspired theme from time to time.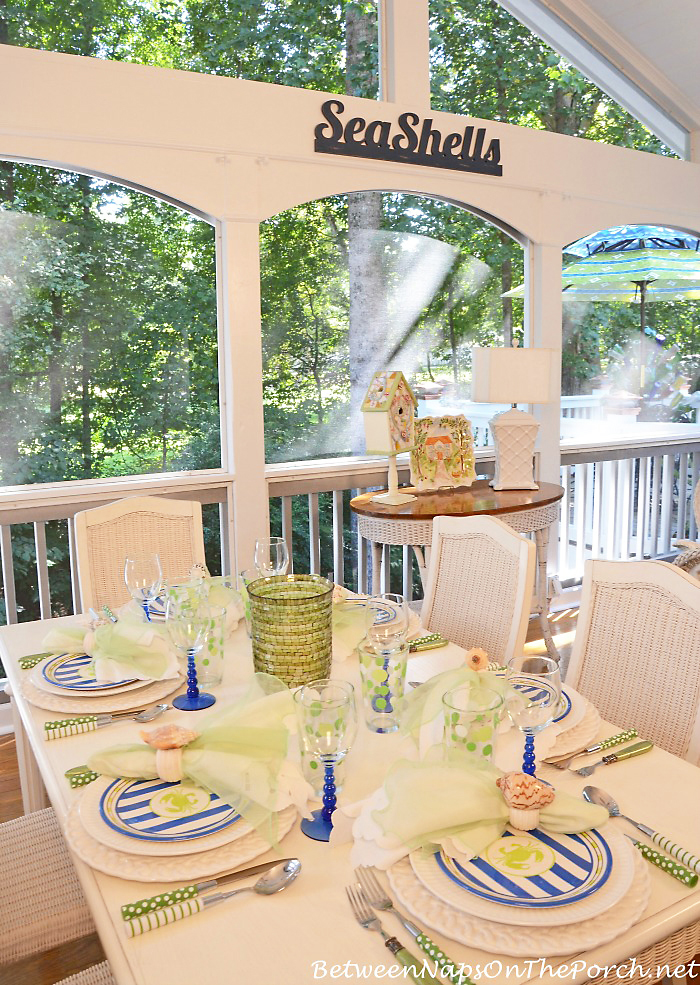 Summer is still in full swing here in Georgia, although today had me thinking of fall since the temps were much cooler than normal for August.
I've always loved seeing blue and green used together in decorating. Today I paired them for a summertime table with a beach theme. I kept the centerpiece super simple, using a green lantern that normally lives on the wicker coffee table here on the porch. I started to place a few shells around it and decided to just leave it, as is.
I've used the crab salad plates in table settings here on the porch before. They came from HomeGoods back in 2010.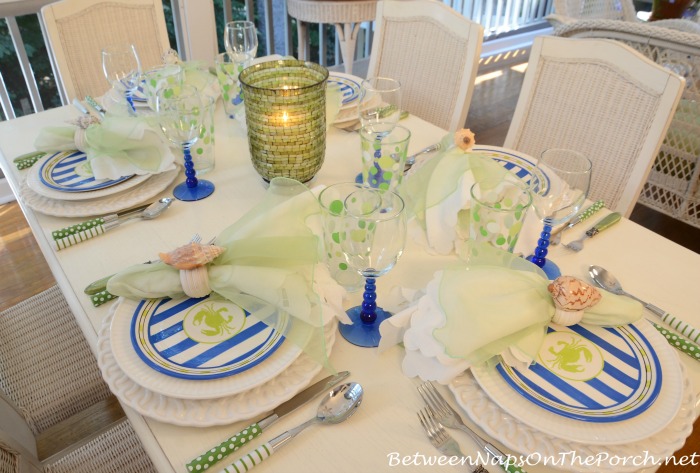 The green/white, polka-dot and striped flatware was found on eBay. The seller had them labeled as being from Pottery Barn but I'm not sure how accurate that is since they didn't come in their original packaging. The set didn't include a salad fork so I used a fork from another set of flatware.I love mixing and matching flatware in tablescapes. Don't you think it makes for more interesting table settings?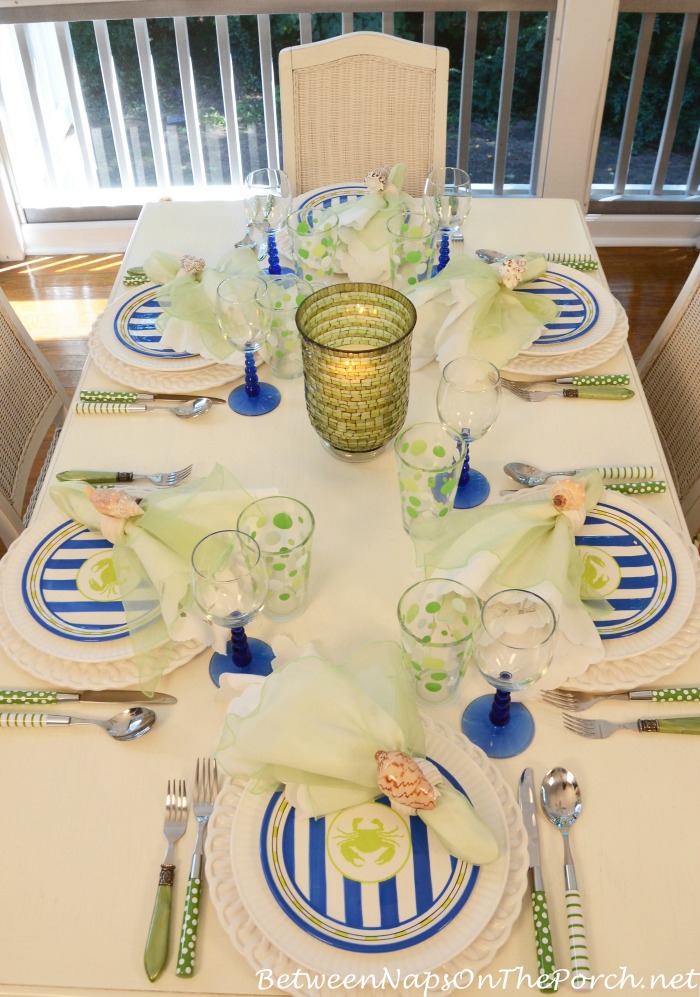 The shell napkin rings were made from hot gluing large shells to plain, white wood napkin rings.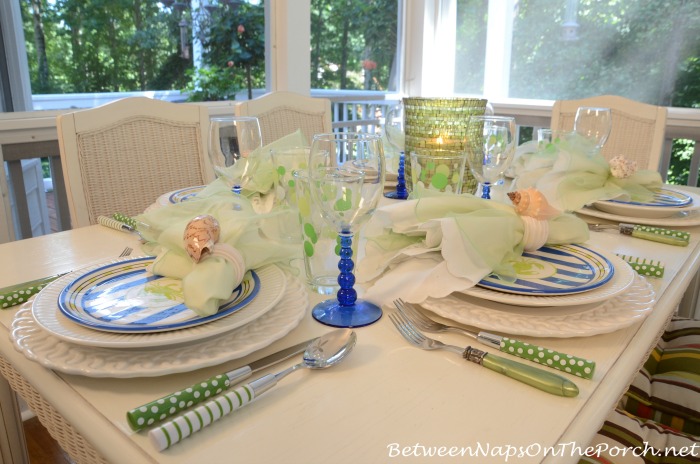 The green polka-dotted glasses are from the dollar store last summer. The wine glasses are also from the dollar store several years ago.
I can never remember the name of this flower. I wintered it over in this pot in the garage this past winter and it has been blooming like crazy all summer. I brought it in off the deck and placed it where I normally have a red geranium here on the porch. The geranium is busy sunning itself on the deck today so this lovely flower is filling in. Update: Thanks to everyone who helped identify this sweet plant…it's Plumbago.
Are you having beautiful weather right now, too? I'll be having friends over this weekend for a cookout so I really hope this weather holds through the weekend. Do you have any special plans for the weekend?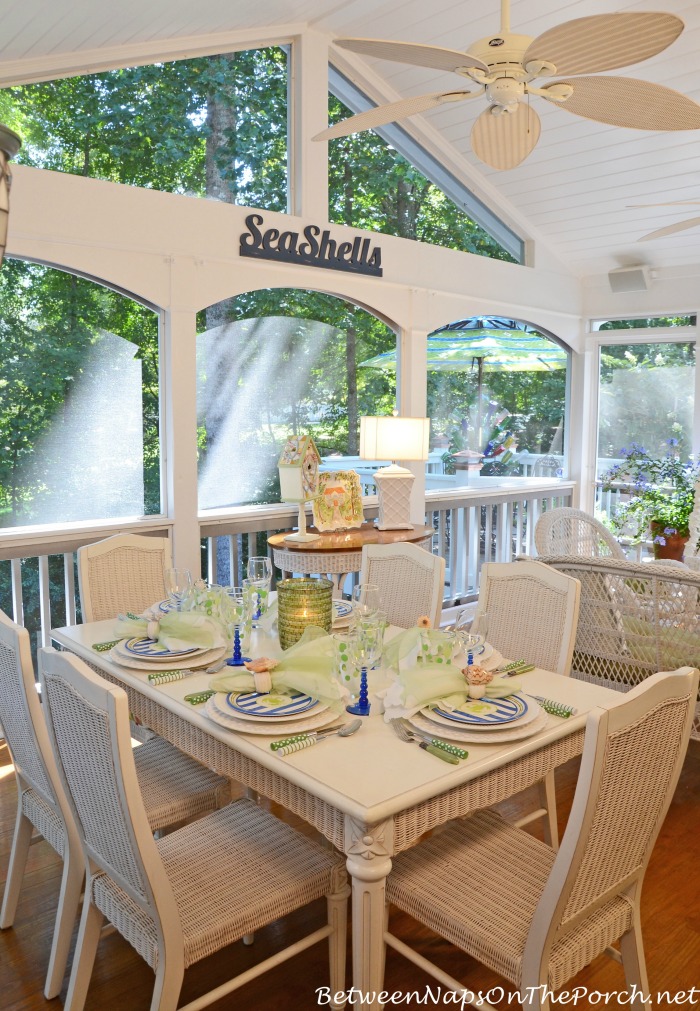 Looking forward to all the beautiful tablescapes posted for this week's Tablescape Thursday!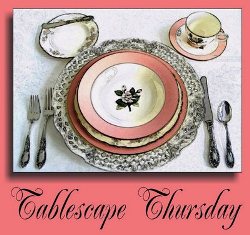 If you are participating in Tablescape Thursday, please be sure to add your permalink below, and not your general blog address. To get your permalink, click on your post name, then copy and paste the address showing in the address bar, into the "url" box when you link up.
You'll need to include a link in your post back to the party in order to link up and participate. That's so visitors to your blog will be able to find the party and the other Tablescape Thursday participants. Requiring a link back also prevents businesses from linking up to sell their products. (Yep, that really happens, unfortunately.)
If you would like to use the Tablescape Thursday logo button in your post, just copy and paste it to your computer and upload it to your post as you would any photo.
Please, don't add your post name/blog name ALL IN CAPS…it tends to create big spaces between the rows of links.


*If a post is sponsored or a product was provided at no charge, it will be stated in post. Some links may be affiliate links and as an Amazon Associate, I may earn from qualifying purchases. *