Did you try to access BNOTP today and found yourself staring at a blank page? I awoke this morning, sat down to create a post and discovered that was not going to happen. Apparently Comcast was experiencing some kind of major routing/networking issues and it effected many sites nationwide.
My host, Liquid Web, was effected by the outage and from what I read online, the outage impacted several network providers including Comcast, AT&T, Time Warner and Verizon. Unfortunately, the routing for the zone where my server lives was effected by the Comcast outage. So glad things are back up and working now because I have a beautiful home to share with you!
2014 Southern Living Idea House at Palmetto Bluff in Bluffton, South Carolina
I'm super excited to take you on a tour of this year's Southern Living Idea House here at BNOTP! Were you able to tour it in person this year? In the past I've had the chance to tour a Southern Living Idea Home when it was here in Georgia and it's always a great experience. I'll link to that tour at the end of this post in case you would like to see it, too.
This years Southern Living Idea House is located in the Lowcountry in Bluffton, South Carolina. It's surrounded by a forest of pines trees on one side a beautiful lake on the other. Doesn't this look like the picture of serenity?!
If you haven't yet toured this home but live near the area, it will be open for tours through December 14th, 2014.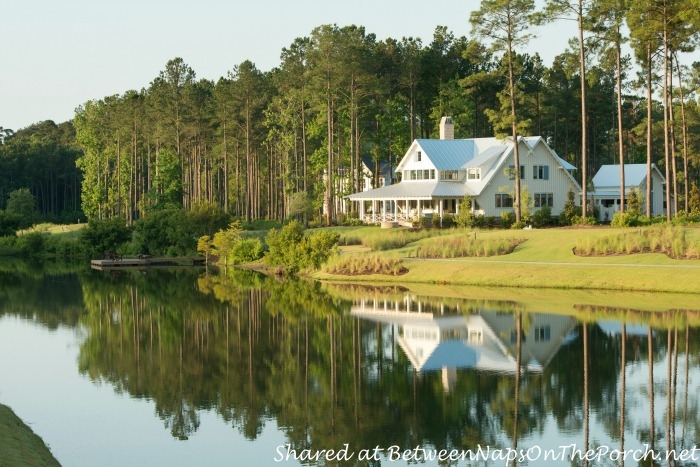 Love seeing the reflection of the home in water…so beautiful! Notice the metal roof–such a practical design that will last for many, many years. The architect for this lowcountry home is Ken Pursley. He worked closely with designer, Suzanne Kasler to create the home and interiors you'll be seeing in today's tour.
I'm thrilled to see it has a porch! Let's go take a closer look!
What do you think? Could you spend your mornings and evenings here?
Forget mornings and evenings…let's just stay out here all day! You could do some serious entertaining on a porch this size, couldn't you?
Such a beautiful view!
The table we get of glimpse of in this picture below is a large table that's perfect for dining outside. It will easily seat six.
I think I see a fire pit…let's go take a closer look.
Before we head out to view the fire pit, let's grab a drink here from the outdoor bar.
Would you like a straw with your drink?
A perfect spot for grilling out!
The fire pit will no doubt be put to good use in a couple of months when cool weather begins to move in.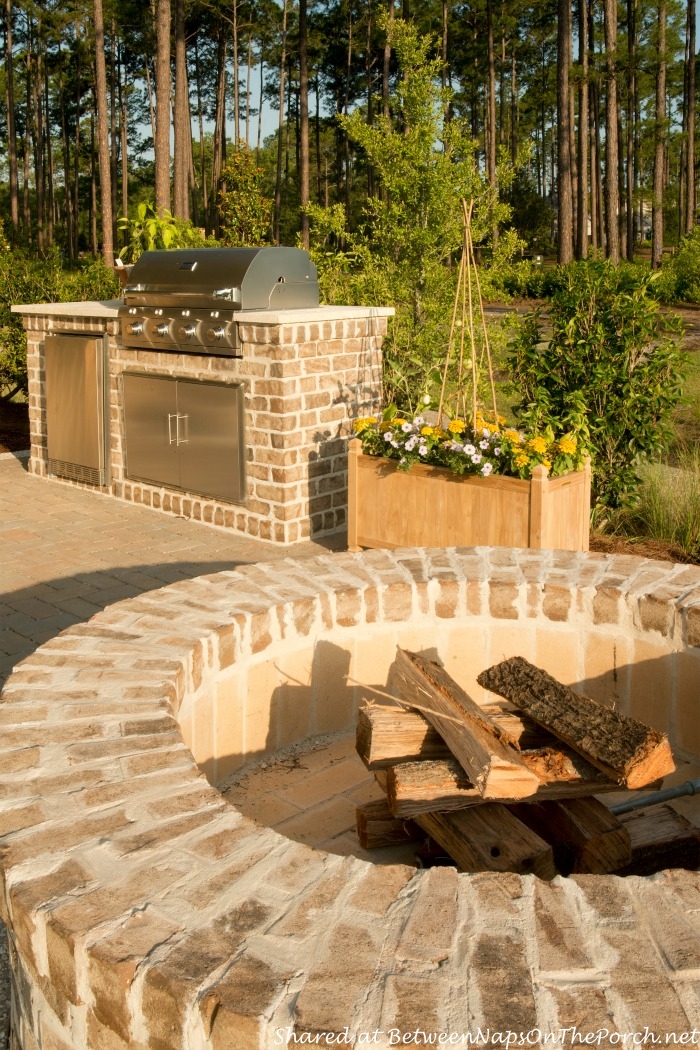 Another great spot for a cozy dinner for four. Love the view!
As you enter the home through the front door, you get a view of the dining room. Suzanne Kasler was going for a casual elegance when she combined the beautiful lighting with more rustic elements on the table.
Just beyond the dining room you'll find the living room. The windows overlook views of the marsh. This room was large enough to create two separate seating areas. I can't see it but there's supposed to be a hidden, upholstered door near the hearth. Can you guess where it leads? You'll see in just a sec.
The hearth is made of blackened steel and it houses the TV along with built-in bookshelves. The TV kind of disappears into it, doesn't it.
A view looking toward the other seating area here in the living room…
Love the views from this side of the room. Suzanne chose floor-to-ceiling curtain sheers for the windows and they are a Sunbrella fabric so they won't fade in all the natural light pouring in through the windows.
You can see how the areas all connect in this photo below. The dining room, living room and kitchen all interconnect and flow into one another.
There's a nice large eat-in island in the kitchen. The cabinets were designed in a simple shaker style and were painted gray-blue to coordinate with the hearth in the living room.
Notice the shelves in the corner.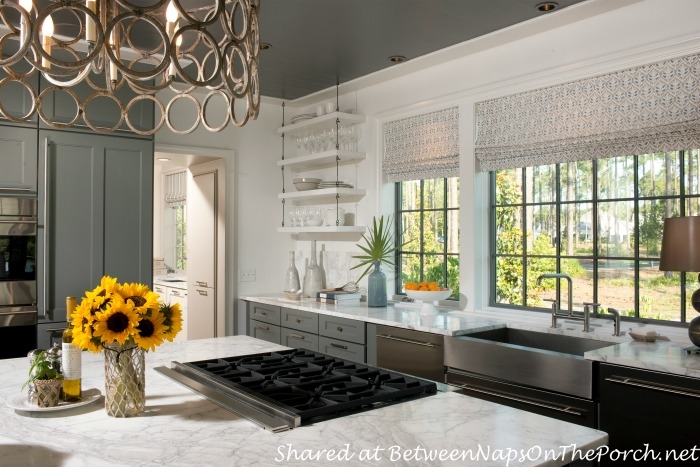 Regarding the storage in the kitchen, designer Suzanne Kasler said, "Put everyday things in reach so you can stow and go." The architect for the home, Ken agreed and believes, "There is beauty in the functionality."
If you enter the home via the carport, you'll find yourself in this room…the mudroom. The bulletin boards are a place to post family schedules and appointments.
Located between the mudroom and the kitchen is a room that is being called a "multipurpose" room and the concept for this space was as a storage area for those things you don't necessarily want in full view. This room contains a dishwasher, sink, cabinets and open shelving for storage. The table is an antique French piece.
Love all the shelving and storage in this space! Let's check out the bedrooms!
Amazingly, to reach the master suite, you enter via a hidden upholstered door that's located in the large hearth in the living room! A sisal rug and velvet pom-pom fringe on the curtains add texture and softness to this space.
The master bath is painted a soft blue.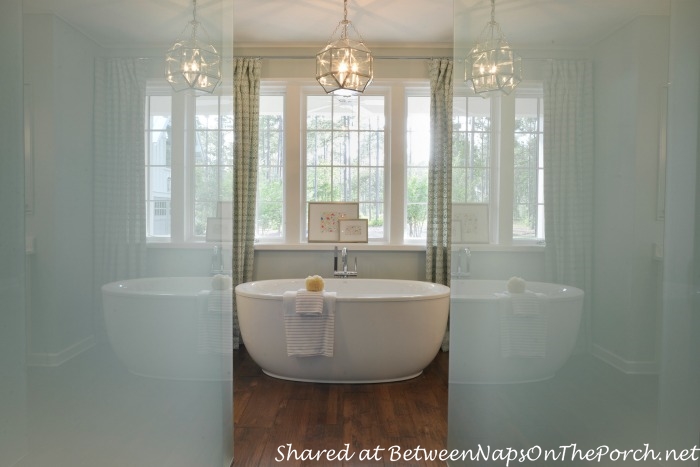 This bedroom was created with children in mind. Love the fun color scheme Suzanne chose for this room.
The bedding is done in bright colors of pink and orange.
The bathroom…
The guest room is furnished with Hickory Chair's Candler Bed. The color of the headboard is called greige and white.
This seating area over near the windows is a great place for reading with all the natural light pouring in. What a view!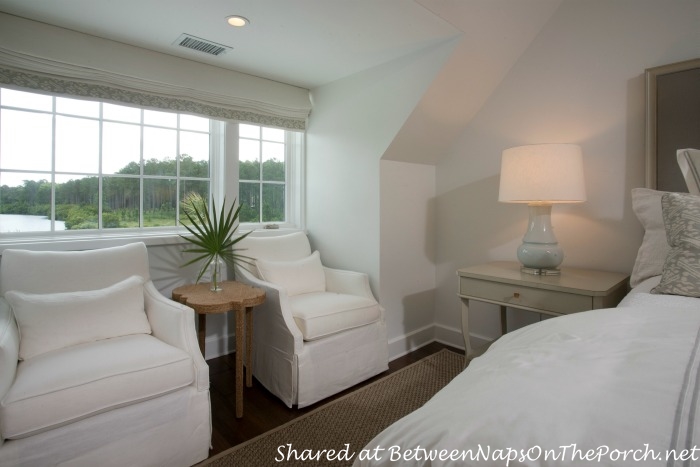 The guest bathroom…
This room was designed in shades of blue and navy for a more masculine feel. The stripes and navy color also give it a bit of nautical flair.
Hope you enjoyed touring this year's Southern Living Idea House at Palmetto Bluff in Bluffton, South Carolina. Thanks so much to Southern Living for sharing these photos with me so I could share them with you!
You can see more of this lowcountry charmer at Southern Living online here: Palmetto Bluff Idea House . You can also take a video tour at that link.
If you would love to see this beautiful home in person, tickets can be purchased online and all proceeds go to the Boys & Girls Club of Bluffton. The home will be open for tours until December 14th.
To see the 2010 Southern Living Idea Home in Senoia Georgia, check out these past posts:
Southern Living Idea House: Outdoor Rooms
Southern Living Idea House: Kitchen
Southern Living Idea House: Bedrooms and Nursery
*If a post is sponsored or a product was provided at no charge, it will be stated in post. Some links may be affiliate links and as an Amazon Associate, I may earn from qualifying purchases. *