I'm finally going through all the photos I took on my visit to Giraffe Manor and I realized today that I had never given you a full tour of the beautiful room I stayed in while visiting the manor. This post has 20 photos in it that I've never shared from my visit.
Each of the rooms in the manor is named after one of the Rothschild Giraffe who have either lived or are currently living on the property. Rothschild Giraffe are endangered and the good folks at Giraffe Manor are trying to aid in increasing their population. I stayed in the "Daisy" room on this trip.
Daisy is on the back corner of the manor, with spectacular views overlooking the gardens. In this photo below, it's the upstairs room on the right with the open window. I opened the window shortly after arriving to enjoy the view of the garden. I had no idea what room I'd be staying in when this trip was scheduled but I don't believe I could have been given a better room.
The day I arrived, this is what I saw upon opening the door to my suite.
The beds were draped in netting and it just added to the already exotic feel of being in Africa and staying in a beautiful historical manor home!
Over on a desk nearby I spotted this.
A few feet away were lovely red roses.
These were waiting on the window sill. I had been advised to be ready because I would probably have visitors to my balcony in the early morning. I could hardly wait!
As I glanced out the window I could see ivy growing alongside the window…so enchanting. Surely this was all just a dream!
Now we're standing looking out the window you saw open earlier from our view in the garden. The gardens are so pretty at Giraffe Manor. I'll be posting photos of those real soon.
The bathroom was just as beautiful and special as the bedroom.
So pretty!
This balcony just off my room was where I was told I'd probably have a visitor stopping by.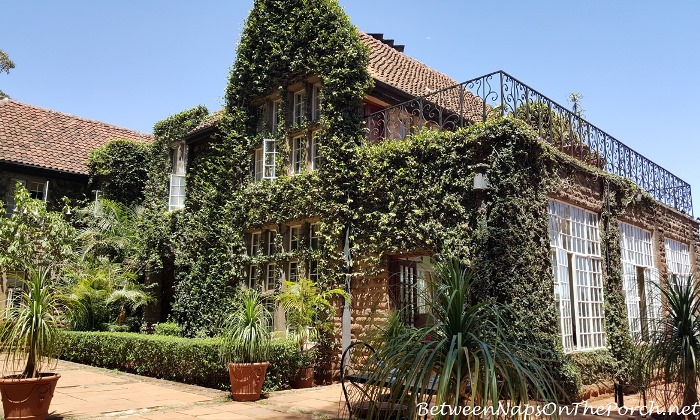 I stepped out onto the balcony to take a look around.
To the left I could see the city of Nairobi way off in the distance. I had to zoom in to capture this photo. It looked very hazy that day.
Looking out front and slightly off to the right, this was my view. And such a wonderful view it was!
I could have stayed out on the balcony watching the giraffe all day.
As I looked to my right out on the garden below, I got a little visitor. Do you see him?
I don't know what it is about birds, but it's becoming a common thing for a single, little bird to appear on balcony railings to me. When my much-loved kitty Max was dying of cancer a couple of years ago, I was visiting a friend and crying my heart out, telling her through my tears about Max.
Suddenly, behind me a few feet away, a very small bird landed on the balcony railing just outside the room we were in. I don't even know how I knew it was there because the window was behind me, but something made me turn and I saw it sitting there, peering intently in at us.
It sat there looking at us for quite a while. It seemed to be trying to tell us something. I was so shocked, I quit crying and just stared at it. Now here I was in Africa and a little bird was again stopping by. Do things like that ever happen to you? Maybe birds just know how much I love having them around me.
I also spotted this from the balcony that day. lol Giraffe Manor is so busy some times, they built a second manor next door in the style of the original home to accommodate additional guests.
What you see below is a common occurrence at Giraffe Manor. 🙂 If you follow BNOTP on Instagram, you saw this photo in real time during my visit there.
Here's a better view of the newer manor home. They've started growing ivy up the front; you can just barely see it there to the right of the front door. I wonder how long it will take to cover the home like it has on the original manor. I'm so glad they made the new home look just like the old one. I never took time to go inside, I should have. Not sure why I didn't think to do that while I was there.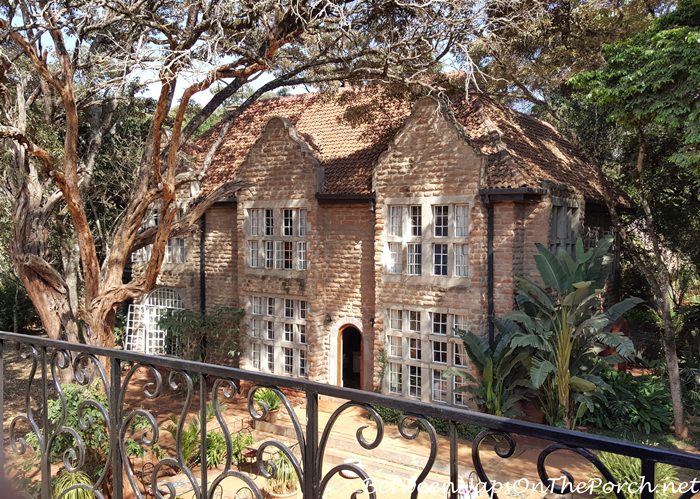 Later that evening the giraffe came up to the front of the manor for their evening snacks. Giraffe Manor has around 10-12 giraffe living on the property. A baby was born not too long after my visit last fall. If you visit the Instagram account/page for Giraffe Manor and scroll down through the photos, you'll see the new baby giraffe. I bet he's getting big now. The Instagram account for Giraffe Manor is under this name: thesafaricollection. Update: Just found out a second baby was born. So that's two new Rothschild Giraffe that have been born at Giraffe Manor since my visit last fall! So exciting!
We sat outside and sipped sundowners that evening until it was time for dinner. It was a lot of fun talking with the other guests who were visiting the manor.
Dinner was wonderful and you can see more of this lovely table here: Candlelight Dinner at Giraffe Manor
After dinner I returned to my room and found this.
I didn't think it was possible for this room to get any more romantic and beautiful, but it had!
The next morning I arose early, showered, dressed and grabbed the little pail of snacks from the window sill. I headed out on to the deck to see if I had any visitors, and I did!
When you're feeding the giraffe, anything that falls to the ground gets scarfed up by the warthogs who live on the property. Do you see them there in the background?
As I was feeding my very tall friend, my neighbor in the adjoining room came out and offered to take a photo.
I will be forever grateful that she was so kind to offer, otherwise I'd never have these photos to share with you. I tried to get her to let me take a photo of her feeding our visitor, but I couldn't talk her into it. I ran into her later that day in a restaurant in Nairobi that my guide took me to while I was awaiting my flight home that evening. She came over and sat down at my table and we had a chance to talk. Such a great memory!
Pssst: View a brief video I made of this morning feeding here: A Visitor Stops By My Balcony at Giraffe Manor. You'll hear me giggle in the beginning, I couldn't help myself! 🙂
I can't wait to take you out into the garden in a future post! I know you're going to love it. It's really pretty and there's even a greenhouse!
*If a post is sponsored or a product was provided at no charge, it will be stated in post. Some links may be affiliate links and as an Amazon Associate, I may earn from qualifying purchases. *